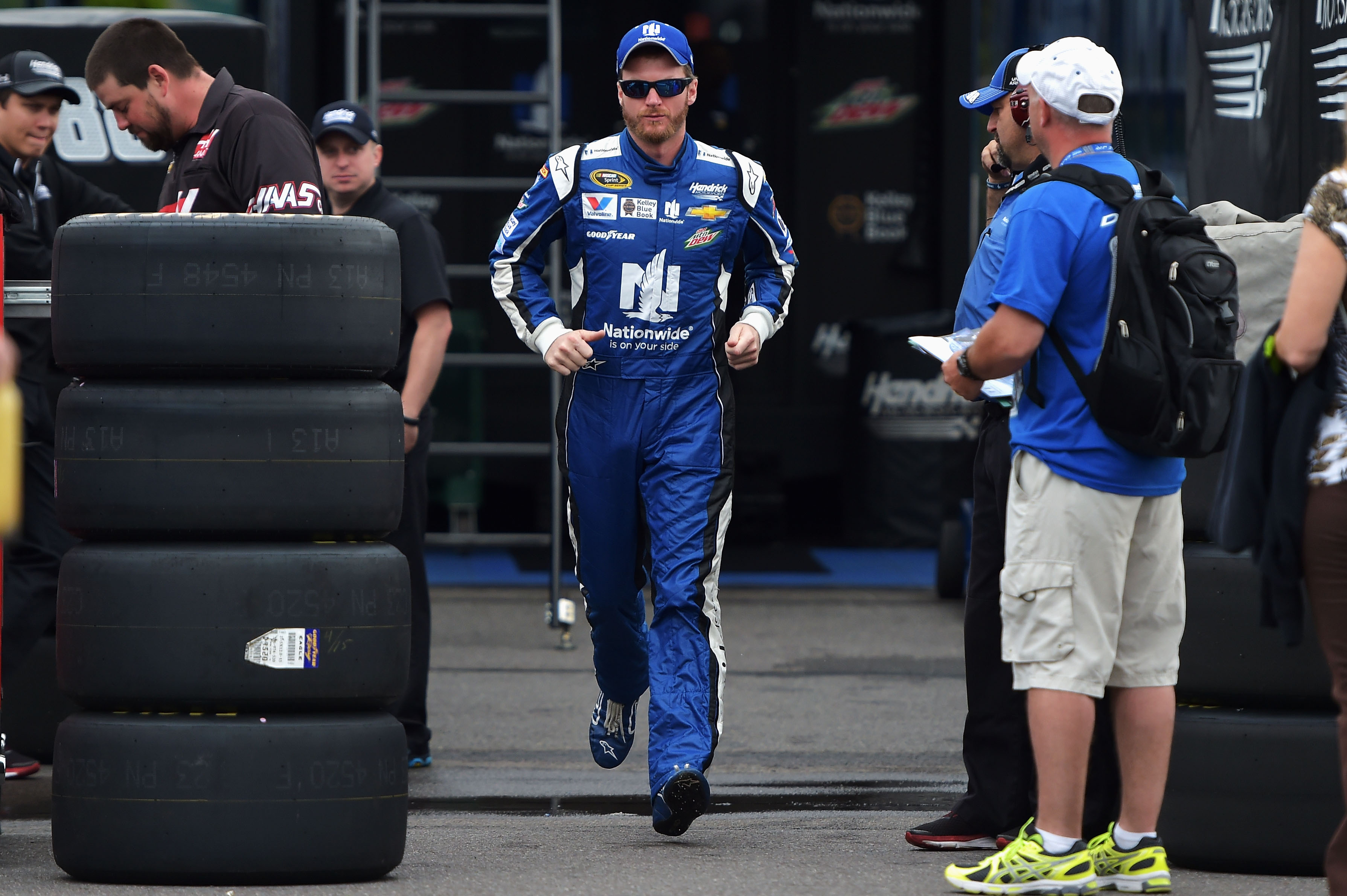 Dale Earnhardt Jr. Had an Odd Place to Turn to for a NASCAR Pick-Me-Up
Dale Earnhardt Jr. found a strange place to go after he had a rough NASCAR outing.
NASCAR drivers can have slumps, too. Just like in any other sport, there are peaks and valleys in auto racing. Dale Earnhardt Jr. had his share of them. When he was ever down after a race, NASCAR's most popular driver had an odd place to go for that pick-me-up.
Dale Earnhardt Jr. had a career plagued by concussions
Dale Earnhardt Jr. is a Hall-of-Fame NASCAR driver. He could've even been better. While his statistics aren't up to speed with his father, the late Dale Earnhardt Sr., he put up some pretty good numbers. Earnhardt. Jr., however, suffered from a series of concussions which ultimately cut short his career.
After the 2016 season, Earnhardt Jr. made a difficult decision. He announced he would be retiring from full-time racing after the 2017 season. He had missed the second half of 2016 with concussion symptoms. a concussion back in 2012 also halted a streak of 461 consecutive races. Junior decided it was best to go out on his own terms.
"I just wanted the opportunity to go out on my own terms," Junior said during his retirement speech, according to NBC Sports. "I wanted to honor my commitment to Rick, to my sponsors, to my team, and to the fans.  I'll admit, that having influence over my exit only became meaningful when it started to seem most unlikely. As you know, I missed a few races last year and during that time I had to face the realization that my driving career may have already ended without me as so much getting a vote at the table.  Of course, in life, we're not promised a vote, and that's especially true in racing."
Junior's NASCAR popularity was off the charts
Dale Earnhardt Jr. had a lot to live up to. His father, Dale Earnhardt Sr., just so happened to be one of NASCAR's all-time greats. The elder Earnhardt raced his way to seven Cup Series championships, tying him with Richard Petty and Jimmie Johnson at the top of the list. Earnhardt Sr. was a member of the inaugural NASCAR Hall-of-Fame class in 2010. He died during the 2001 Daytona 500 after crashing in the final lap.
Junior had some big shoes to fill and wound up having himself quite a career. He collected 26 wins, including Daytona 500 victories in 2004 and 2014, in his 19-year Cup Series career. Junior followed his father's footsteps to the NASCAR Hall as a member of the Class of 2021.
Earnhardt Jr. was far and away the most popular driver of his day. For 15 straight years (2003-1017), he was named the Monster Energy Cup Series Most Popular Driver. He acknowledged his fans during his retirement speech. "I don't think that anything in my professional career has meant more to me than the treatment that I've received from track to track by the fans that so dearly love our sport," he said.
Earnhardt Jr. found a unique place to go for a pick-me-up
Dale Earnhardt Jr. went through many peaks and valleys during his lengthy NASCAR career. Despite that, the man who was named NASCAR's Most Popular Driver for 15 consecutive years, had quite the fan base. While social media sites can be very ugly for an athlete who's had a tough performance, Earnhardt Jr. strangely would go right to Twitter after a tough day to help ease the pain.
"Twitter gave me a real great platform to experience with how people reacted to certain things," he said on Danica Patrick's Pretty Intense podcast in October. "If you're a racecar driver, you have great days and bad days. It's a great place to go to get people to pick you back up and put you back on your feet after a bad run. But it's also a great place to go celebrate something great."
Apparently, those 15 straight years of being Mr. Popular go a long way. Unlike many sports stars, Earnhardt Jr. seemingly doesn't have to deal with those keyboard trolls, even after a poor outing.