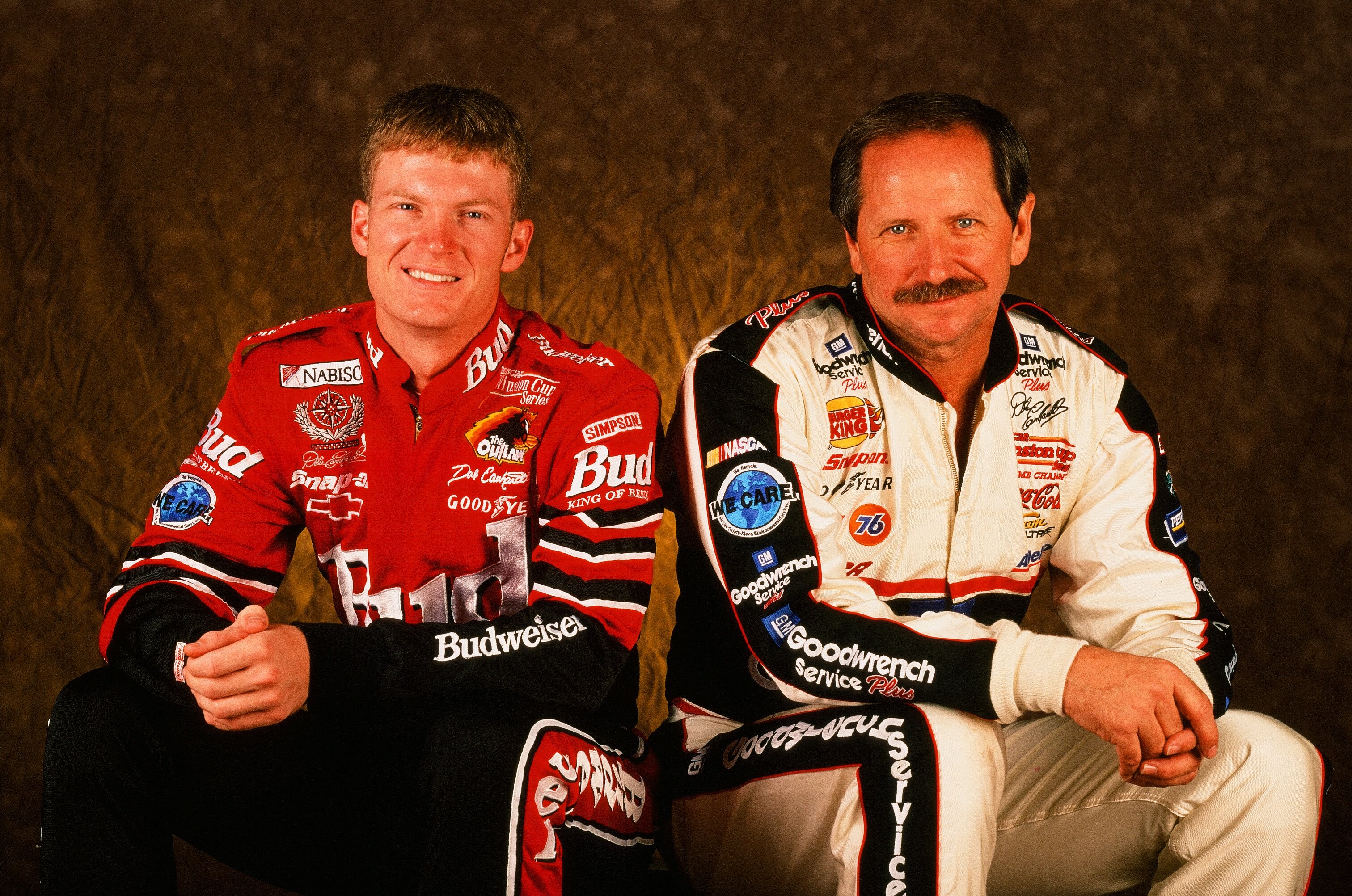 Dale Earnhardt Jr. Lives By the Simple Piece of Advice His Late Father Gave Him
Dale Earnhardt Jr. continues to live by the very simple piece of advice his legendary late father once gave him.
It was 20 years ago when Dale Earnhardt was killed after crashing during the final lap of the Daytona 500, stunning the motorsports world. Lessons were learned when Earnhardt died as NASCAR used it as a pivotal moment to enhance the safety of its sport. Earnhardt also was responsible for providing his son, Dale Earnhardt Jr., with some valuable lessons, including a very simple piece of advice he still uses.
The NASCAR world was stunned by Earnhardt's death in 2001
Dale Earnhardt was one of NASCAR's all-time greats. He's a seven-time Winston Cup champion, which puts him in the record books in that category, tied with Richard Petty and Jimmie Johnson. Known as The Intimidator, Earnhardt was inducted into NASCAR's inaugural Hall of Fame class back in 2010.
Back in the 2000 Daytona 500, Earnhardt and Sterling Marlin made contact during the final lap of the race. The contact forced Earnhardt into a collision with Ken Schrader and Earnhardt hit the outside wall head-on. Michael Waltrip eventually won the race and Dale Earnhardt Jr. finished second.
Earnhardt was pronounced dead at Halifax Medical Center at 5:16 p.m. Eastern time that night, stunning the sports world. He was 49. Earnhardt is in several racing Halls of Fame. He was named one of NASCAR's 50 Greatest Drivers back in 1998.
Dale Earnhardt Jr. has made a name of his own
Racing was clearly in Dale Earnhardt Jr.'s blood. His father's a Hall-of-Fame racer and his grandfather used to build NASCAR cars. All of Earnhardt Jr.'s siblings used to race as kids and Dale Jr. was hooked. He's gone on to carry the Earnhardt name in the NASCAR scene.
During a 19-year span in the NASCAR Cup Series, Earnhardt Jr. won 26 times in 631 races. He finished in the top 10 260 times. He's a two-time Daytona 500 winner, claiming the race in 2004 and 2014. Earnhardt Jr. was named the Monster Energy Cup Series Most Popular Driver 15 times.
Earnhardt Jr.'s career was cut short by concussions. He suffered through many in his career and called it quits after the 2017 season. Earnhardt Jr. was a 2017 inductee of the Texas Motor Sports Hall of Fame. He's also been elected to the NASCAR Hall of Fame as a member of the 2021 class.
Earnhardt Jr. still lives by the simple advice his father once gave him
Before the death of Dale Earnhardt Sr., Dale Earnhardt Jr. told The Washington Post of some advice his father had given him. When Dale Jr. was young, he would often find himself in trouble, so much that he was sent to a military school. His father never pushed racing on Jr., but he knew he had that hunger in him.
Earnhardt Sr. knew his son also had the racing genes. "But I think it's really his desire and his focus on learning – watching his dad, watching his peers do it," Dale Sr. said to The Post back in 1999. "He just dearly wanted to race and had the hunger and desire to be a part of it." Earnhardt Sr. knew his son just had to keep his head on straight.
Back then, Earnhardt Jr. was given some very simple advice from his dad. That advice, as basic as it is, turned himself around and resulted in an enormous amount of success. "As far as what he's taught me," Dale Jr. said, "it's just be smooth, keep your head on straight, get to work on time and just to stay dedicated to racing."