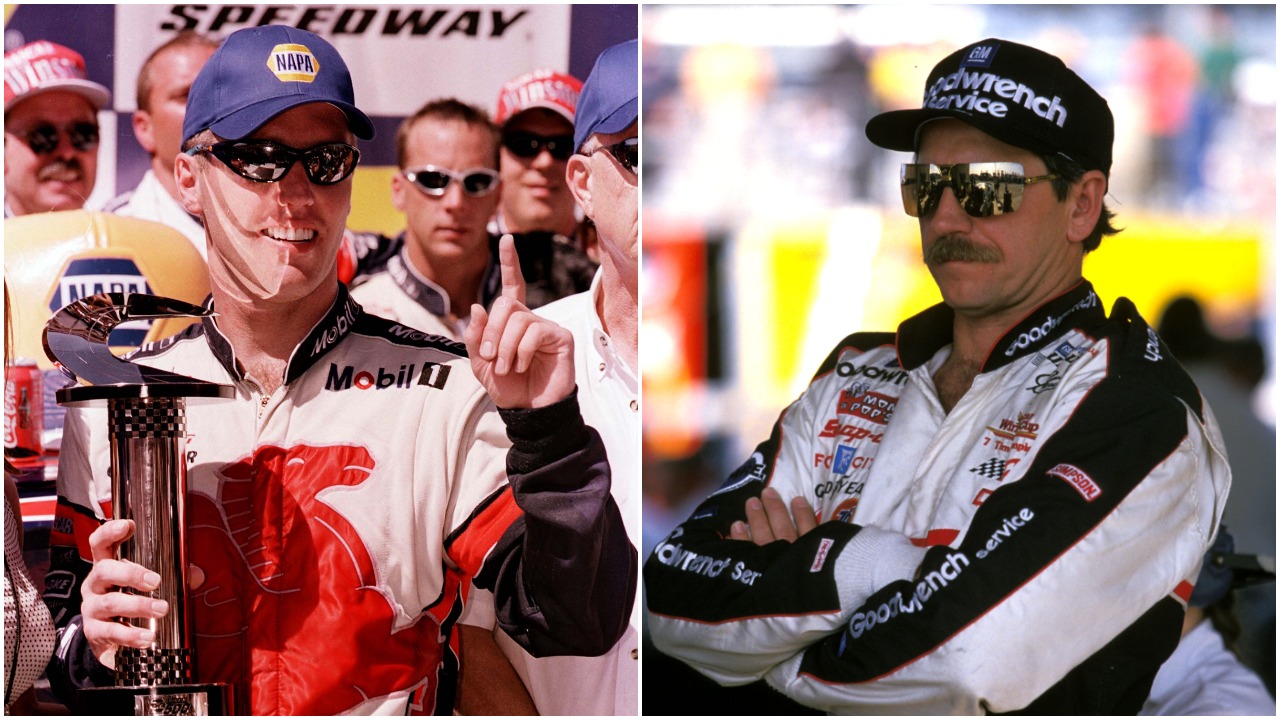 Jeremy Mayfield Cost Dale Earnhardt Sr. a Win at Pocono Raceway Using His Own Style Against Him and Then Threw One of The Intimidator's Most Famous Quotes Back in His Face
Jeremy Mayfield cost Dale Earnhardt Sr. a win at Pocono Raceway in 2000 by using his own tactics against him and then threw one of The Intimidator's most famous quotes against him.
NASCAR legend Dale Earnhardt Sr. didn't earn the title of "The Intimidator" by always playing nice. Known for his aggressive driving style, Earnhardt, like so many of the all-time greats in any sport, did what he had to do to win. And it was that style that helped him to 76 Cup Series victories, good for eighth on the all-time list. But it's not as if Earnhardt was the only aggressive driver in history and in 2000, the "Man in Black" saw his own style used against him at Pocono Raceway as Jeremy Mayfield cost him a checkered flag. But not only that, Mayfield used one of Earnhardt's most famous quotes in the ensuing celebration.
And the original quote is where we'll begin our story.
Dale Earnhardt Sr. spun out Terry Labonte on the way to a win at Bristol, later saying he only 'meant to rattle his cage'
During the night race at Bristol Motor Speedway in August 1999, Earnhardt Sr. and Terry Labonte were engaged in a highly competitive duel down the stretch.
In the final restart of the race on lap 496 of 500, Earnhardt was in the lead while Labonte was in fifth after getting a new set of tires. Labonte quickly bypassed Mark Martin, Tony Stewart, and Jeff Gordon, and caught up with "The Intimidator" with just two laps to go on the 0.533-mile track.
Labonte gave Earnhardt a little rub as the duo hit Turn 3 and then hit the apron to take the lead as the white flag dropped. But as they hit Turn 2 on the final lap, Earnhardt did what he did best and came back with a bump of his own. Only his was a little more aggressive and he sent Labonte spinning as he sped by to take the checkered flag, leaving his longtime friend and hunting buddy to finish eighth.
Afterward, this is what Dale Sr. had to say about the final lap:
"Didn't mean to really turn him around. Meant to rattle his cage, though."

Dale Earnhardt Sr. on wrecking Terry Labonte at Bristol in 1999
And that's the reference you'll need as we move forward.
Jeremy Mayfield intimidated 'The Intimidator' at Pocono Raceway in 2000
Fast forward nearly 10 months later to the Pocono 500 at Pocono Raceway in June 2000, a race that occurred on a Monday due to rain the day before.
Coming down the stretch at "The Tricky Triangle," Earnhardt and then-30-year old Jeremy Mayfield battled it out following the final restart with 13 laps remaining on the 2.5-mile tri-oval. Earnhardt had the advantage when the white flag dropped but Mayfield closed the gap off the Tunnel Turn and the ensuing short straight.
As the two approached Turn 3, Mayfield used Earnhardt's own signature maneuver against him, bumping "The Intimidator" out of the way to take the checkered flag. Earnhardt finished fourth as Dale Jarrett and Ricky Rudd passed him as the bump sent him to the outside. But it wasn't just Mayfield's actions that made headlines, but also what he said in Victory Lane.
Mayfield said afterward he just wanted to rattle Earnhardt's cage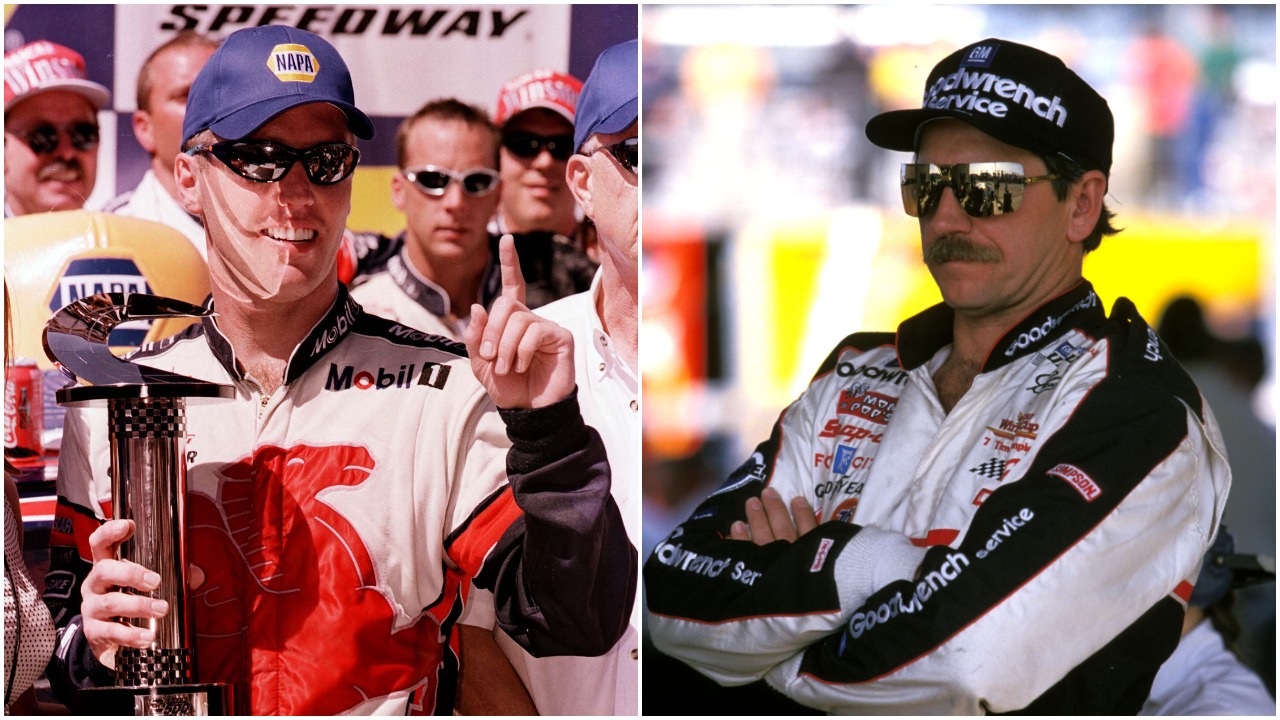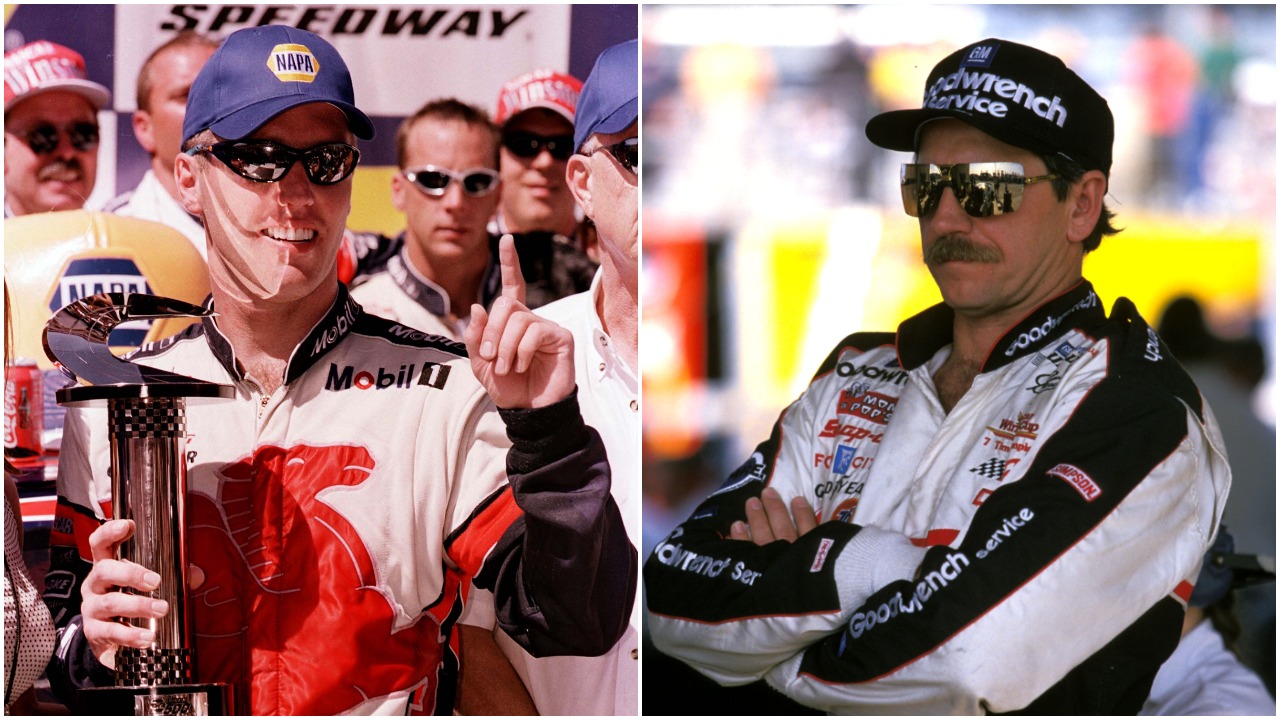 As the final-lap duel between Earnhardt and Mayfield came to a head, TNN announcer Buddy Baker said, "When you live by the sword, you die by the sword," also stating the obvious fact that Earnhardt had done what had just happened to him on numerous occasions.
But Earnhardt was clearly unhappy with what had transpired and caught up with Mayfield during the cool-down lap, letting him know just how he felt by flipping him the bird. And perhaps it was that one-finger salute that inspired Mayfield to throw Earnhardt's quote from the previous year back in his face (h/t Fox News).
"That's part of it. He's gotten me plenty of times. That's the only time I ever got him. He can't say a word. I just wanted to rattle his cage a little bit, you know what I mean?"

Jeremy Mayfield on Dale Earnhardt Sr.
Earnhardt had a fun quote of his own not long after, saying his obscene gesture was simply to let Mayfield know he was number one.
Results courtesy of Racing Reference