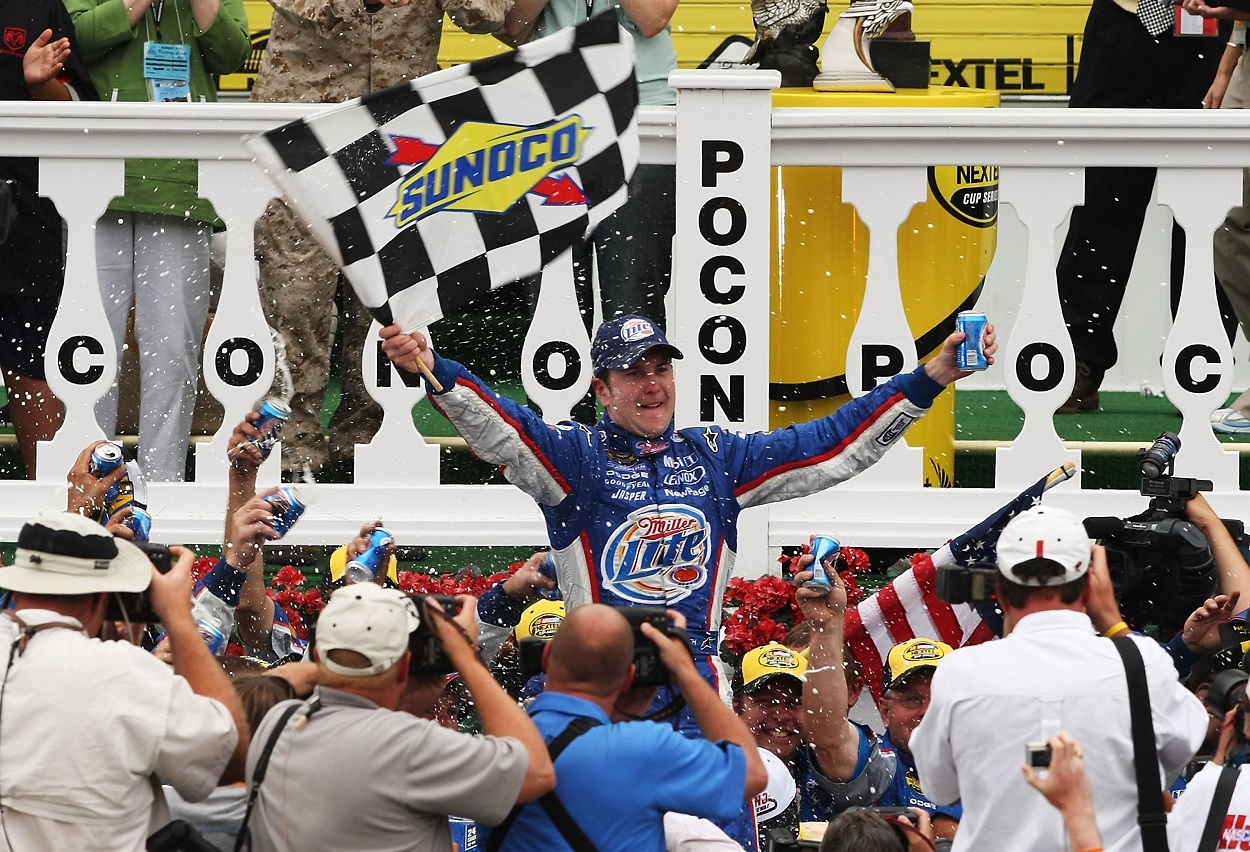 Kurt Busch Owns a Track Record at Pocono Raceway That Can Never Be Broken
A dominating performance from Kurt Busch at the 2007 NASCAR Cup Series Pennsylvania 500 helped him set a track record at Pocono Raceway that can never be broken.
Since the first NASCAR race was held at Pocono Raceway in 1974, 38 different drivers have won at least one Cup Series race at the 2.5-mile tri-oval, 24 of whom have multiple victories at "The Tricky Triangle." One such driver is Kurt Busch, who has taken three checkered flags at Pocono, one of which set a track record that can never be broken.
Kurt Busch has taken three checkered flags in 39 NASCAR Cup Series starts at Pocono Raceway
Busch made his first NASCAR Cup Series start at Pocono Raceway in 2001, finishing 13th at the Pocono 500.
In the 38 starts at "The Tricky Triangle" since then, he's taken two poles and recorded 20 top-10 and 14 top-five finishes, including three victories. His first win came at the 2005 Pennsylvania 500, where he started in second position in Roush Racing's No. 97 Irwin Industrial Tools car and dominated, leading 131 of 203 laps and crossing the finish line just ahead of Rusty Wallace, who was competing in his final race at Pocono in the No. 2 Miller Lite car.
Driving that same No. 2 Miller Lite car for Penske in 2007, Busch took his second checkered flag at Pocono, again in dominating fashion, and then went on to win a third race at the track in 2016 while driving the No. 41 Monster Energy/Haas Automation car for Stewart Haas Racing.
And it's that middle victory where we'll put our focus as Busch set a track record at Pocono Raceway in 2007 that can never be broken.
Busch set a track record at Pocono Raceway in a dominating win at the 2007 Pennsylvania 500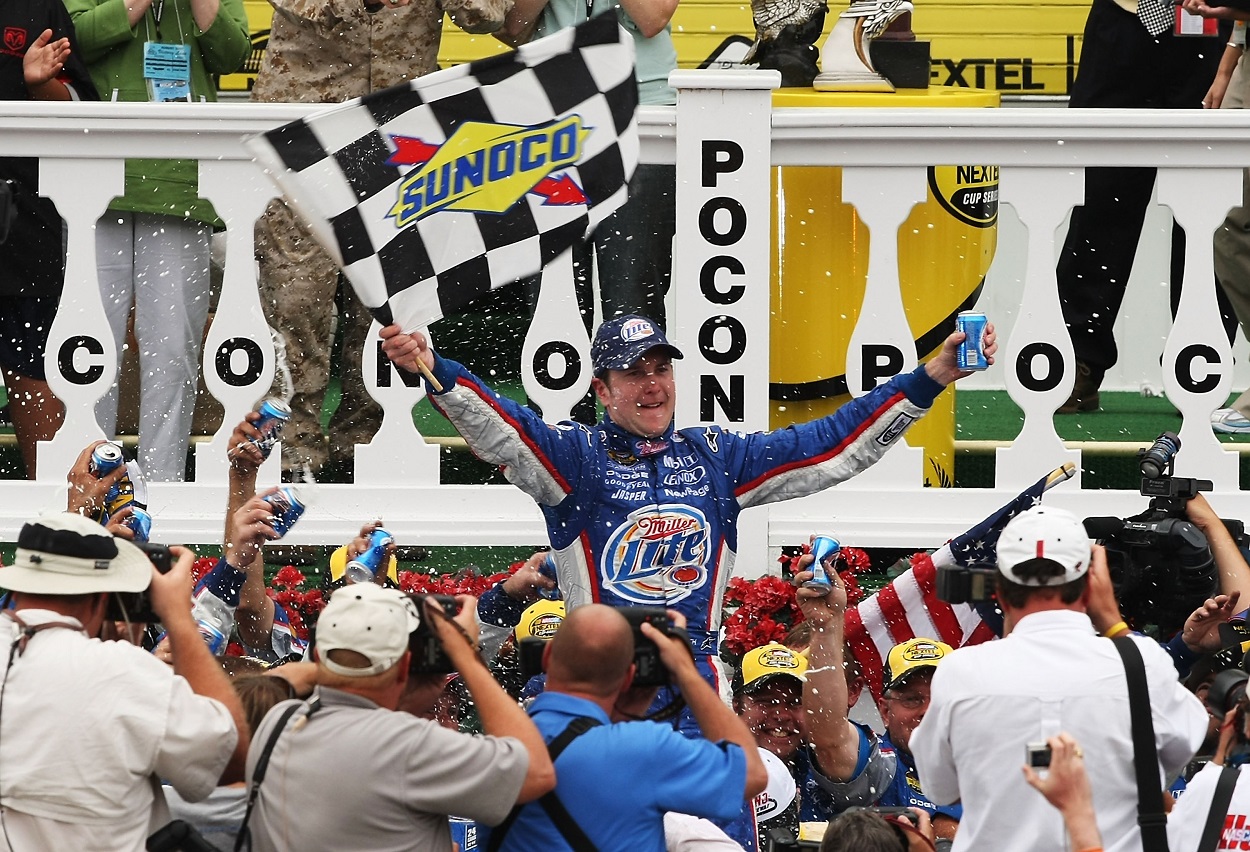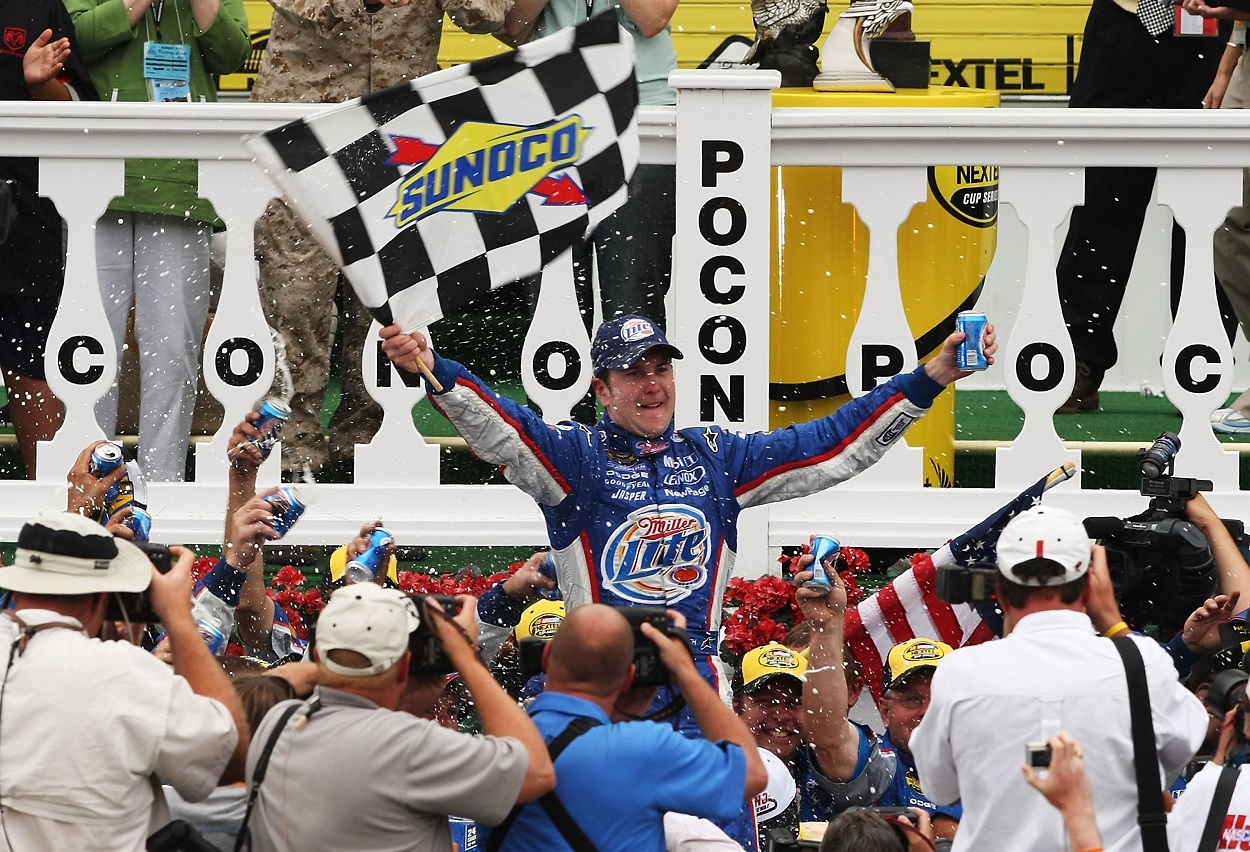 Coming into the 2007 Pennsylvania 500 at Pocono Raceway, the second race of the season at "The Tricky Triangle," Busch had yet to record a Cup Series win on the year. But after finishing outside the top 20 in five of six races, his only top-20 in that stretch being a 16th-place finish at the Pocono 500, he'd finished 11th or better in the three races leading into the Pennsylvania 500.
And he took that momentum and used it to dominate the 43-car field, leading a track-record 175 of 200 laps on the way to a 4.131-second win over Dale Earnhardt Jr., who led eight laps that afternoon.
And just why can't the record Busch set that day be broken? Well, it's actually quite simple.
NASCAR races at 'The Tricky Triangle' aren't 200 laps anymore
In 2012, Pocono Raceway reduced the distance of their two NASCAR Cup Series races from 500 miles to 400 miles, making the races on the 2.5-mile track 160 laps, down from 200. In 2020, when "The Tricky Triangle" began hosting a Cup Series doubleheader (an incredible idea, by the way), the Saturday race was reduced to 325 miles (130 laps), while the Sunday race is 350 miles (140 laps).
So it's really just simple math. With no race over 175 laps, nobody can obviously lead a race at Pocono Raceway for 175 laps, meaning Busch's record can never be broken unless the decision is made to return to 500-mile, 200-lap races, which doesn't seem likely.
Stats courtesy of Racing Reference