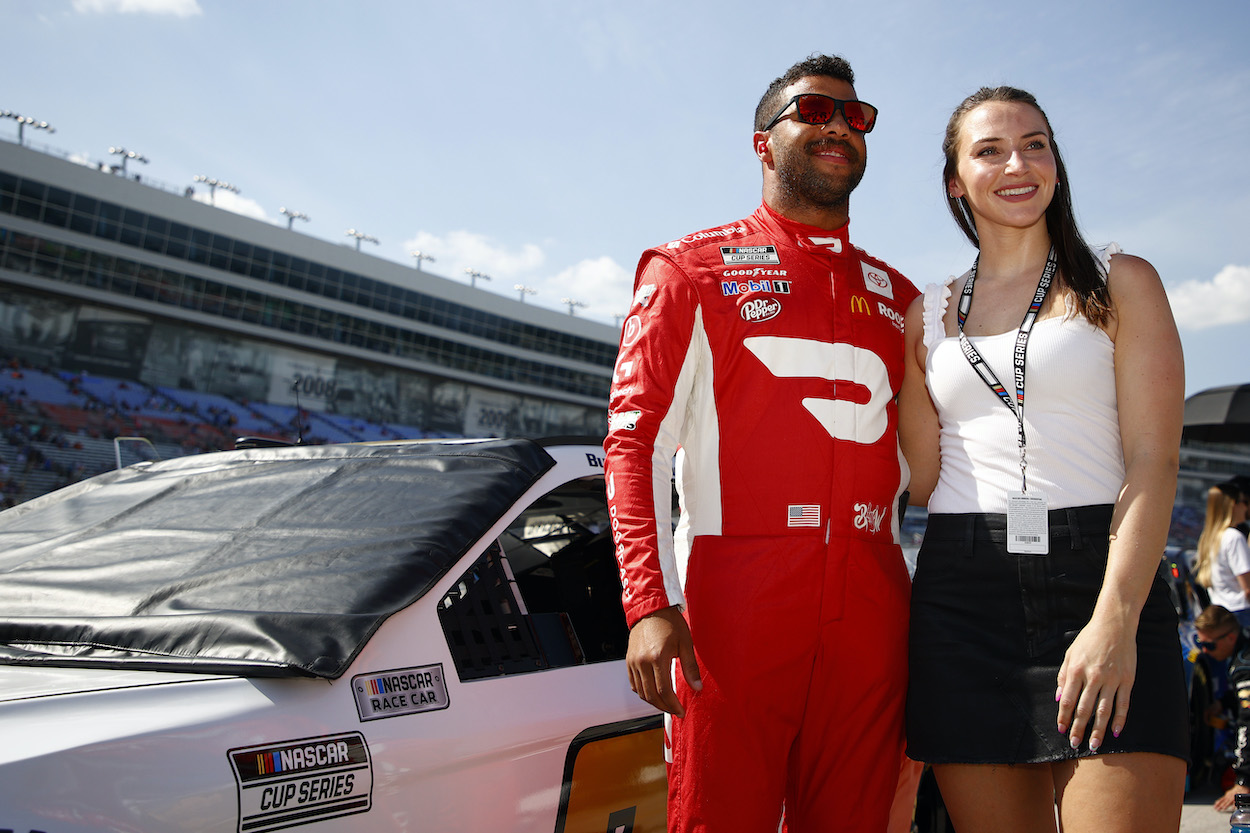 Bubba Wallace Makes Major Personal Announcement About Future and His Fans Are Ecstatic
Bubba Wallace made a major personal announcement on Friday about his future.
When Bubba Wallace reflects on his life one day in the future, the 27-year-old NASCAR Cup Series driver will marvel at the chapter that includes the last 14 months. Both personally and professionally, Wallace has endured his share of ups and downs during that time. On Friday, he added another major memorable moment. 
Bubba Wallace has experienced a wild last 14 months
Just over a year ago, Bubba Wallace spoke out on racial injustice issues and called on NASCAR officials to ban the confederate flag. They did. Shortly after, he found himself in the crosshairs of the President who strangely criticized him for not apologizing about an incident where a noose-like rope was discovered in his garage stall.
Despite those turbulent times, Wallace persevered, and his popularity skyrocketed. Sponsors flocked to him, and his newfound celebrity allowed him to explore driving options for 2021. He signed with the newly formed 23XI Racing Team led by co-owners Michael Jordan and Denny Hamlin.
Fortunately for Wallace this year, there haven't been any tweets from the President. He's not making regular appearances on national news shows. He's been able to concentrate on driving this season. And he's had a lot to focus on as the rookie team has struggled throughout the year. 
He's managed a single top-10 finish all season.   
Bubba Wallace makes major personal announcement
The two-week hiatus for Bubba Wallace and the No. 23 team couldn't have come at a better time. On Friday, Wallace revealed on social media one of the things he's been up to in his time away from the track. 
"Why I waited so long..we will never know. The wait is over!! Here's to forever! Forever ever!" Wallace wrote on a Twitter post that featured four pictures of him and his longtime girlfriend, Amanda Carter, including one with the 27-year-old driver down on one knee proposing.
She apparently said yes as one photo features Carter flashing her hand and showing off the ring with Wallace standing beside her, pointing to it, a picturesque waterfall cascading directly behind in the background. 
According to CheatSheet.com, the time the pair officially started dating remains unclear, but most assume it started in 2016 based on an Instagram post from Wallace in 2018. 
Joey Logano makes his own major announcement
Bubba Wallace wasn't the only NASCAR Cup Series driver who deemed the two-week break an opportune time to make a major personal announcement. Joey Logano and his wife made headlines on Tuesday, revealing on social media that she was pregnant with their third child.
The couple included their two young sons in the very NASCAR-like gender reveal, which featured the two boys riding in a Joey Logano-replica electric car and his oldest son, Hudson, mashing the throttle per his father's instructions and a cloud of pink powder exploding behind.
"It's a girl!" Logano shouted as he and his wife embraced. The video concluded with Hudson doing celebratory burnouts with the aid of his father pushing the car around. 
Both Logano and Wallace have another weekend to relax before returning to NASCAR Cup Series racing action next weekend at Watkins Glen.
Like Sportscasting on Facebook. Follow us on Twitter @sportscasting19.