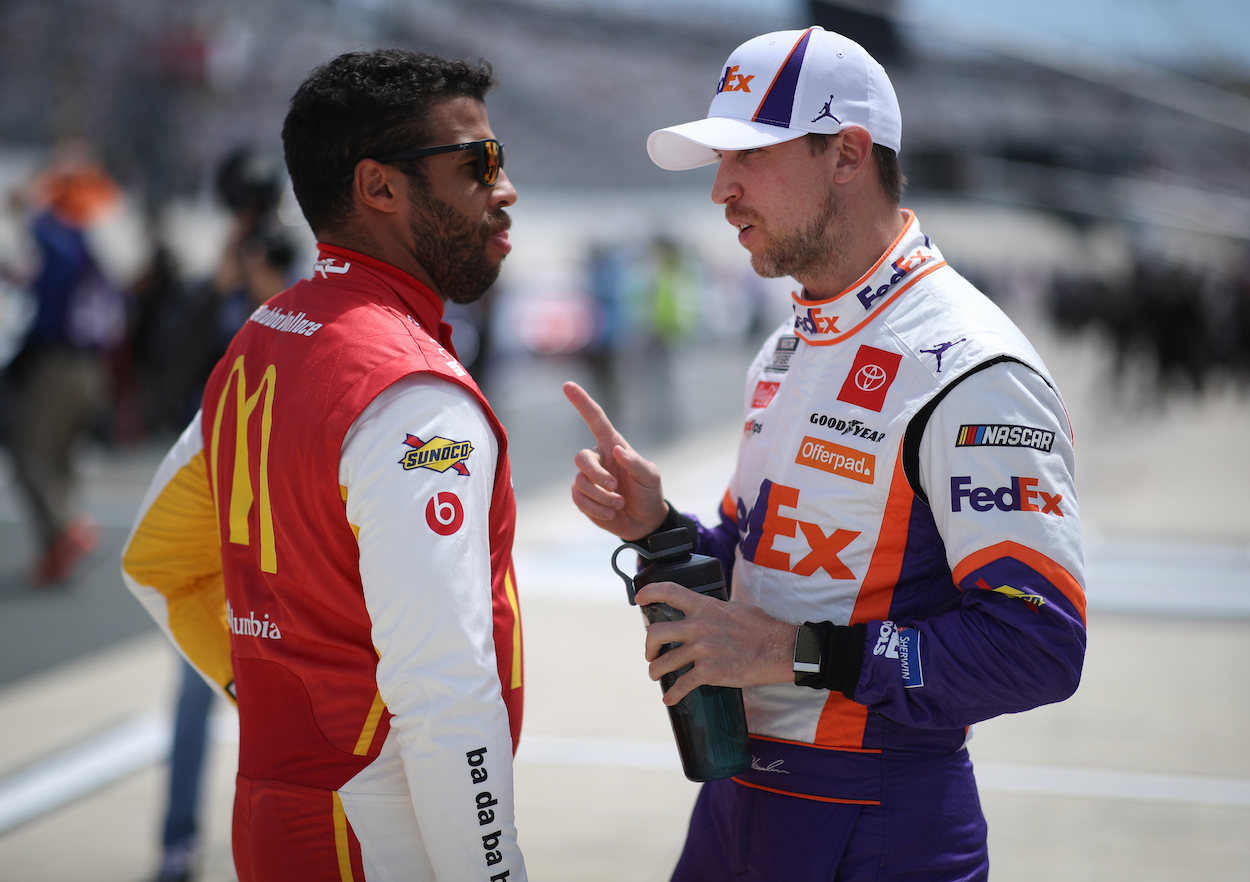 Michael Jordan Has Tempered Expectations for Bubba Wallace in 2021 Despite Team's First Top-5 Finish of Season at Pocono
Bubba Wallace earned a top-5 finish this weekend at Pocono for his best race with 23XI Racing. After the race, Wallace admitted Jordan has tempered his expectations for the team this year.
Michael Jordan knows winning. He won six NBA titles with the Chicago Bulls. So naturally, when he partnered with Denny Hamlin to form the 23XI Racing Team to compete in the NASCAR Cup Series, high expectations were part of the deal. Jordan fed into the frenzy before the season when he suggested Bubba Wallace could win a couple of times in the first year.  
Now, 19 races into the 2021 schedule with the team's first top-5 finish over the weekend at Pocono and according to Wallace, Jordan has adjusted his expectations. And it's not in the direction you would think. 
Michael Jordan had high expectations for Bubba Wallace at start of 2021 season
While Bubba Wallace signed on to drive for Michael Jordan and Denny Hamlin's 23XI Racing team last year, the 27-year-old driver met His Airness for the first time at a Fox interview before the Daytona 500 in February. During that conversation, Wallace got a true taste of Jordan's passion for winning when the NBA Hall of Famer candidly offered his lofty expectations for the No. 23 car in the 2021 Cup Series season.
"I feel like he's going to learn how to win," Jordan admitted. "He's got the talent. We would have not invested in him and picked him if he didn't have the talent to win. By the end of the year, I think he's going to have an opportunity and probably will win at least a couple of races. If it's more, I'll be elated."
That weekend in Florida, Jordan watched Wallace become the first Black driver to lead a lap at the Daytona 500. He also watched him finish 17th.
Bubba Wallace and 23XI Racing mediocre to start 2021  
Through the first dozen races of the season, Bubba Wallace had managed four top-15 finishes and had yet to crack the top 10, much less a win like Jordan had predicted. At Dover, Wallace placed 11th, his best finish of the season.  
Outside of an early ouster in the rainy conditions at COTA, Wallace has remained consistent recently with three 14th-place finishes, including his best career finish on a road course at Sonoma and a 20th at Nashville.
On Sunday at Pocono, Wallace finally delivered on the hype and ended his streak of middle-of-the-pack finishes by not only breaking into the top 10 but earning a top-5, his highest finish since the second race at Daytona last season. After the race, Wallace was understandably pleased with the entire team's performance.
"We know we can do it," Wallace told reporters. "It's good to check that off the list. Now we have got to keep doing it. Then that will show that we're really here."
Michael Jordan has tempered expectations for 2021
Michael Jordan has been watching. After attending the season opener at Daytona, he was trackside for Wallace's best road course-finish at Sonoma earlier in June. And Jordan attended Pocono this weekend to witness the No. 23 car finish in the top 5. 
After the race, Wallace suggested Jordan has taken a position of patience, which is contrary to what he stated on the record before the Daytona 500 during that Fox interview.
"He understands. Everyone talks about how he's a winner, he's a champion, yeah, but he's also a realistic person," Wallace admitted. "He wants to win, but he knows what it will take for us to get there. It's more from me. It's from the team. It's a more group effort."
Wallace hasn't won as Jordan predicted, but the 23XI Racing team is headed in the right direction. Will Wallace earn his first career Cup Series win in 2021? Time will tell.
Like Sportscasting on Facebook. Follow us on Twitter @sportscasting19.