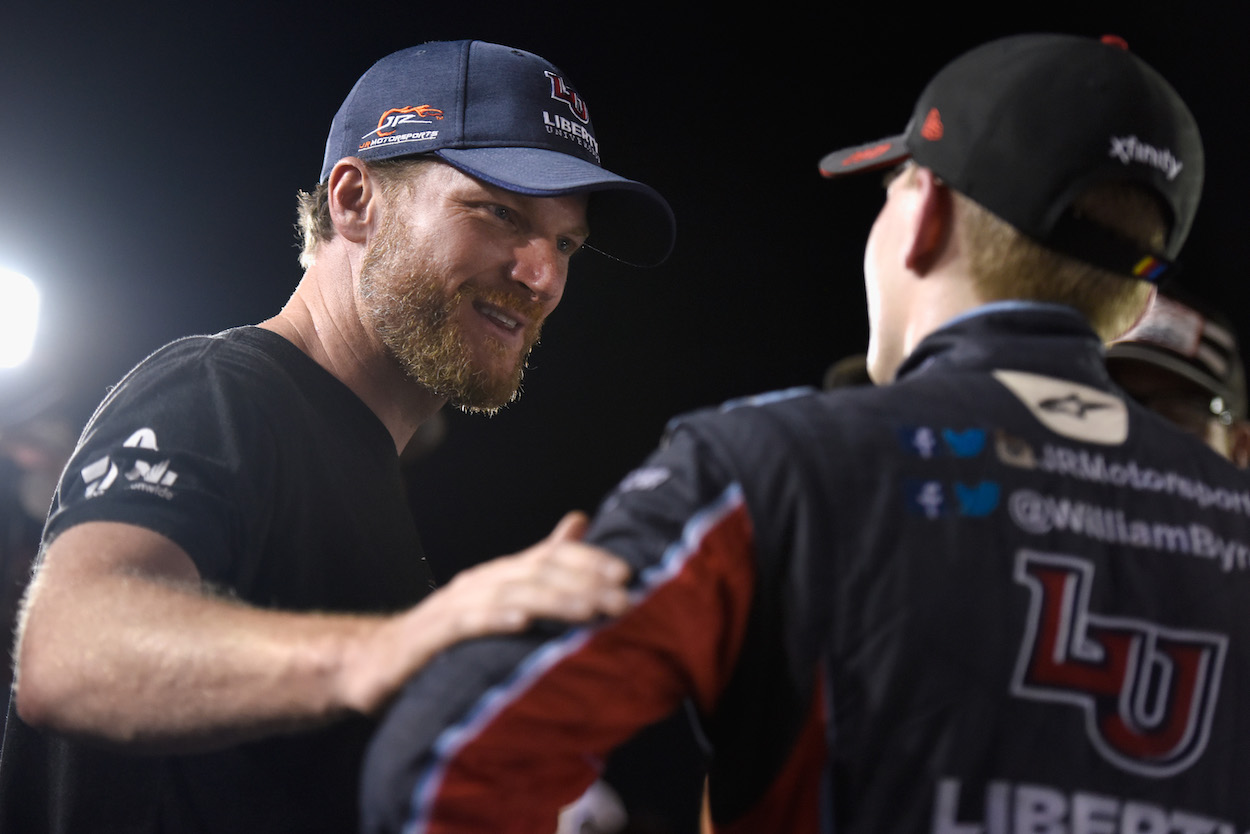 Dale Earnhardt Jr. Doesn't Mince Words and Candidly Calls Out William Byron's Crew Chief for Strategy and Unrealistic Expectations During Sunday's Race at Pocono
Dale Earnhardt Jr. brings his insight to NBC's NASCAR coverage and on Sunday he candidly called out William Byron's crew chief for a questionable strategy with unrealistic expectations.
Dale Earnhardt Jr. raced 19 years on the Cup Series and brings that wealth of knowledge with him each weekend to the broadcast booth as a color commentator for NBC's NASCAR coverage. His experiences allow him to provide insight into what the drivers are thinking at different moments during a race.
During Sunday's race at Pocono, Earnhardt candidly shared what William Byron was likely thinking in the second stage after he heard the radio communication between Byron and his crew chief Rudy Fugle. And the NASCAR Hall of Famer didn't sugarcoat his thoughts when he called out the crew chief for communicating unrealistic expectations to his young driver. 
Dale Earnhardt Jr. and William Byron successfully partnered together to win Xfinity Series title in 2017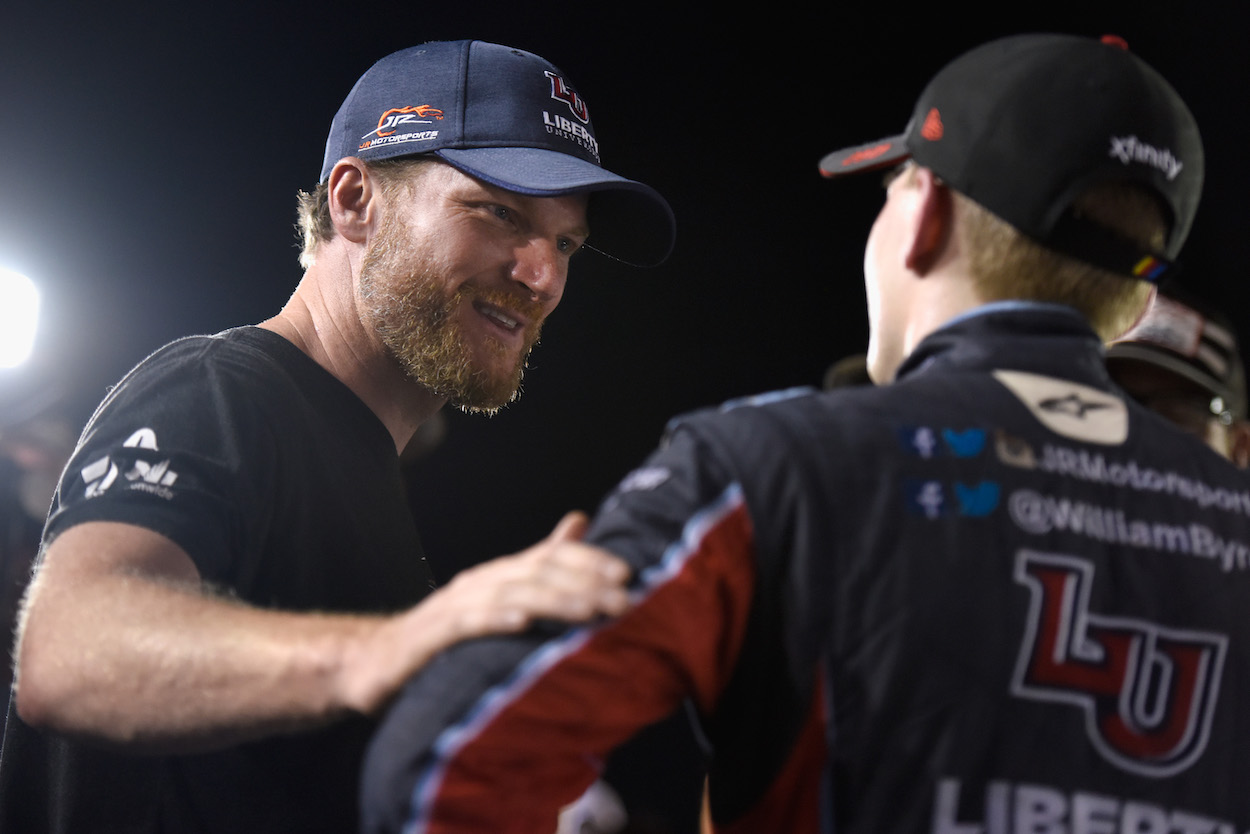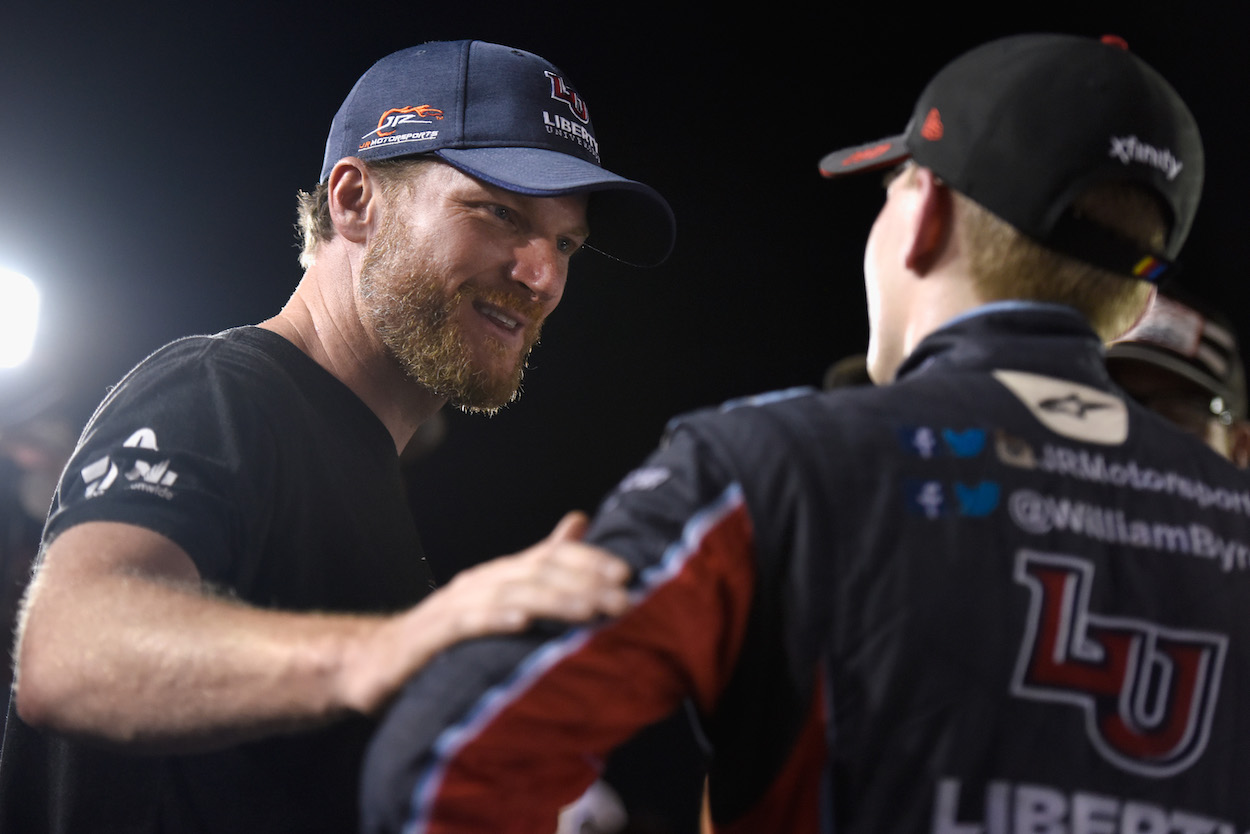 After a successful single season on the NASCAR Truck Series, Dale Earnhardt Jr. welcomed William Byron to the JR Motorsports team and the No. 9 Xfinity Series car in 2017. Byron did not disappoint.
Byron started the season strong with four top-10 finishes in his first five races. However, it wasn't until Iowa and almost halfway through the season before he had his breakthrough and earned his first win. He then won the following week at Daytona.
After a few more top-10s, Byron won at Indianapolis. He added his fourth victory late in the season at Phoenix and went on to win the season championship. It turned out to be his lone season with JR Motorsports and the Xfinity Series as he moved up to Cup racing in 2018.  
Dale Earnhardt Jr. calls out Byron's crew chief during Sunday's race at Pocono
With 26 laps to go in the second stage of Sunday's race at Pocono, William Byron ran in second behind leader Kyle Busch. That's when the NBC broadcast shared the radio communication between Byron and his crew chief Rudy Fugle. 
"Even if we got to push the 18 (Busch) by him, we're going too slow for our strategy, so whatever we can do," Fugle told Byron. "We need to have quicker lap times for our strategy. It's jamming us up a little bit."
Earnhardt's former crew chief and broadcast partner Steve Letarte explained that Fugle was trying to project where all the cars would be on the race track for the team's strategy to work. Based on Fugle's remarks, Busch and Austin Dillon in front of him were slowing the pace.   
"Now, Junior, that's fine, but I'm assuming William Byron isn't out on a Sunday drive," Letarte offered. "He's trying to run the 18 down."
"I know. I've never heard a crew chief say that 'you're going too slow for my strategy.' I mean, change the strategy," Earnhardt candidly suggested. "I'm driving as hard as I can drive."
When Letarte jokingly responded that he change his speed, Earnhardt fired back.
"I can't. This is as fast as it goes," he said.  
Byron finished 12th at Pocono but still having best Cup season
While Fugle's communication with Byron puzzled Earnhardt at Pocono, it's hard to argue with the results of the No. 24 team this season. Fugle, who partnered with Byron in his lone season on the Truck Series, where he won seven times, joined Hendrick Motorsports before this season for the sole purpose of working again with Byron. 
And it's worked. Through 19 races, Byron has 14 top-10 finishes, which is as many as he did all of last year, including a win at Homestead, and is locked into the playoffs. 
Sunday's call didn't necessarily pan out as Byron finished 12th, a day after he finished third on the same track.
Byron, Fugle, and the No. 24 team will be back in action next weekend at Road America in Wisconsin. And you can be sure Dale Earnhardt Jr. will be intently listening to the radio communications. 
Like Sportscasting on Facebook. Follow us on Twitter @sportscasting19.