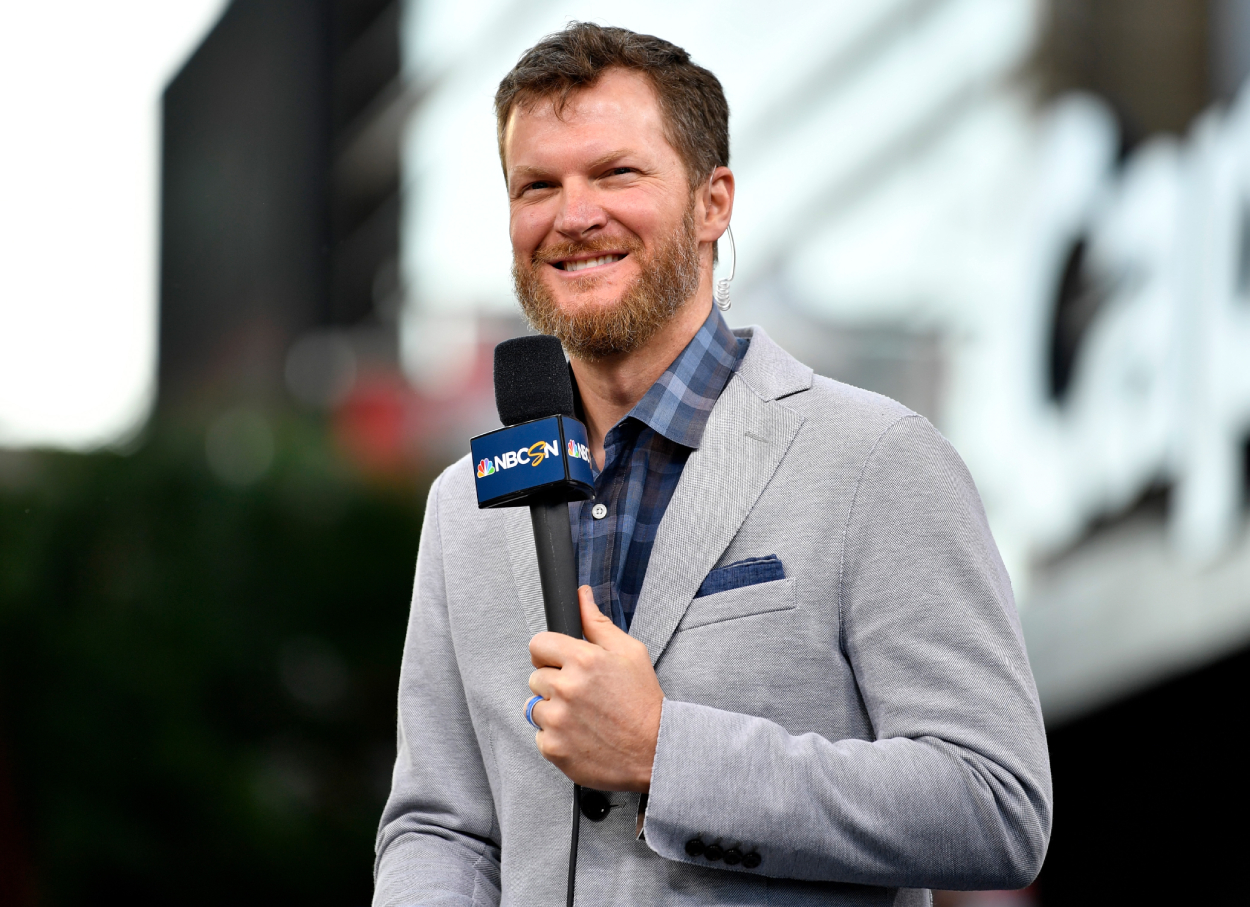 Dale Earnhardt Jr. Goes the Extra Mile for a Fan at Pocono and Proves Why He's Still 1 of Most Popular Figures in All of Sports
Dale Earnhardt Jr. won the most popular driver award 15 consecutive years. On Sunday, he did something for a fan that showed why he's still so popular with fans.
While Dale Earnhardt Jr. might not have ever achieved the same level of success on the track as his father, it did not affect his popularity. In fact, the younger Earnhardt did something no other NASCAR Cup Series driver has ever done, as he was named the most popular driver by fans for 15 years in a row from 2003 until he retired in 2017.
In retirement, Earnhardt may not receive any official recognition for it, but his popularity in the sport remains high. That's because he still connects with the fans through his weekly podcast and his announcing responsibilities during NBC's coverage of the sport. On Sunday, he gave yet another reason for fans to love him by what he did for one fan before the pair of NASCAR races at Pocono.
Dale Earnhardt Jr. begrudgingly accepted the first most popular driver award for his father
While Dale Earnhardt Jr. received his first award as the most popular driver in the NASCAR Cup Series in 2003, it wasn't the first time he accepted the honor. Unfortunately, he accepted the award in 2001 on behalf of his father, who had died at the Daytona 500 earlier that year. And it almost never happened. 
In New York City, Earnhardt partied with his friends until just a couple of hours before the start of the breakfast awards ceremony. When he didn't show up on time, Ty Norris, who worked closely with the Earnhardt organization for years, went up to the room to get him, and they got into a heated exchange.  
"I'm not f—— doing it," Norris recalled Junior telling him on a recent episode of the Dale Jr. Download.
"Your dad will only win this award one time," he told Junior. "There's only one person in the world, on this earth, that can accept that award on his behalf. It's you. You will live to regret it if you don't get up out of this bed and go downstairs to accept this award. And if you don't want to do it, that's up to you." 
Those words connected with Earnhardt. A few minutes later, he showed up in a suit, unshaven, and with bloodshot eyes, but delivered an eloquent speech. 
NASCAR fan makes challenge to walk a lap around Pocono Raceway
Earlier this week NASCAR fan Eric Webler posted a video on Twitter trying to get the attention of NASCAR and Pocono Raceway, where he said that he had been going to Pocono since 2007, but this year he wanted to do something different. Before the race, as part of his continuing effort in 2021 of getting fit, he wanted to walk a lap around the 2.5-mile track.
"Can y'all comment, like, and retweet so they see this?" Webler tweeted. "I've lost 50lbs in the last 6 months and it would be awesome if I could walk 1 lap around the track early Sunday morning. How can we make this happen???? #NASCAR #POCONO"
A representative for NASCAR responded that day and on Saturday, Xfinity Series driver Noah Gragson replied with a simple, "Can I join?"
Dale Earnhardt Jr. and Noah Gragson join fan on his walk around Pocono
On Sunday morning, before the Xfinity and Cup Series races, Webler found himself on the track at Pocono. And he had some special guests join him in Dale Earnhardt Jr. and his JR Motorsports driver Noah Gragson.
In a video posted to Twitter by Pocono Raceway, Webler began his walk with Earnhardt and Gragson walking alongside him. The team owner and his driver shook hands. 
"Great minds think alike," Earnhardt told Gragson.
Gragson then turned to Webler and handed him a hat. 
Gragson has made headlines this season for getting in a fight on pit road and angrily calling out one of the smaller teams in the sport that wrecked him, which resulted in Earnhardt publicly expressing his displeasure with the driver's remarks.
On Sunday, the pair showed why they make a good team at JR Motorsports and that's because they recognize NASCAR is entertainment and the goal is pleasing the fans. They did just that at Pocono and Earnhardt proved once again why the fans love him so much. 
Like Sportscasting on Facebook. Follow us on Twitter @sportscasting19.