Dale Earnhardt Sr. Went Ballistic When He Learned Junior Had Agreed to a Deal With 1 of His Sponsor's Direct Competitors
Dale Earnhardt Sr. went ballistic when he learned Dale Jr. had agreed to a deal with a direct competitor of one of his sponsors.
Dale Earnhardt Sr. earned his nickname, "The Intimidator." Whether it was riding on a bumper for miles or shoving someone out of the way during a NASCAR Cup Series race, he established a reputation as someone who would do whatever it took to win, and it didn't matter who was standing in the way. 
However, that aggressive trait wasn't limited to the track. In a recent episode of the Dale Jr. Download, Junior and his guest Ty Norris revisited a time when the younger Earnhardt agreed to sign with a company that was in direct competition with a business already working with his father. When Dale Sr. learned about the deal, he went ballistic, squashed it, and delivered a warning about any future sponsorship opportunities.
Dale Earnhardt Jr. agrees to deal with Polaris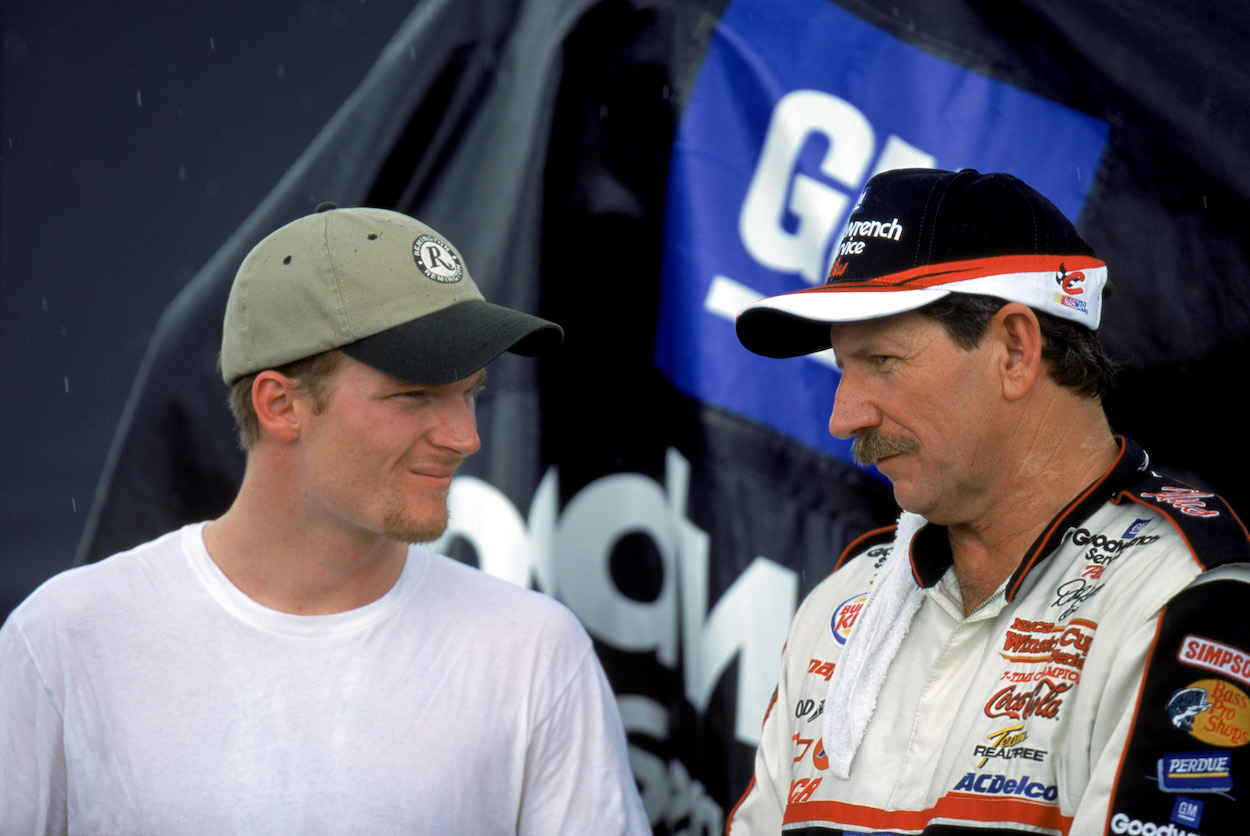 While Dale Earnhardt Jr. operated in his father's shadow, his name and his own performance naturally attracted sponsors. Early in his career, Earnhardt received an opportunity to work with the all-terrain vehicle company Polaris. The deal would include money and multiple pieces of equipment.
During a recent episode of the Dale Jr. Download, former Dale Earnhardt Inc. executive vice president Ty Norris revisited the deal and how he presented it to Earnhardt, who was at home in bed after a night of partying with his friends. Norris said after making his way through the living room where bodies were strewn all over the floor under blankets, he made it to Earnhardt's bedroom.
"Junior's in the bedroom asleep," Norris recalled. "And I'm like, 'Hey man, sorry, but I really have to get an answer for this guy. This is what they'll do. This is how much money. This is how many ATVs."
Earnhardt never hesitated and agreed to the deal. Moments later, Dale Sr. showed up at the house and was informed about the new Polaris deal. Senior immediately instructed Norris to leave and go to his office. 
Dale Earnhardt Sr. goes ballistic 
A few minutes later, Norris was waiting in the office when Earnhardt arrived. Inside the office, Earnhardt grabbed a bat he had received from former Atlanta Braves shortstop Jeff Blauser and started pacing the room, repeatedly hitting his boots with the bat.
"I got a damn Arctic Cat deal," Earnhardt angrily reminded Norris. "You don't ever ever go to Dale Jr. with something that's in conflict with me! You don't talk to him about anything until you talk to me first. Don't you ever do that again!"
Norris said moments later that Earnhardt put the bat down and acted like nothing had happened and asked him if he wanted to go to lunch.  
Norris witnessed other outbursts
As a top man at DEI and Earnhardt's right-hand man, Norris witnessed more than a few outbursts from his boss. One incident happened after Norris hurt his knee playing basketball, which Earnhardt had banned his employees from doing after one person got hurt playing basketball at work. 
While Norris had injured his knee not on company time and off property, Earnhardt was still unhappy when he saw his employee hobbling around and confronted him. 
"He could see which leg I was limping on, and he had to go to an appearance, so he has like his Chase shirt on, jeans, and his boots," Norris recalled. "He gets there close, and he puts his hand for me, and right when I go to shake his hand, he picks up his leg and he kicked me right in the knee as hard as he could. Took me down. And he goes, 'I told you to never play basketball! I'm not going to have my employees where they can't be around!'"
Dale Earnhardt Sr.'s combative style on the track played well with the fans. Unfortunately, it carried over into his personal and business life, and those who were around had to endure it on a consistent basis.
Like Sportscasting on Facebook. Follow us on Twitter @sportscasting19.