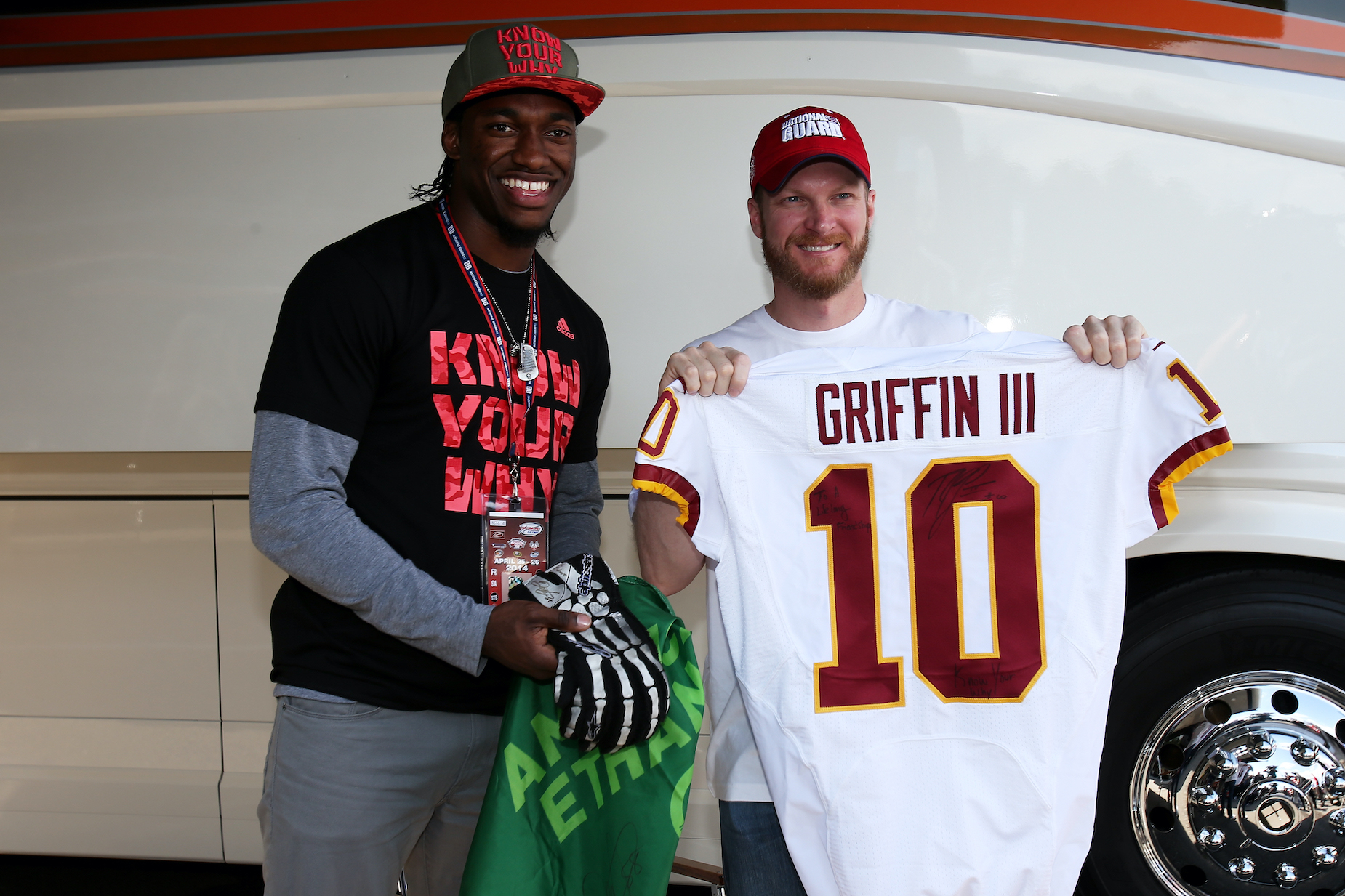 Dale Earnhardt Jr. Reveals His Favorite Memory From RFK Stadium and Shares a Common Complaint Among Sports Fans: 'It's a Shame That Teams Can't Stay in Those Iconic Stadiums Forever'
As an established Washington Football Team fan, Dale Earnhardt Jr. shared his favorite memory of RFK Stadium.
While he found fame and fortune in the world of motorsports, Dale Earnhardt Jr. isn't a one-trick pony. The North Carolina native grew up loving football and, even though he left the gridiron behind, the NASCAR star still holds the Washington Football Team close to his heart. During a recent Ask Dale Jr. video, that fandom shone through loud and clear.
With Robert F. Kennedy Stadium slated for demolition, Junior fielded a question about his favorite memories of RFK. Beyond thinking back to the good old days, the NASCAR star also touched on a topic that's somewhat of a sore nerve for sports fans around the country: stadium relocation.
Dale Earnhardt Jr. loves football and the Washington Football Team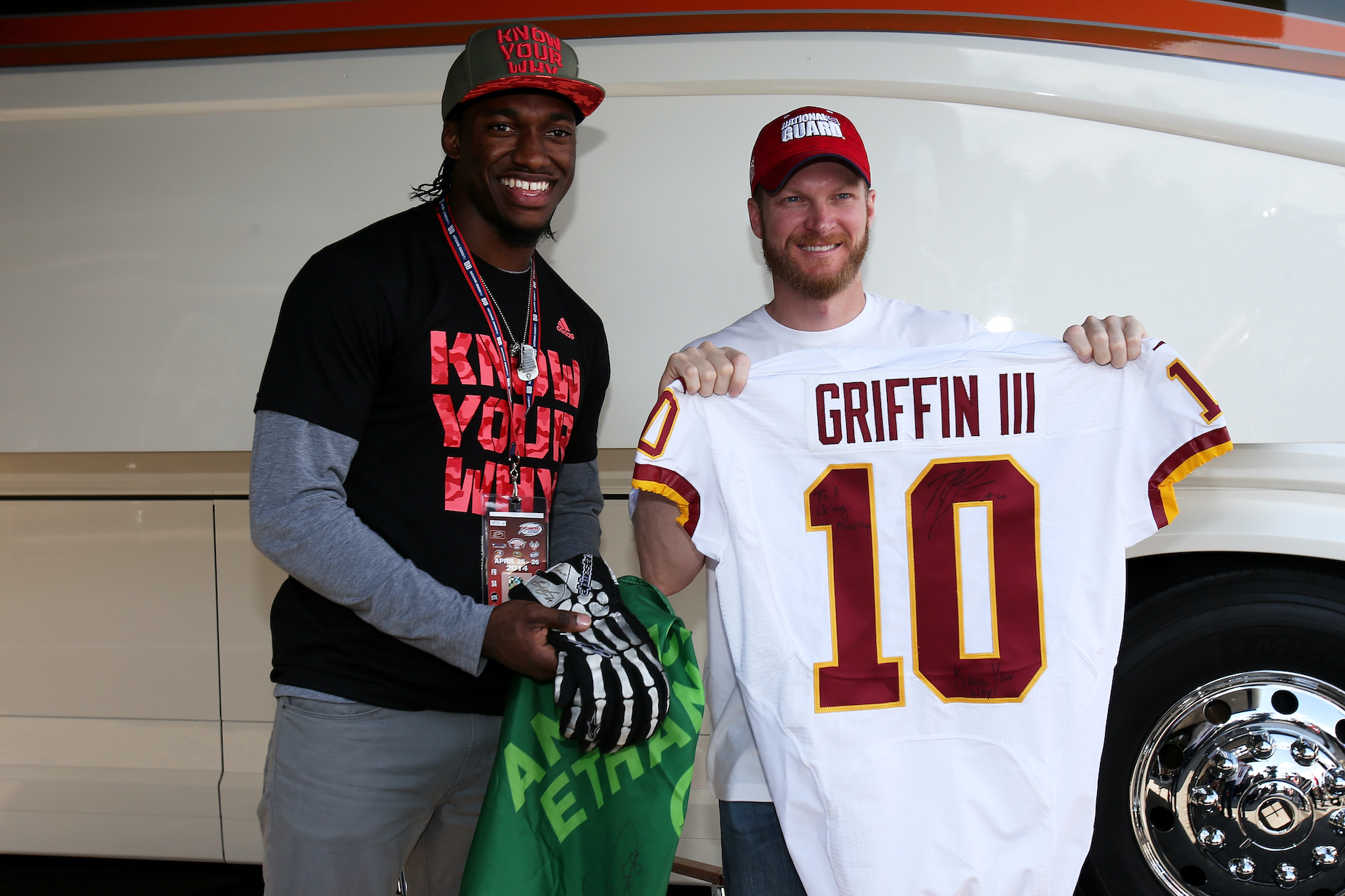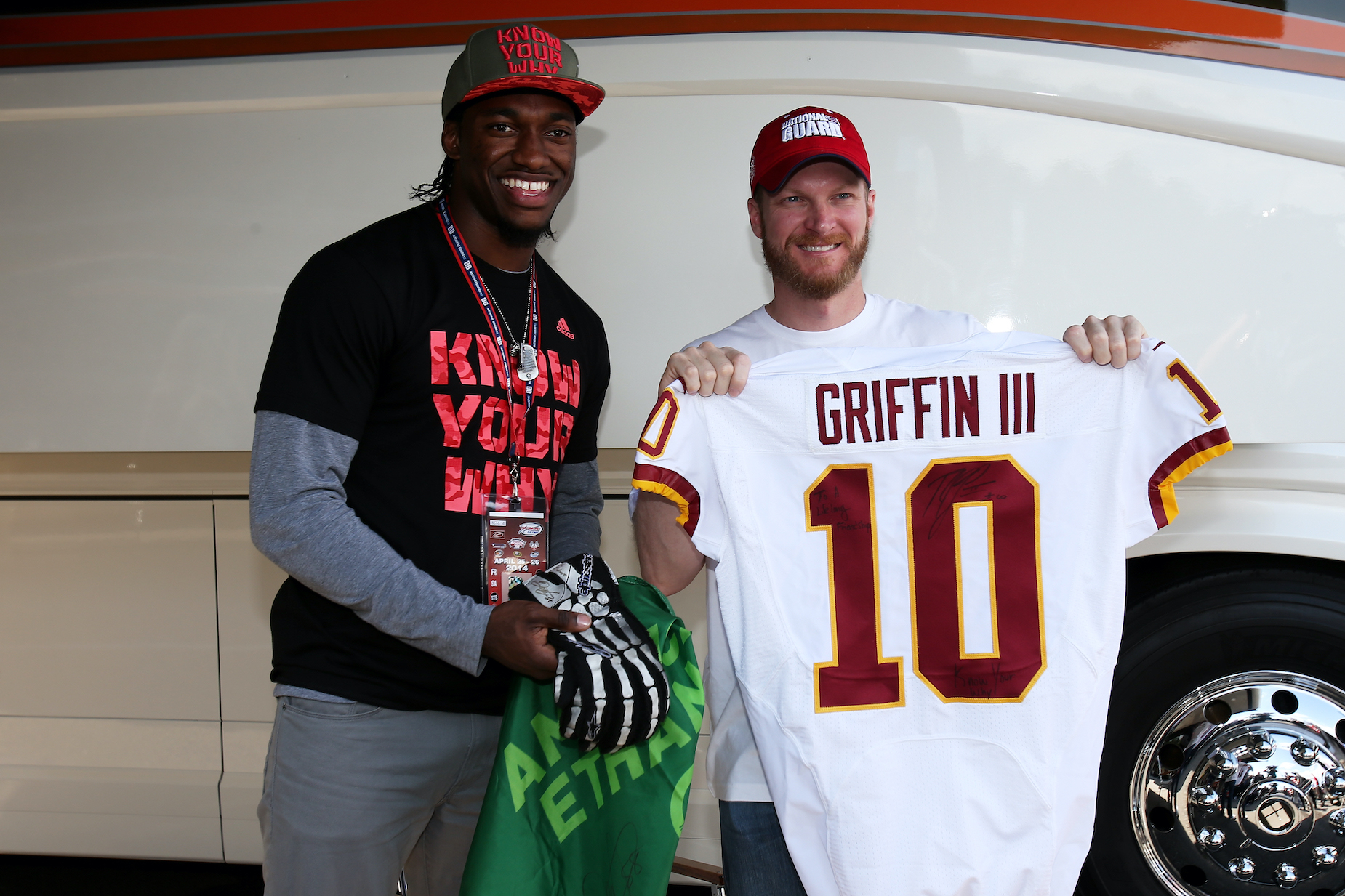 Barring a select few athletes like Bo Jackson and Deion Sanders, it's tough for any one person to have that talent to succeed in two different professional sports. If he had his way, though, Earnhardt Jr. would have been more than happy to hit both the gridiron and the race track.
During his youth, Junior hoped to play high school football, but his small stature saw him join the soccer team instead. While he didn't see much action on the pitch, he did earn a letterman jacket and, perhaps more importantly, avoided any potential injury at the hands of opposing linebackers.
That experience didn't damage Earnhardt's love for the game, and he remains an avid Washington Football Team fan to this day. He's spoken in support of the club's name change, tweeted about Kirk Cousins during his honeymoon, and even made a phone call to a draft pick at head coach Ron Rivera's request.
Sharing his favorite memories of RFK Stadium
Before they moved out to Maryland, the Washington Football Team played their games at RFK Stadium, which sat within eyeshot of the United States Capitol Building. The arena has been without a full-time tenant for several years now and, after pandemic-related delay, plans are moving forward to demolish the structure once and for all.
In light of that reality, Earnhardt fielded a question about his favorite memories from RFK during a recent Ask Dale Jr. video. Unsurprisingly, he flashed back to Washington's glory days.
"My favorite memory from that stadium is the fans jumping up and down and the stadium actually, the beams of steel and the stadium, actually flexing and bending," Junior explained. "There's some shots of fans, back in the early 80s, in the middle of a great game celebrating a victory or a lead, and the place is rocking. Literally rocking."
While there hasn't been much excitement at Washington Football Games in recent years, anyone who's witnessed their favorite team pull through in a big moment can certainly relate to Earnhardt's memories.
Dale Earnhardt Jr. also touches on the thorny issue of stadium relocation
When reminiscing about the good old days at RFK, Dale Jr. also made another comment about the stadium and his favorite team's past. If you're a veteran sports fan, you'll probably understand where he's coming from.
"I think that, you know, it's a shame that teams can't stay in those iconic stadiums forever," Earnhardt added. "But hopefully, the next one's a good one."
While Washington has already found their next home and, barring a few notable successes, it hasn't been a good one, Junior's sentiments will ring a bell for plenty of supporters. Whenever a team changes stadiums, even if they're only moving a few hundred yards down the road, things can be pretty complicated.
Setting aside the issues surrounding taxpayer-funded stadiums, which many relocations involve, fandom is tied to history and nostalgia. Junior can probably detail the first time he ever saw a Washington game in person; virtually every fan will remember the first time they headed to the stadium with their dad, uncle, or grandmother. While moving on is eventually necessary — those who frequented RFK, old Yankee Stadium, or any of the Major League Baseball's concrete donut stadiums will confirm that reality — progress and sentimentality don't always mix. Just because something is necessary, it isn't always easy.
As a NASCAR star, Earnhardt Jr. found both fame and fortune. All the money in the world, however, can't stop wheels of progress; our beloved stadiums and favorite players alike will age and fade from the spotlight. In that regard, Junior is in the same boat as every other sports fan around the world. Sometimes, you just have to bite the bullet as time goes marching on.