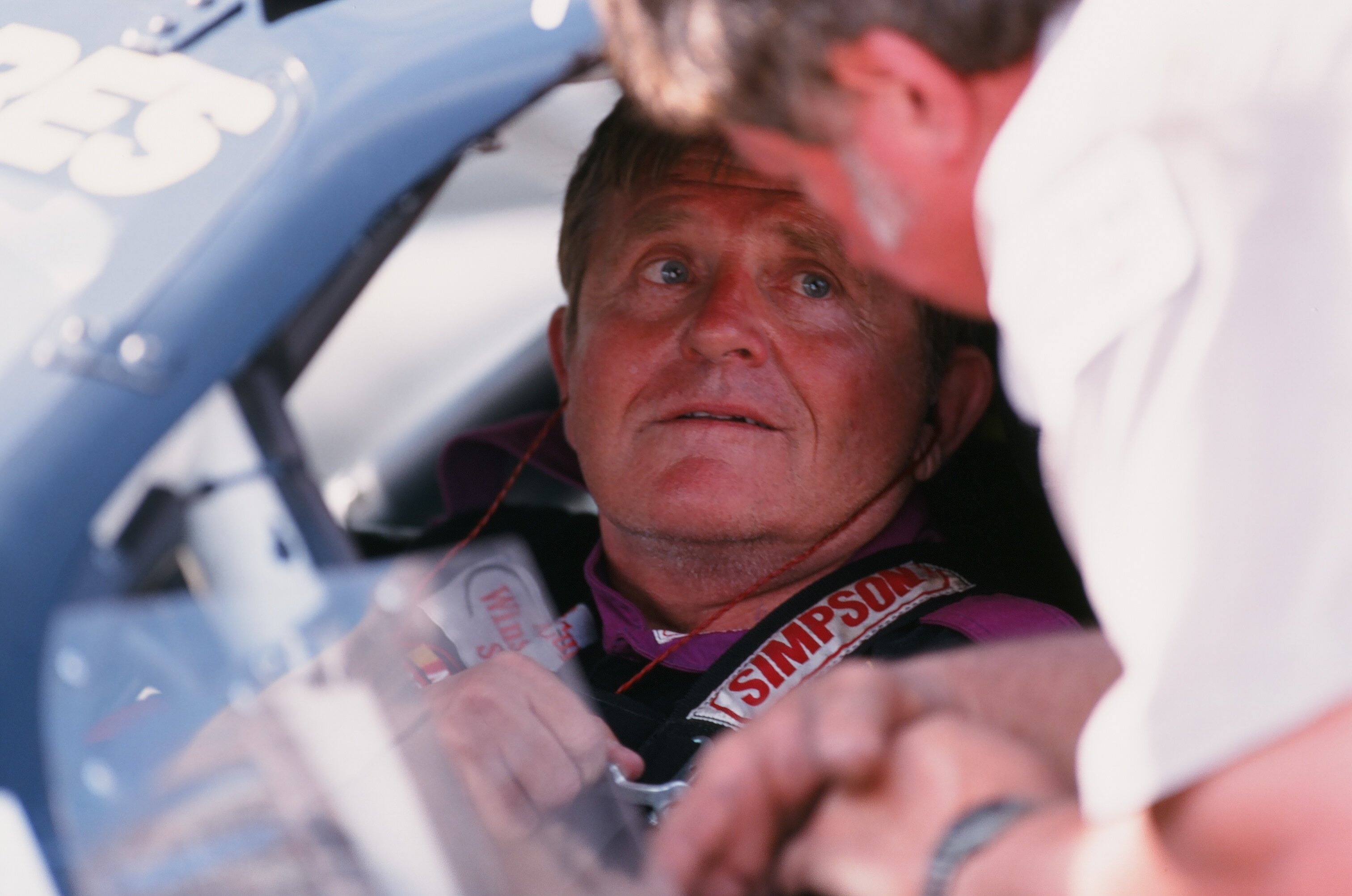 Dale Earnhardt Jr. Wasn't the Only Earnhardt Who Wanted to Fight Jerry Glanville
Dale Earnhardt Jr. wasn't the only member of the Earnhardt family who wanted to take a swing at Jerry Glanville.
Jerry Glanville might be known for his coaching career in the NFL. He's also a motorsports legend. He's run races at 100 different tracks and he's still racing at 79 years old. There was a time when he raced Dale Earnhardt Jr. and Earnhardt Jr. was so annoyed with him for cutting him off that he went after the former Atlanta Falcons coach. Glanville also had another Earnhardt who wanted a piece of him.
Dale Earnhardt Sr. was a mentor to Jerry Glanville
To most sports fans, Jerry Glanville was a football guy. He was the Houston Oilers and Atlanta Falcons head coach who would leave tickets at will call for Elvis Presley. Glanville was the interim head coach of the Oilers in 1985 before picking up the job full-time in 1986. Glanville coached the Oilers through the 1989 season before becoming the head coach of the Atlanta Falcons in 1990.
Glanville was the head coach of the Falcons through 1994 and finished his head coaching career with a 63-73 record, playoffs included. He remained in football after his coaching days were over, working as an analyst for CBS and Fox. Glanville also had an auto racing career, beginning in 1992 in the NASCAR Busch Grand National Series.
Glanville was mentored by the late Dale Earnhardt Sr. during tests at Richmond International Speedway. He made his series debut at Orange County Speedway, coming in 22nd place. Glanville continues to race today at the age of 79.
Glanville has run at 100 different tracks
Jerry Glanville will turn 80 in October. On a recent appearance on Dale Earnhardt Jr.'s podcast, Dale Jr. Download, Glanville said he's still racing and there are no signs of slowing down. He said he is one of the chosen few to have run at 100 different tracks.
"It's funny, I was at Odessa, Missouri, and the headlines in the paper were 'Glanville hits 100,'" Glanville said to Earnhardt Jr. "And I thought, hell am I that old? And I read it and I was the third guy to run at 100 different tracks. It was Kenny Schrader, Richard Petty, and me. I ran seven series and you hit all the tracks. In Odessa, Missouri, I hit 100."
Glanville said he last raced in the summer. "They now have these late modifieds where you have Crate motors," Glanville said. "I drove a Camaro with a Ford motor. I was like if (Ernie) Elliott saw this, he'd fire me. Elliott built my motor and if saw me in a Chevrolet…but now (nephew) Chase (Elliott) is in a Chevy so he can't say much."
Dale Earnhardt Jr. and his father both wanted to fight Glanville
During an interview appearance on Dale Earnhardt Jr.'s podcast, Dale Jr. Download, Jerry Glanville asked Earnhardt Jr. if he remembered when he wanted to fight Glanville. "Now one time you walked down and wanted to fight me. Do you remember that?" Glanville asked. "I did, yeah," Earnhardt Jr. responded.
"Bob Fisher was my car chief, and he said, 'Junior's walking down,'" Glanville said. "I go, 'Am I wrong or is he wrong?' He said, 'You were wrong.' I go, 'I was wrong? OK.' So then I took a different mode of operandi.
"Now your dad, about 25 years before that, came after me in Atlanta. I said, deja vu baby. Your dad ran me off the course at Rockingham on Lap 4. So then we were in Atlanta the next race and we were coming out of Turn 4 and I put him just down right by the infield. Well, I found out he could run me off the course but NASCAR didn't want me running him off. I got sent to the penalty box."