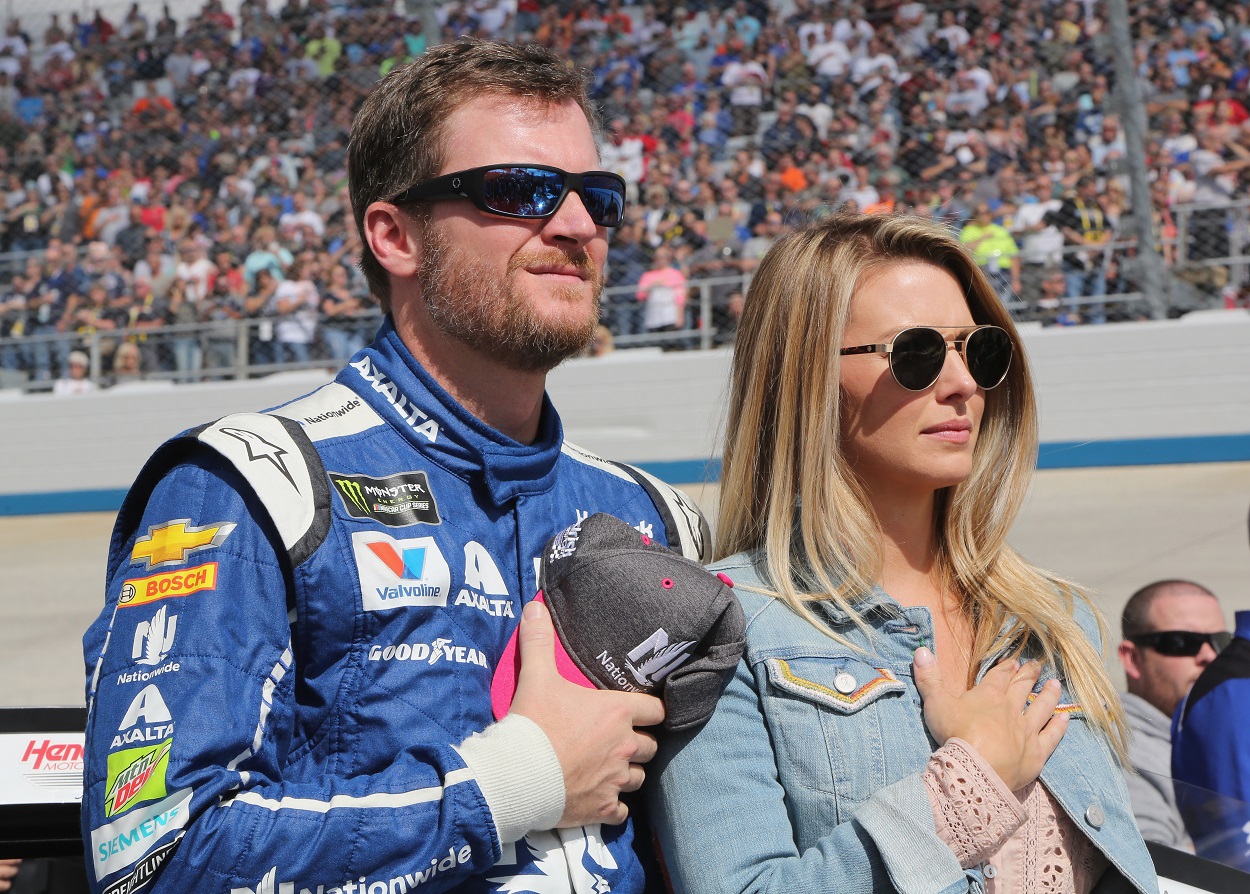 Dale Earnhardt Jr.'s Wife Forced Him to Kick a Tough Addiction That 'Could Be a Dealbreaker'
Dale Earnhardt Jr.'s wife, Amy Earnhardt, helped him finally rid himself of a challenging addiction.
Dale Earnhardt Jr. experienced many challenging, pressure-packed moments throughout his NASCAR racing career. More often than not, he pushed his way past the difficult situations that have helped shape his life. 
Amy Earnhardt, his wife since 2016, has played a pivotal role in more than a few of those situations. Her assistance even helped him kick a tough nicotine addiction and also aided him in a journey through another notable career hurdle.
Dale Earnhardt Jr.'s wife helped him through his concussion problems
The two-time Daytona 500 winner experienced strong concussion-like symptoms during the tail end of his time on the NASCAR track. Those physical struggles even forced him to end his 2016 season prematurely.
His wife played a massive part in his recovery. Dale Earnhardt Jr. has repeatedly credited Amy for giving him the mental fortitude and — pun intended — drive to persevere.
"I would have been in such a despair emotionally being alone waking up every day with those symptoms on my own that I would have probably given up," Earnhardt said during an appearance on In Depth With Graham Bensinger.
The NASCAR Hall of Famer also has great admiration for his wife thanks to her assistance in another area.
Amy Earnhardt forced Dale Earnhardt Jr. to kick a tough nicotine addiction
Throughout much of Dale Earnhardt Jr.'s NASCAR career, he kept his nicotine addiction out of the public eye.
It wasn't until the latter stages of his time behind the wheel that he shed light on his habit. Smoking was something his dad, legendary driver Dale Earnhardt Sr., disapproved of before his death.
Earnhardt continued for 15 years, smoking a pack and a half each day. However, his addiction was stopped cold in its tracks after he'd dated his now-wife for a few months. In an interview with NBC Sports in May 2019, Dale Jr. said Amy played a pivotal role in helping kick the habit in 2011.
"I was trying to quit and tried a couple of times and failed, and it was so disappointing for her," Earnhardt said. "Eventually she said to me, 'Look man, are you really going to get this done? Are you really going to eventually quit?' And I said, 'I don't know if I can.' And she goes well, 'Honestly, that could be a dealbreaker for me.' And I said, 'Damn, really?'"
"She said, 'Yeah, if you're not sure, and this is something that is going to be part of our relationship going forward, I just don't know.' So that was a tough conversation that had to be had, and I finally figured out how to get it out of my system when I truly wanted to quit. You have to have that conviction to do it, but it was really, really hard."
The risk of losing Amy was the push he needed to move past the addiction. Earnhardt hasn't smoked in over a decade, and he's using his journey to help others kick the habit.
Remains happy in NASCAR retirement
Although the transition to retirement hasn't always been easy, Dale Earnhardt Jr. has maintained that he stepped away at the right time.
Beyond his co-ownership of JR Motorsports, he holds a strong connection to the sport. He's picked up broadcast duties with NBC Sports, and he also hosts a weekly podcast, The Dale Jr. Download, which has quickly become an extremely popular show.
Earnhardt has a strong desire to race, but his health and growing family have kept him off the track aside from his annual tradition of participating in one Xfinity Series race.
With Amy alongside him, he's moving confidently and comfortably through retirement.