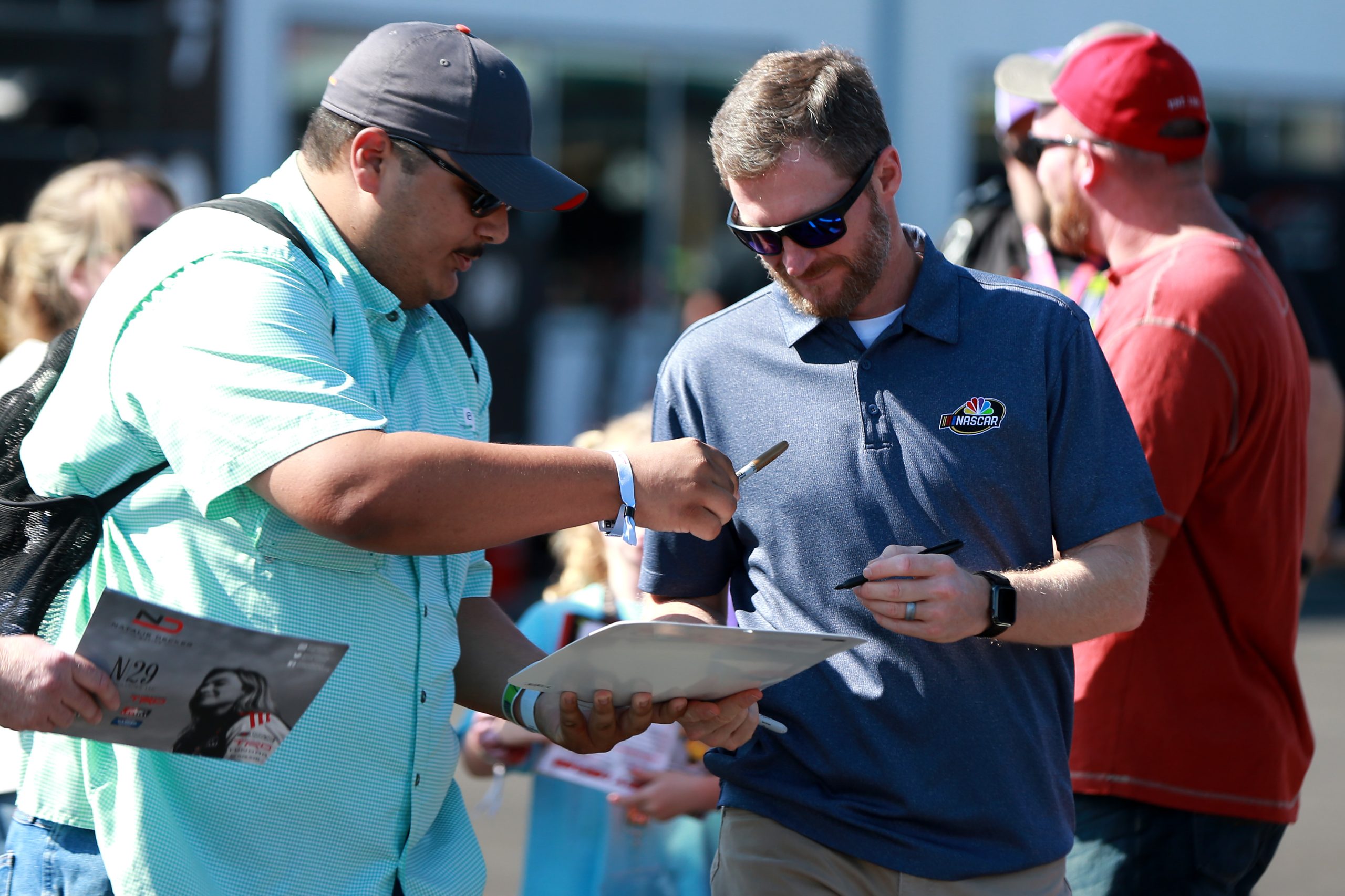 Dale Earnhardt Jr. Sure Has Grown Up a Lot: 'If This Happened 10 Years Ago… You'd Never See Me Again'
Dale Earnhardt Jr. has come a long way since his shy and awkward days.
Dale Earnhardt Jr. has labeled himself as "awkward" and "uncomfortable" when he was growing up. He was anti-social and struggled to be himself around others. Times certainly have changed for Junior. The man who is a 2020 NASCAR Hall-of-Fame inductee sure has grown up quite a bit off the tracks.
Dale Earnhardt Jr. was never comfortable outside the racetracks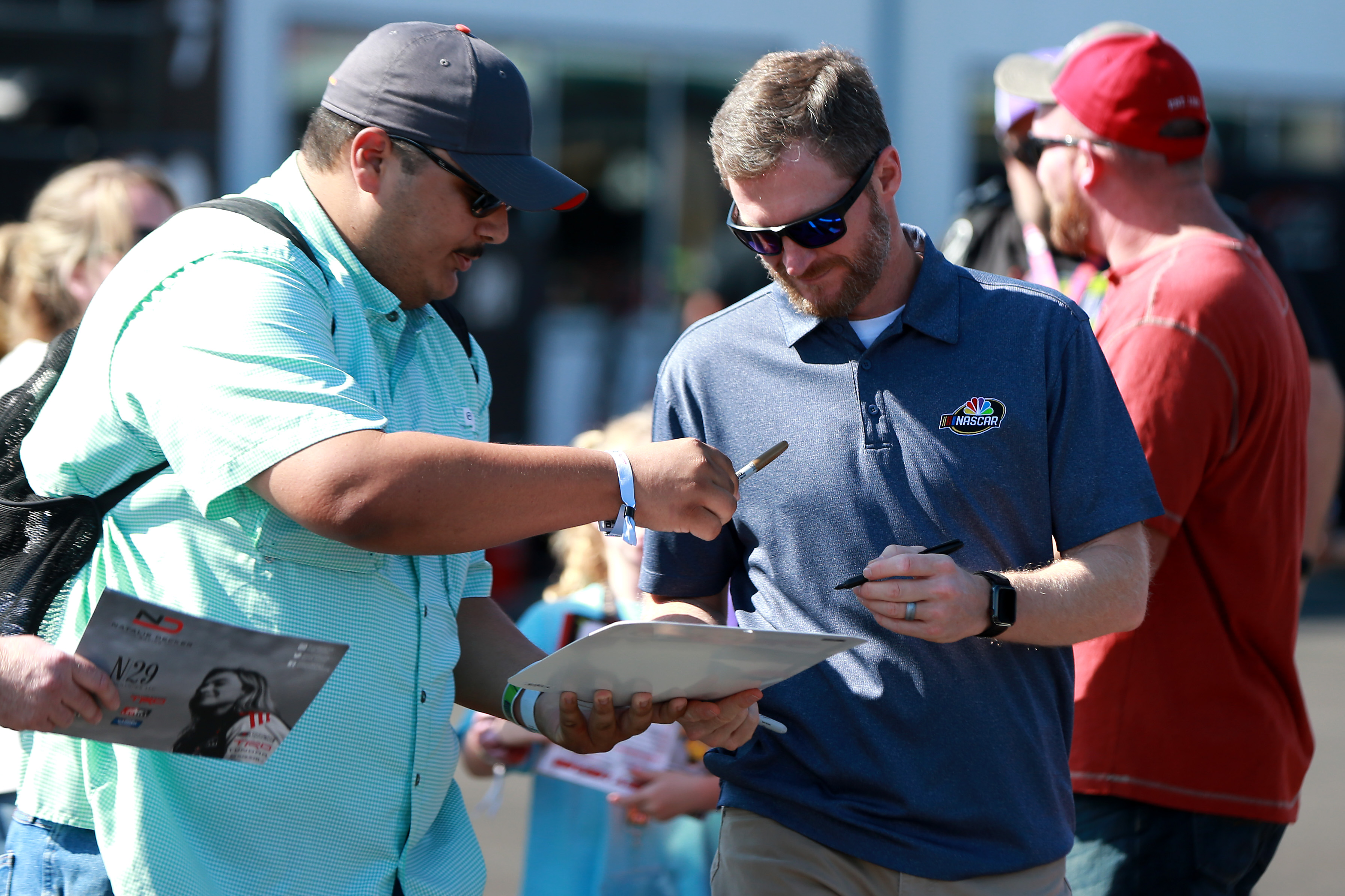 Earnhardt Jr. didn't have much stability in his home life when he was growing up. After a house fire forced him to move in with his father, the legendary Dale Earnhardt Sr., he and his sister Kelley went from school to school. The elder Earnhardt was hardly home, spending his time at the racetracks to work on his Hall-of-Fame racing career. Kelley took Junior under her wing.
He never had a chance to develop any real friendships as he traveled in and out of schools.  "I had like two, three, or four friends," Earnhardt Jr. told Danica Patrick on the Pretty Intense podcast. "I wasn't outgoing and wasn't one to strike up a conversation and I was real, real quiet. It just created this sort of sustained personality and approach to life all through my teenage years."
Earnhardt Jr. would thrive behind the wheel. That was where he felt most comfortable. Even as he got older, he wasn't one for small talk.  "I've just always felt super awkward around people, meeting new people," he said. "I get real comfortable once I get to know people and can be myself. I don't have a lot of social skills in terms of small talk and chit-chat."
Earnhardt Jr. has learned to overcome that awkwardness. He's become more social. He opens up on his weekly Dale Jr. Download podcast. After retiring from racing, he took a job as a television NASCAR analyst with NBC? Dale Earnhardt Jr. with a microphone? He's come a long way.
Dale Earnhardt Jr.: 'If this happened 10 years ago… you'd never see me again'
He still gets the butterflies before getting in front of the television camera, but the fact he's getting in front of the camera shows Junior has come a long way. Last weekend was the season opener for NASCAR on NBC. He admitted he was "terrified" of getting back in front of the camera after a long layoff. Junior hosted Countdown to Green, a live prerace show, and that raised his anxiety level a bit.
He then found out he had to do the Countdown to Green on Saturday for the Xfinity race about an hour beforehand. The old Dale would've bailed. The new Dale toughed it out.
"The funny thing is, if this happened 10 years ago, I'd have jumped up outta here and ran the other way without saying a word, and you'd never see me again," he said on his Dale Jr. Download podcast. "But now I'm allowing myself to go into these uncomfortable places and just seeing what happens – sink or swim."
Denny Hamlin believes Junior's wife Amy helped get him out of his shell
Denny Hamlin and Earnhardt Jr. have been friends for quite some time. He remembers when Earnhardt Jr. wouldn't go out on racing weekend, staying locked in his bus for days. He believes when Junior met his wife Amy things began to turn.
"I knew Dale when he was closed off, and he was quiet back in his smoking days," Hamlin said on the Dan Patrick Show in 2019. "Honestly, what changed him was his wife Amy, in my opinion. I just think she had a positive influence on him coming out of his shell. I remember when she came into his life, he, instead of being in the bus for three days during race weekend, was going to dinner in the local area and just trying to get out a little more."
Whether it was Amy or starting his podcast, Earnhardt Jr. has become a new person. He's engaging and opens up much more, showing a side of him that's been locked away for years.