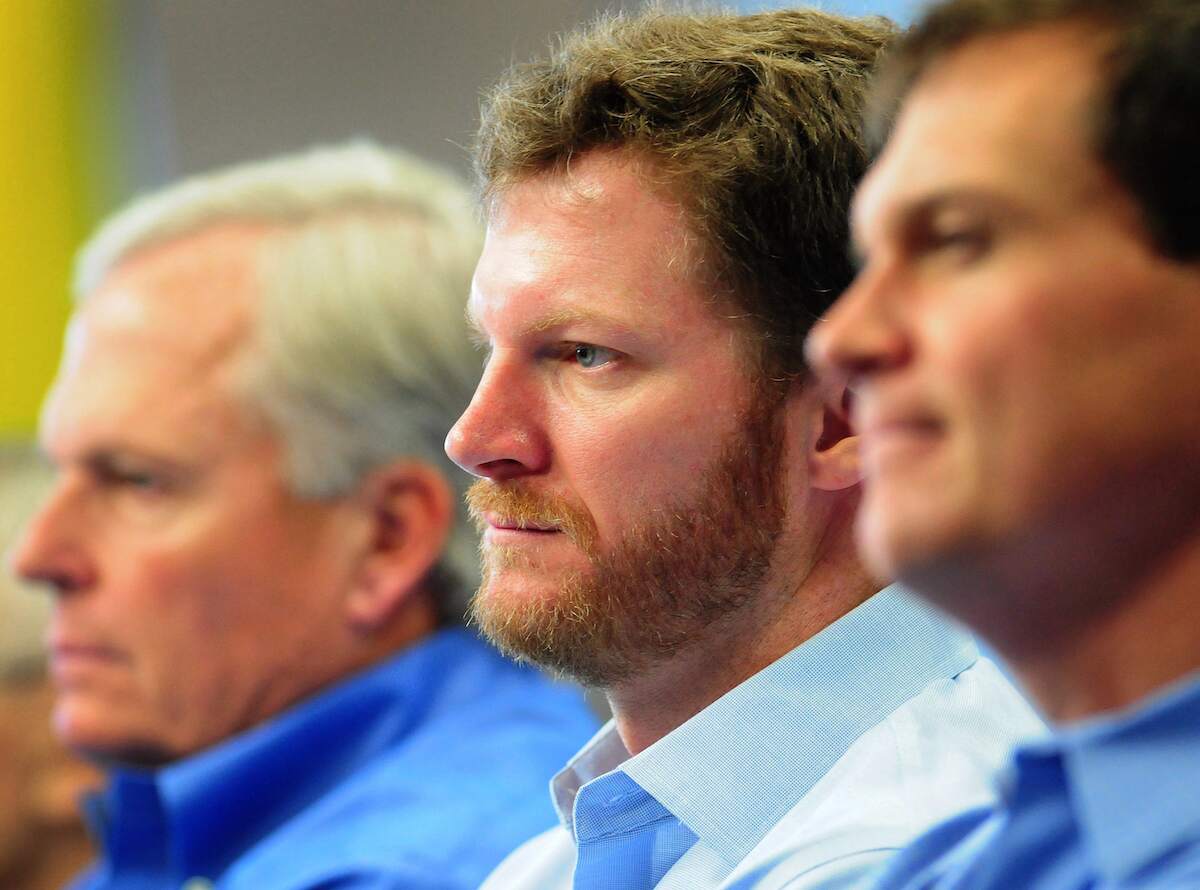 Dale Earnhardt Jr. Once Revealed What Not to Do After Causing a Wreck
Dale Earnhardt Jr. once gave the protocol he uses to contact other drivers if he is at fault for a NASCAR crash.
For those involved in motorsports, crashes are just part of the game. In fact, Dale Earnhardt Jr. called it quits in 2017 after concussions — many, if not all — sustained in car wrecks. In 2018, he gave his opinion on the proper protocol for how drivers should reach out to others if they caused a crash. Earnhardt Jr. also stressed the biggest thing not to do.
Dale Earnhardt Jr. is no stranger to accidents
Dale Earnhardt Jr. raced for 19 years in the NASCAR Cup Series. Like his father, he had a Hall-of-Fame racing career. Dale Earnhardt Sr. was an inaugural member of the NASCAR Hall of Fame, and his son is a 2021 inductee. Earnhardt Jr. had 260 top-10 finished in 631 races. He won 26 times.
Despite Earnhardt Jr.'s success, which included Daytona 500 wins in 2004 and 2014, he certainly has his share of wrecks. In 2002, he had one of his biggest crashes in California. He was dazed, stunned, and woozy. "Back then, we didn't use the word concussions that often," Earnhardt Jr. told Graham Bensinger in 2018.
Earnhardt Jr. said drivers would shake it off and return the following week. As his career progressed, Earnhardt Jr. learned more and more about concussions from various wrecks. He retired from the sport after the 2017 season after suffering numerous concussions.
Concussions proved to be the end of Earnhardt Jr.'s career
During a 2012 race in Kansas, Dale Earnhardt Jr.'s tire blew. The impact of the crash left him "screwed up." It was another concussion. Earnhardt, 10 years after the big crash in California that left him with a head injury, had endured concussions in August and October 2012.
During an interview with Joe Rogan, Earnhardt Jr. said he would laugh off those head injuries early in his career. "I had concussions throughout my career at many different points and didn't think anything of them," Earnhardt Jr. said to Rogan. "I thought, when you got a concussion, you joke about it with your buddies, and you just rest through it until it's gone. You race through it, and eventually, it'd go away, and you were fine."
 In July 2016, Earnhardt Jr. was diagnosed with concussion-like symptoms and was forced to miss the rest of the season. He announced that the 2017 season would be his last. He struggled in his final year, finishing with just one top-five finish.
What not to do when you cause a wreck, according to Earnhardt Jr.
During a discussion with Kyle Petty and racing analyst Rutledge Wood on NBC Sports, Dale Earnhardt Jr. spoke about a 2018 Daytona incident involving Ricky Stenhouse Jr., who had caused a wreck. One of the questions posed to Earnhardt Jr. and Petty was how Stenhouse should have reached out to the drivers in the wreck. Should he call, text, or DM the drivers?
"That's definitely a call right there," Earnhardt Jr. said. "If he text messages any of these drivers, that just shows that he's not truly remorseful. We heard the remorse in his voice during the second stage win. We went to interview him from the booth, and he sounded so upset. Earnhardt Jr. said his protocol would be to speak face-to-face, if possible:
"If you can see this person at the track or meet in person somewhere to have that conversation face to face, that's definitely top of the list. In today's world, with technology and all that, if you're gonna call the guy, call him the next day.

If you wait until the next weekend, you have to go to the guy personally that Friday and see him face-to-face. I think the easiest way is to give the guy a call, get him on the phone, let him chew your butt out for a while. Texting is the worst thing. It's just as bad as not calling the guy at all."