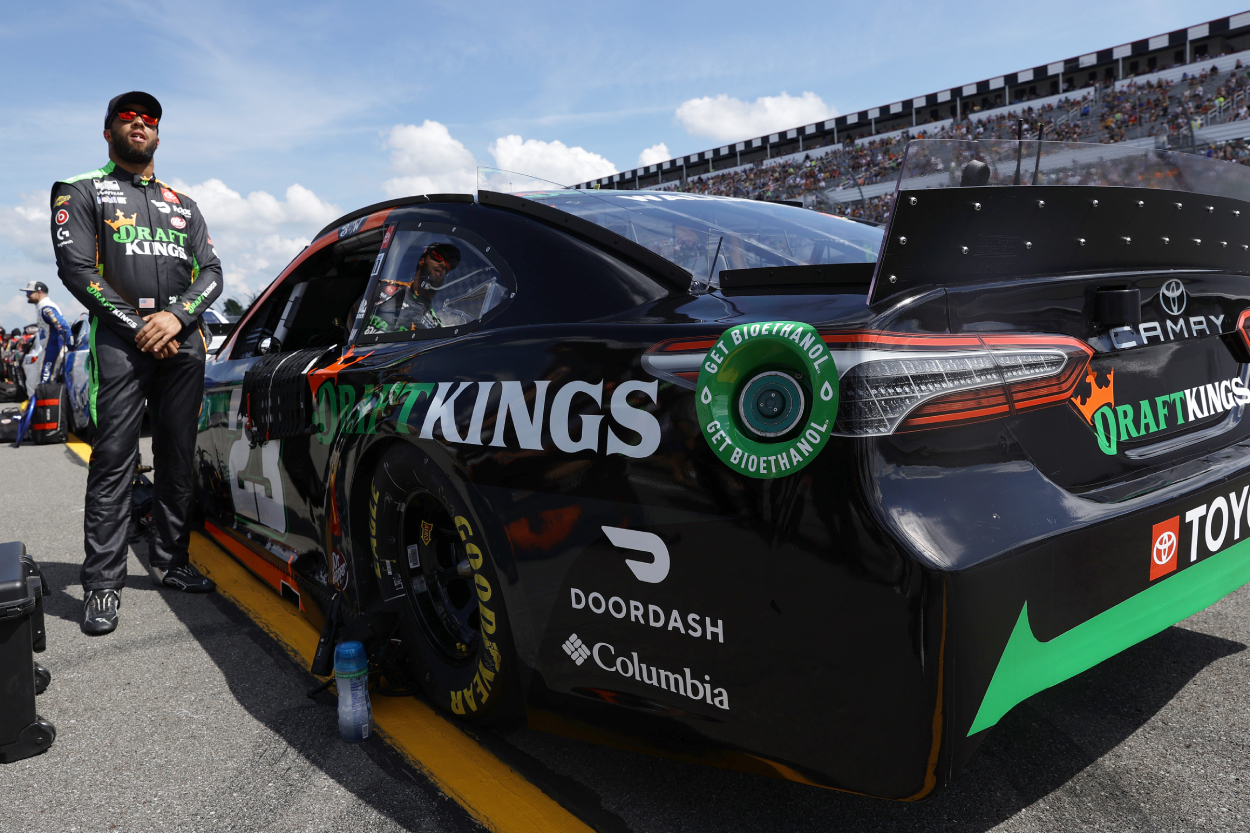 Bubba Wallace Reaches Milestone With 23XI Racing as Michael Jordan Looks On
Bubba Wallace reached a milestone for 23XI Racing on Sunday.
Sporting a new look inside the Draft Kings car, Bubba Wallace had himself quite a day Sunday. Wallace has had a tough season after predicting he would capture two NASCAR Cup Series victories this season driving for Michael Jordan and Denny Hamlin's 23XI Racing team. Wallace, who had a rough go in Nashville last week after having three top-15 finishes in his last four races, bounced back nicely Sunday at the Explore the Pocono Mountains 350.
Bubba Wallace sports new look in Draft Kings car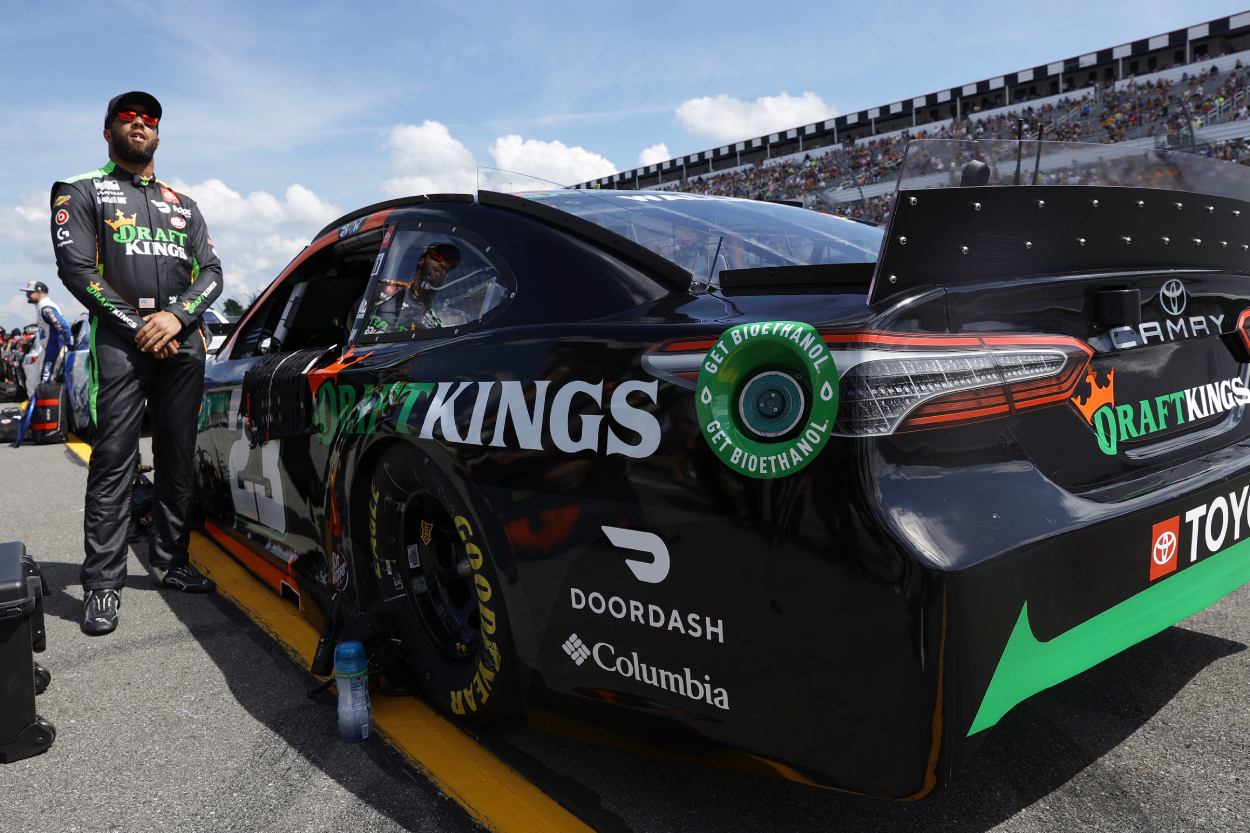 Back in May, Wallace finished 11th at Dover, his best finish of the season. He added a new sponsor the following week. At Circuit of the Americas in Austin, Texas, Wallace sported "Draft Kings" on his car and uniform. This weekend, Draft Kings was the primary sponsor of Wallace's car at Pocono. Not only did Wallace have a new look, but he also had Jordan in attendance.
"He's in the background watching and enjoying," Wallace said, according to NBC Sports. "He's hooked. Having Michael Jordan hooked to NASCAR is huge and that's getting a lot of other big names hooked as well and that's what the sport needs. We'll keep on doing on our own thing, keep plugging along."
Wallace hopes to turn around a season where his average finish was 21 entering the Pocono race. He's been putting a lot of pressure on himself, according to crew chief Mike Wheeler.
"Bubba has put a lot on his shoulders of having mistakes or running too hard, running into somebody," Wheeler said. "A lot of our good cars early in the race would be damaged and he's like, 'I got to stop doing that,' and Denny would beat him up, too."
Bubba Wallace hits milestone with Michael Jordan in attendance
Maybe the Draft Kings car brought him some luck. Maybe Jordan did. Whatever the case, Wallace reached a first with 23XI Racing this weekend.
Not only did he collect the first top-10 finish for 23XI Racing, but he also notched his first top-five finish, winding up in fifth place. Wallace is hoping to carry the momentum for the remainder of the season.
"It's big. A lot of confidence for myself, which is huge," said Wallace, according to motorsport.com. "It came down to fuel strategy there, but I appreciate Wheels (Mike Wheeler, crew chief), J.R. (Houston engineer), Freddie (Kraft, spotter), telling me what to do – 80% there, 60% here, the whole time. It got so annoying, but it worked out. That's what it takes. It takes a team effort to pull off this. Great day for us."
Wallace has been preaching patience in his first year with 23XI Racing and said Jordan has, too.
"Everybody talks about he's a winner, he's a champion, yeah, but he's also a realistic person," Wallace said. "He wants to win, for sure, but he knows what it's going to take for us to get there. It's more from me, it's more from the team, and it's more of a group effort."
Wallace knows he's in a hole, but still has his eye on the playoffs
For Wallace, finishing fifth is like a win. He hasn't lived up to the expectations he set for himself. Prior to the season, the playoffs were a goal for 23XI Racing. It remains a longshot, but Wallace is hoping this race will begin a streak that could help reach that goal.
He's 51 points outside the playoff field. The goal remains the same – grab one of those 16 playoff spots.
"We wanted the playoffs when we started the season," Wallace said. "We've got a lot of work to do, and we know that we are in a hole, but it's finishes like that, that we have to capitalize on the speed in our cars. Today shows what we can do. We've got to keep up the momentum."
Sunday was a confidence builder for Wallace and 23XI Racing. He'll need quite a few more outings like this one to secure that playoff goal.