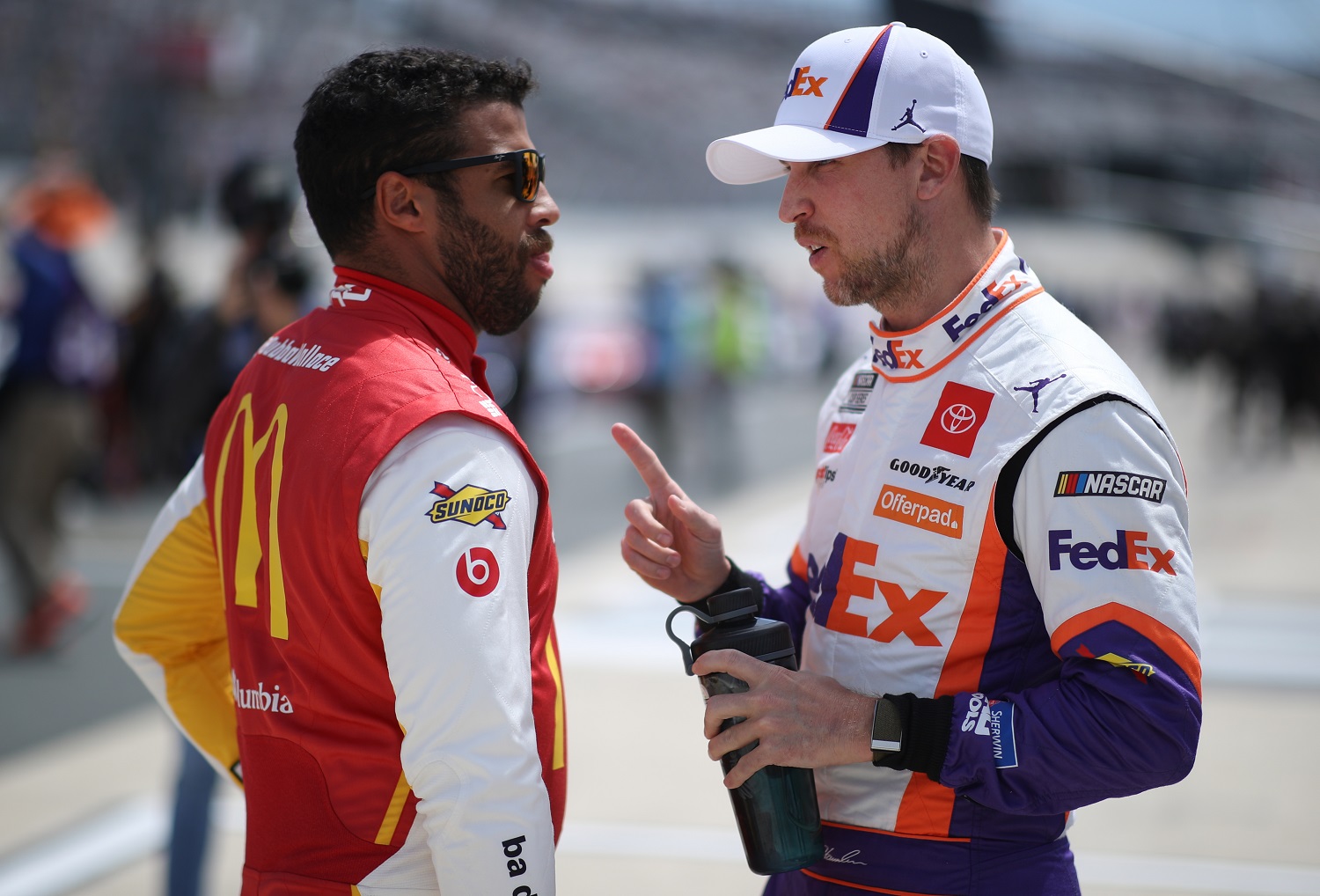 Bubba Wallace and Denny Hamlin Finally Ride a Winner in 2021, but Not in a NASCAR Race
NASCAR Cup Series drivers Bubba Wallace and Denny Hamlin took past in a video promoting Post Malone's latest song, 'Motley Crew.'
Count on NASCAR fans being underwhelmed the same way they were when Days of Thunder hit the big screen. Still, Post Malone's just-released video featuring Bubba Wallace and Denny Hamlin figures to broaden the audience a bit for the country's best-known motorsports circuit.
Unfortunately for Wallace and Hamlin, four million views on YouTube for Motley Crew in the first two days aren't going to make their cars any faster in Sunday's Quaker State 400 at Atlanta Motor Speedway.
Bubba Wallace, Denny Hamlin join forces with Post Malone
Given that they work alongside Michael Jordan, you can't figure on Bubba Wallace or Denny Hamlin being star-struck. Nevertheless, the NASCAR Cup Series drivers went out of their element recently when they participated in the video for Motley Crew, Post Malone's new song.
Wallace, who drives for Jordan's 23XI Racing, and Hamlin, who co-owns the team, log some face time in the award-winning rapper's video, which also includes a cameo by former Mötley Crüe drummer Tommy Lee. Shot at Auto Club Speedway in Fontana, California, the video features glimpses of Wallace's Root Insurance car and a 23XI wrap representing Hamlin. The gist of the video is Malone winning a race and celebrating in victory lane.
As was the case with much of the music industry, Malone took down time during the pandemic, and Motley Crew represents the first new material from the 10-time winner at the Billboard Music Awards since 2019.
"It was a really cool experience," Wallace told NASCAR.com. "The whole thing came together pretty quick, but great opportunity and a lot of fun. These are the things that we need to continue to do to bring new eyes and fans to our sport."
Added Hamlin: "We experienced their side of things, now I'd love to get those guys to a race and show them around our team and the ins and outs of NASCAR, take them around the track in one of our Camrys and let them get the true feel of our cars."
Bubba Wallace and Denny Hamlin finally ride a winner
Hamlin is in his first season of splitting duties between driving for Joe Gibbs Racing and operating Jordan's 23XI Racing team, and it has been an off year thus far. After winning six races in 2019 and seven in 2020, he has yet to take a checkered flag this season.
However, Hamlin has finished in the top five 11 times and sits three points ahead of four-time points race winner Kyle Larson in the NASCAR Cup Series standings. However, more than half the laps he's led came in midseason races at Richmond and Martinsville, and he's paced the field for just 31 laps over the past 10 races.
Wallace is still looking for his first career victory, but he can point to some improved results of late. It took until Dover in mid-May to crack the top 15, but Wallace has finished in the top half of the field in five of his last eight starts. That includes a season-best fifth place two weeks ago at Pocono.
You won't catch Clint Bowyer hanging with Post Malone
Some NASCAR figures are more enamored with Malone than others are. The 26-year-old performer who dropped his debut album in 2016 doesn't impress recently retired driver Clint Bowyer.
Bowyer, who just completed his first season as a race analyst on Fox Sports' coverage of the NASCAR Cup Series, recalled attending Malone's pre-Super Bowl 54 show. After rain pushed back the performance, Malone vanished. A DJ filled time until Malone finally made his entrance at 2:30 a.m. for a brief set. Malone stopped singing mid-song at times while background tracks of his voice continued, and he admitted he was intoxicated.
"All my wife wanted to do is go to this Post Malone," Bowyer said. "'Oh, Postie. I want to go see Postie. Don't screw this up. I don't care where we go, where you drag me, but I want to see Postie.' Well, Postie showed up two hours late, he was drunk, played seven songs — kind of — and left. Posty sucked."

Bowyer grudgingly credited Malone with some talent.
"Hey anybody that can tattoo their face to that extent, drink beer on stage to a lot of extent, show up two hours late and leave after seven songs, he's doing something right."

Clint Bowyer
All stats courtesy of Racing Reference.