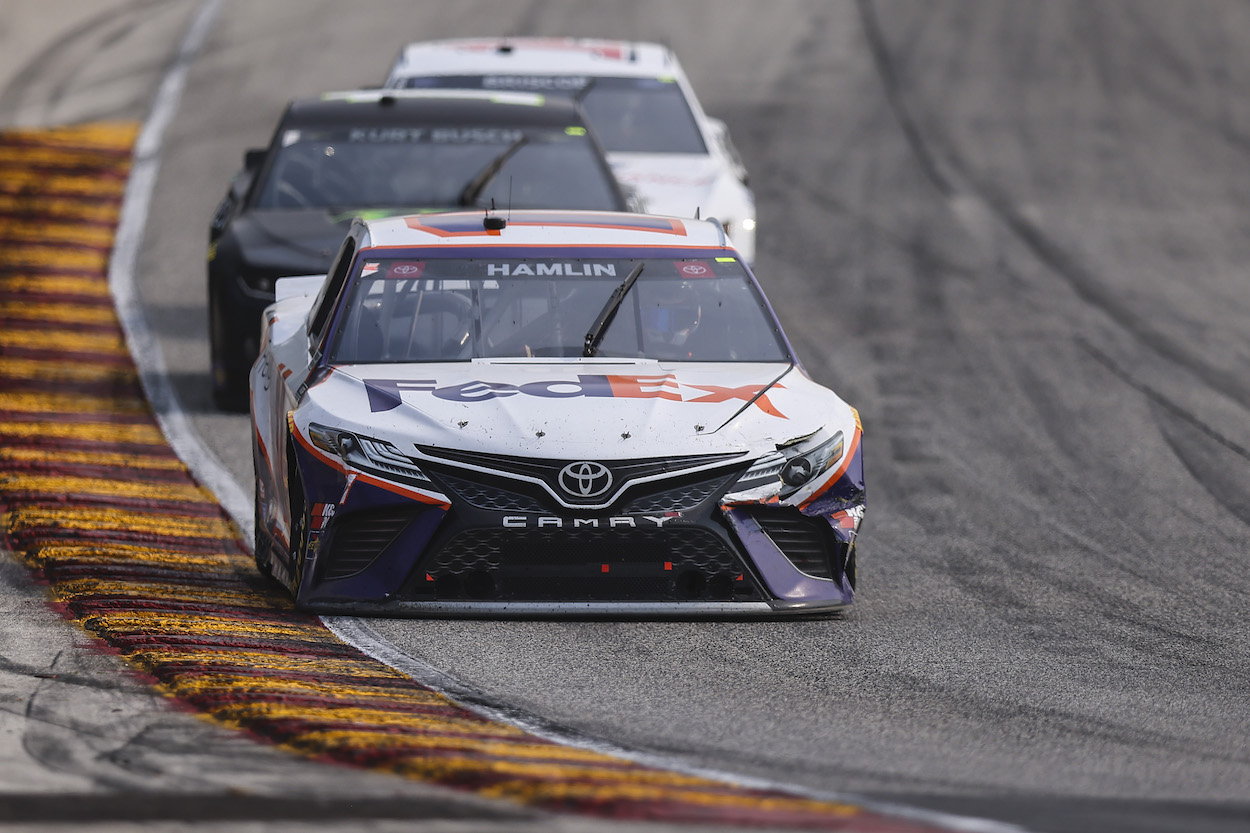 Denny Hamlin Candidly Admits He's Aggressively 'Driving Like a D—' in a Final Push Toward the Playoffs
Denny Hamlin candidly admitted with the 2021 NASCAR Cup Series playoffs approaching that he's "driving like a d---."
Denny Hamlin is feeling the pressure. With six races remaining in the 2021 NASCAR Cup Series regular season, the three-time Daytona 500 winner has watched his points lead that he has held since the second race of the year rapidly evaporate thanks to a dominant run over the last two months by Kyle Larson.
On Sunday, Hamlin and Larson battled it out at Road America, vying for crucial playoff points. After the race was over and Hamlin finished fifth, he openly admitted that he's "driving like a d—" and doing everything in his power to earn every last point he can in a final push toward the playoffs. 
Denny Hamlin started season strong but failed to win
After winning the previous two Daytona 500s, Denny Hamlin was the favorite heading into the 2021 season-opening race. Hamlin ran well but finished fifth. More importantly, it was the start of an exceptional run that included eight top-5s in the season's first nine races. 
While Hamlin surged to the front of the regular-season standings in Week 2, there was only one thing missing — victory. In all of his top-5s, the No. 11 car was the best on multiple occasions and led laps throughout many of the races. However, he never managed to lead any race on the most important lap. 
After his hot start, Hamlin came back down to earth at Talladega, where he finished 32nd. Since that race, he has managed just a pair of top-5 finishes heading into this past weekend's race at Road America. 
While Hamlin has cooled down, Kyle Larson has gotten white-hot during that same time, winning three races (not including the All-Star Race) and finishing second on four different occasions. 
Denny Hamlin admits he's 'driving like a d—'
Heading into Road America this past weekend, Hamlin had watched his lead over Larson dwindle from 144 points on the May 9th race at Darlington down to two. Larson actually took over the points lead during the race, outscoring Hamlin in the first two stages by 10 points. 
However, Larson surrendered the points lead when he finished 16th following a late spin by teammate Alex Bowman. Hamlin finished fifth and remains in front by three points. He admitted after the race that he did some things against Larson that he doesn't normally do.
"Harder than I normally would race him, for sure," Hamlin told NBC Sports. "I'm trying to fend him off. He's so f—— fast. I'm doing everything I can to hold him off. I'm out there driving like a d—. I'm not doing anything that other people don't do. I just normally don't race that way. I've got a ton of respect for him."
Jeff Gordon critical of Hamlin's performance in 2021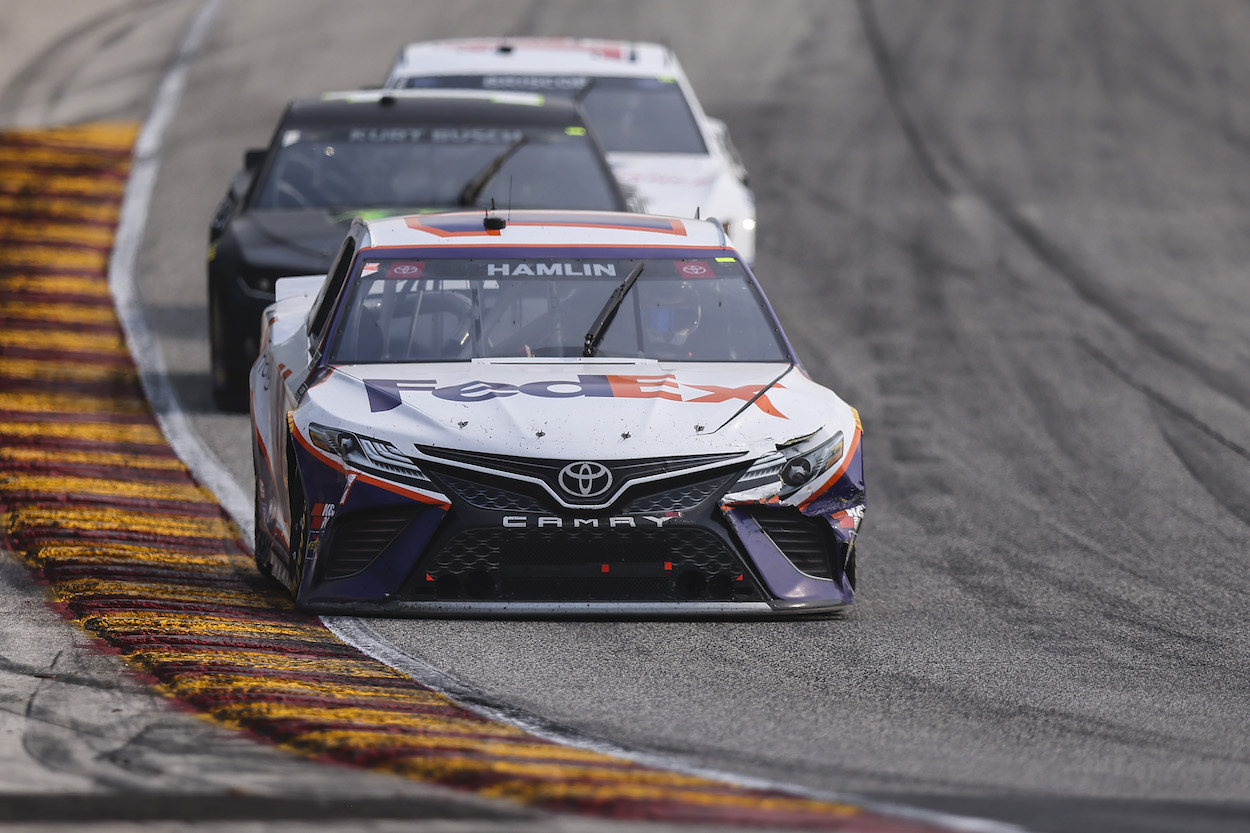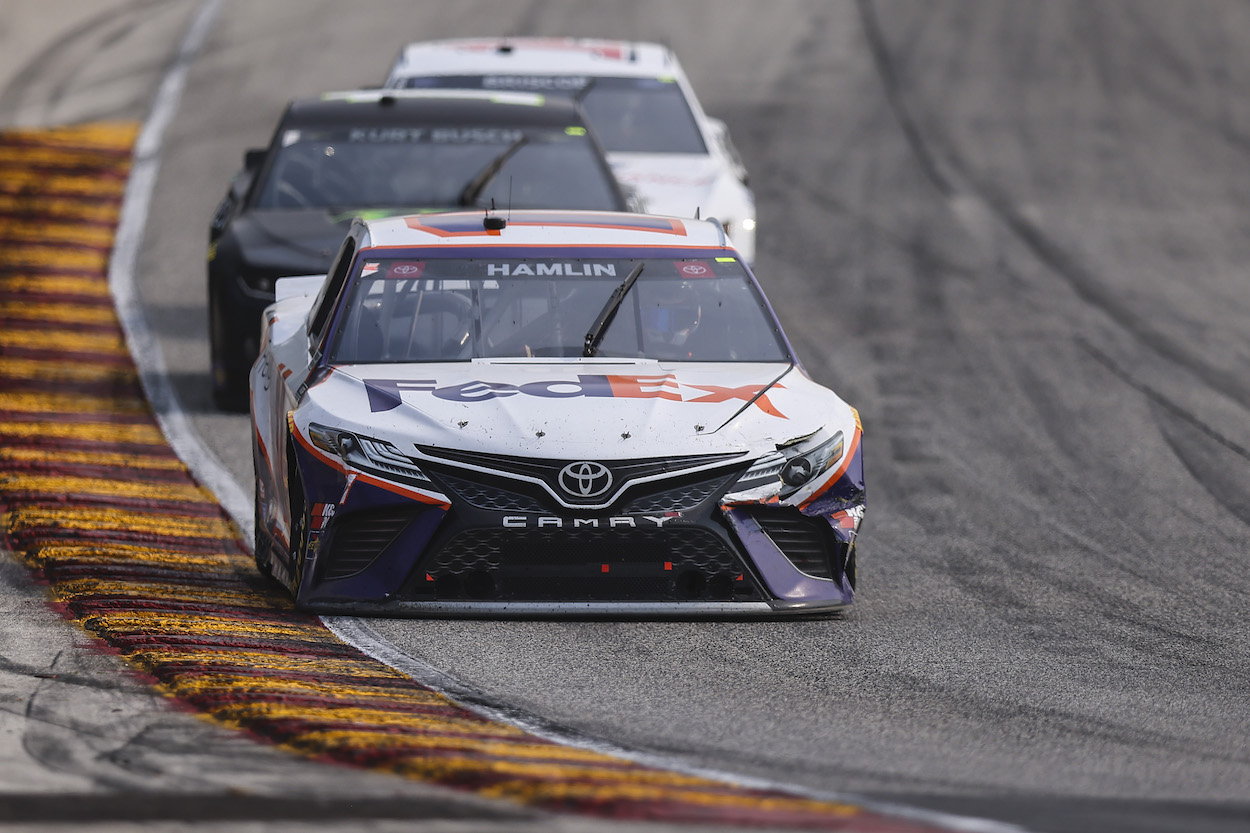 Earlier this season, when Hamlin was clicking off one top-5 finish after another but doing so without any wins, four-time Cup Series champion Jeff Gordon offered his assessment of the situation and suggested it's much bigger than just this season.
"Very strong driver. Very strong team. Very consistent. But they're missing opportunities, and this is not just this season," Gordon said during Fox's NASCAR RaceDay show before the race at Kansas. "They've missed a few of them. He's led a lot of laps. He's been in position to win. Whether it's an incident on pit road or something else, he just hasn't been able to close that deal. I go back to last year. He didn't close it winning the championship either. He won a lot of races, got himself to that final four at Phoenix. I thought he was the guy to beat, and he couldn't close it then. He's going to have to start closing the deal here real soon."
Unfortunately for Hamlin, he has failed to close any of the deals in 2021 and now finds himself scrambling for every last playoff point. Interestingly, it's all against a driver for the Hendrick Motorsports team where Gordon is vice chairman.
Like Sportscasting on Facebook. Follow us on Twitter @sportscasting19.