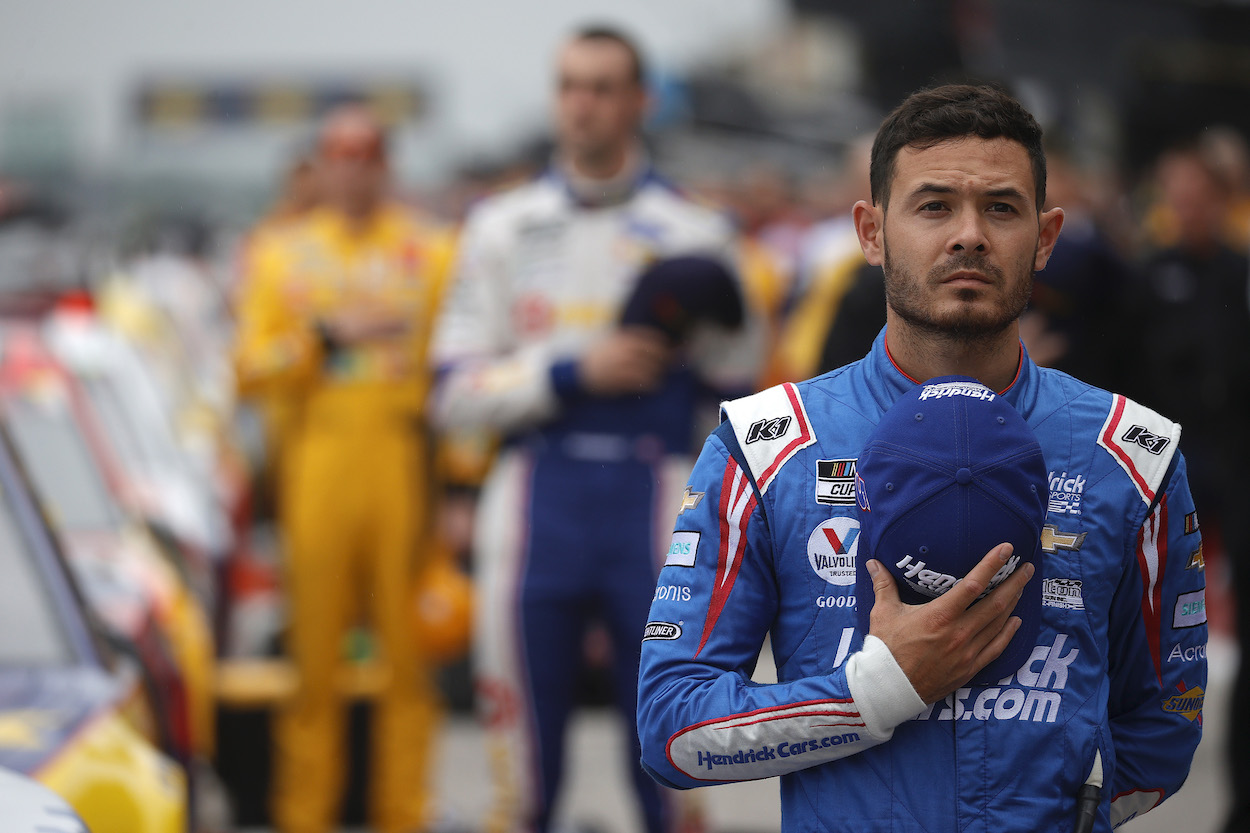 Kyle Larson Has a Dark Family History That Includes Multiple Members Being Imprisoned in Japanese Internment Camps
Kyle Larson overcame the adversity of a NASCAR suspension in 2020 to become the top Cup Series driver in 2021. However, the challenges he's faced pale in comparison to what his family had to overcome.
Kyle Larson has been on a rollercoaster of a ride in the last 14 months. This year the 28-year-old has definitively stamped his claim as the best driver in the NASCAR Cup Series with four wins, not including his $1 million victory at the All-Star Race. 
It's a far cry from a year ago when he was completely out of NASCAR competition following his use of a racial slur during an iRacing event and subsequent indefinite suspension. For Larson, overcoming adversity is in his DNA. Literally. His family overcame a dark chapter in American history where they were imprisoned for simply how they looked. 
Kyle Larson is the top NASCAR Cup Series driver in 2021
When Kyle Larson one day looks back on his racing career, he'll fondly remember the 2021 season. It was a year when he joined a new team at Hendrick Motorsports and rocketed to the top of the NASCAR Cup Series. 
Larson served notice to the rest of the competition during the fourth race of the season at Las Vegas, where he dominated by leading a race-high 103 laps and earned his first victory of the season and first win since 2019. It was a precursor of things to come.
In the next 10 races, Larson never returned to victory lane. Despite going winless, he made his presence known, earning seven top 10s, and more impressively, finishing runner-up on four occasions, including three in a row at Darlington, Dover, and Circuit of the Americas. 
Larson took his driving to the next level following the race at COTA, and went on an incredible streak, winning four races in a row at Charlotte, Sonoma, and Nashville. He earned victory and a cool $1 million for his bank account at the All-Star Race in Texas.  
NASCAR indefinitely suspends him following use of racial slur
With Larson's undeniable talent, many have predicted he would achieve the level of success that he has on the Cup Series in 2021. However, a year ago, Larson's future in the Cup Series, much less NASCAR, was in serious doubt. 
NASCAR indefinitely suspended Larson in April after he used a racist slur during an iRacing event. In the ensuing months, with no income coming in because he had lost of all his sponsorships, Larson returned to his roots and raced on various regional sprint car circuits. 
Off the track, and to his credit, Larson educated himself on the Black community and the ugly history of racism it has endured. He went to Minneapolis after George Floyd's death and met with former soccer player Tony Sanneh and visited the memorial for Floyd. 
He also met with Olympic legend Jackie Joyner-Kersee, golfer Harold Varner III, and fellow NASCAR driver Bubba Wallace. The conversations weren't just about the Black experience, but the importance of having empathy and considering the struggles of people who don't look like him.
Kyle Larson's family has a dark history that includes being imprisoned in an internment camp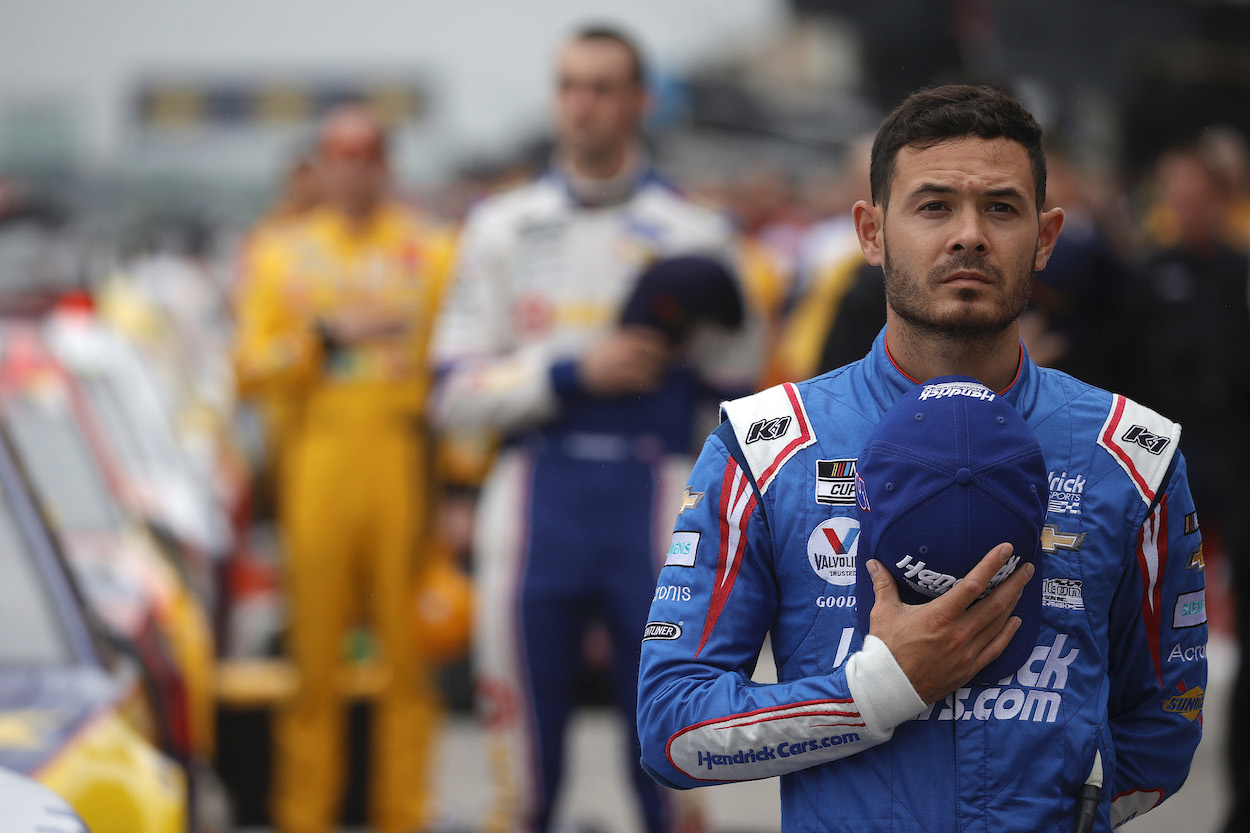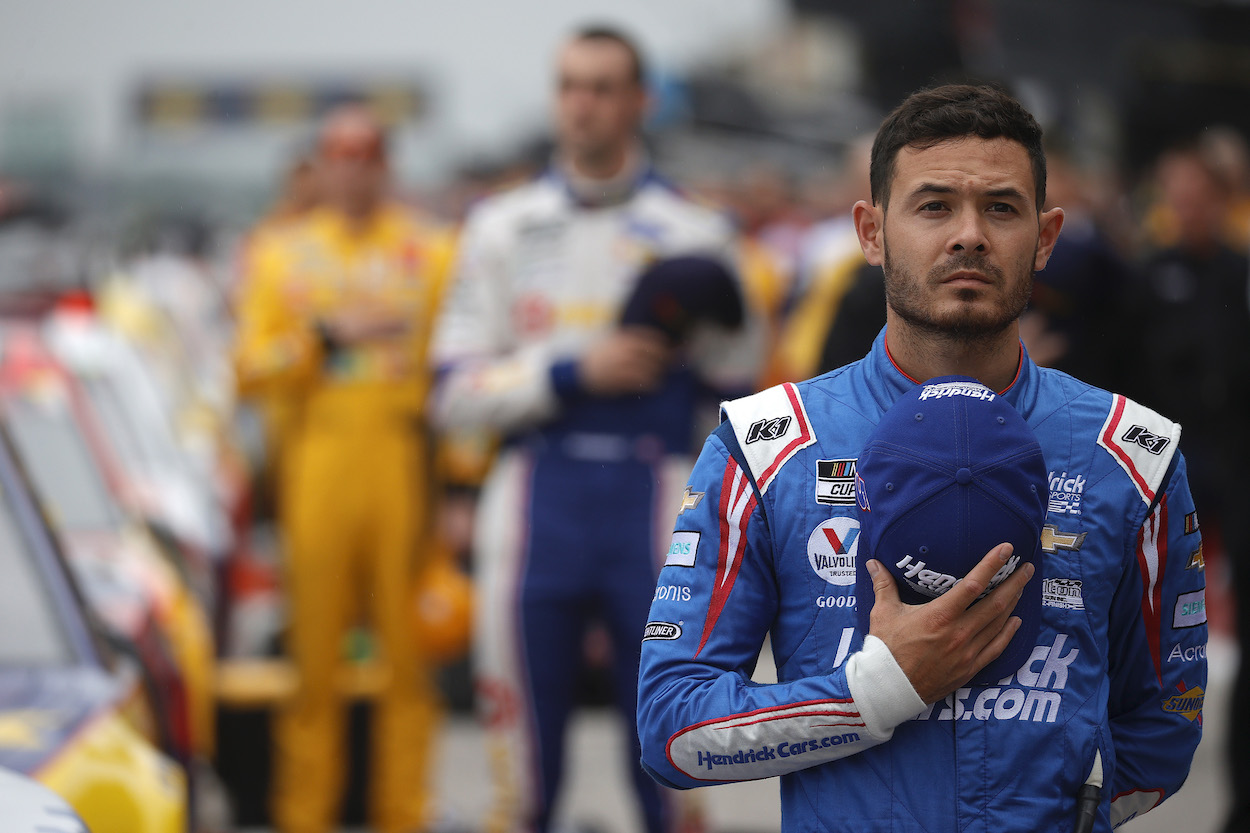 While Larson went above and beyond to educate himself on the Black community and its experience, it's interesting that he found himself in the situation at all, considering his own family's background and a very dark chapter in American history. 
Larson's father is white. His mother is Japanese-American. His maternal grandparents were put in an internment camp during World War II. 
"I really don't know a whole lot about the time my grandparents spent in an internment camp, so that experience in their life isn't a big part of my family's identity," Larson said in 2016 to Discover Nikkei, a website for people of Japanese descent. "Growing up, I didn't feel any different from my friends or the other kids I raced against, and was never treated any differently." 
Before Larson became a household name, he was part of NASCAR's Drive for Diversity program, which attempts to provide opportunities to minorities and women. In 2012, the program allowed him the chance to compete on minor league circuits. He parlayed that experience into a full-time ride on the Cup Series with Chip Ganassi in 2014. 
And the rest is history.
Like Sportscasting on Facebook. Follow us on Twitter @sportscasting19.