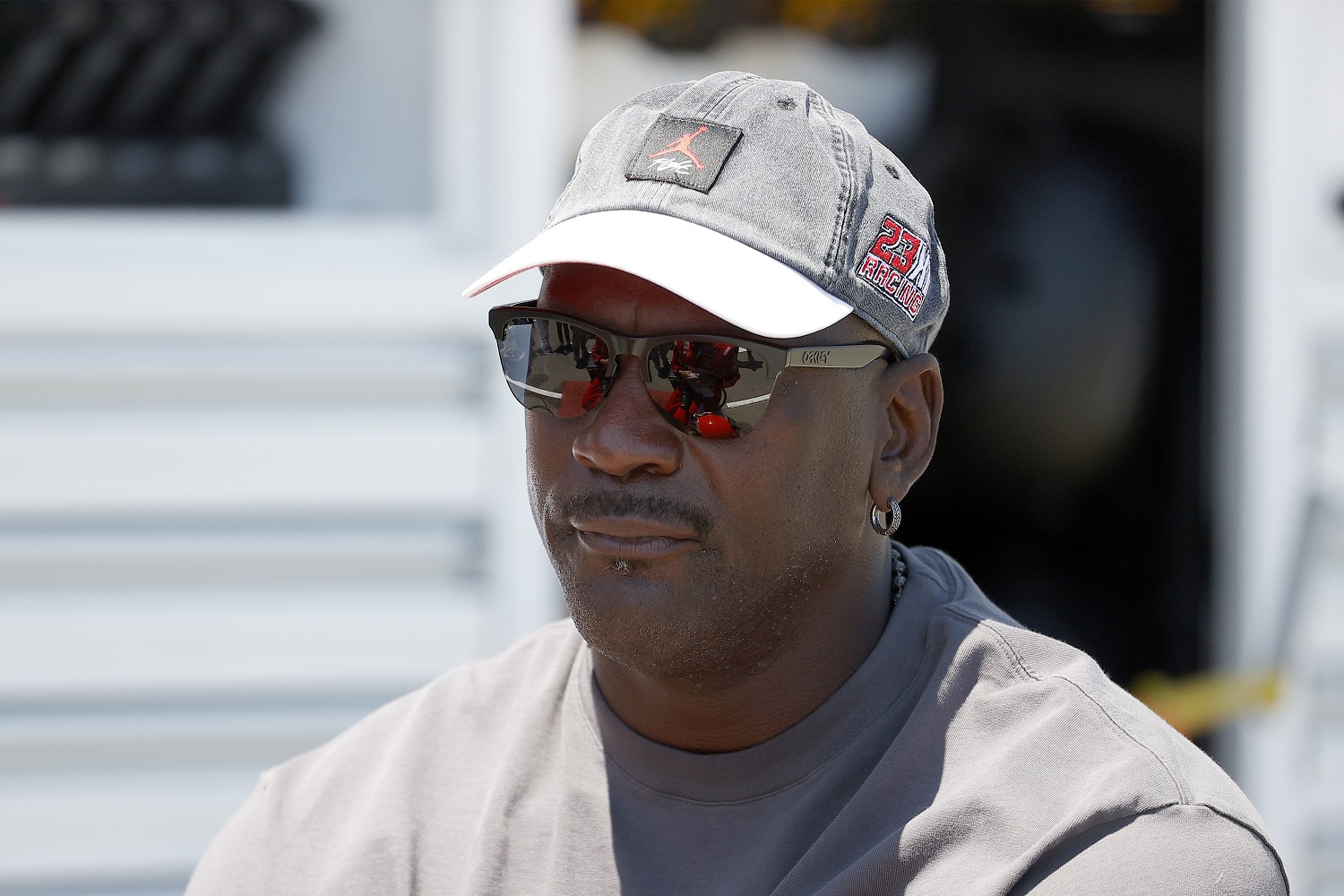 Michael Jordan Has Been Dunked on by a New NASCAR Owner Who Sells Gutter Guards
Michael Jordan is interested in 23XI Racing running a second NASCAR Cup Series in 2022, but obtaining a charter became more difficult because Kaulig Racing snapped up two of them.
Michael Jordan played basketball better than nearly anyone in the history of the sport. The Chicago Bulls legend has also proven adept at marketing, turning the Air Jordan brand into a pop-culture phenomenon.
However, Jordan's leap into the NASCAR has not gone as smoothly as the basketball career that netted six NBA championships. Driver Bubba Wallace is rarely competitive on Sundays, and Cup Series newcomer Matt Kaulig just outmaneuvered Jordan on the business side of racing, likely costing His Airness money down the road.
A guy who sells gutter guards bought two charters last week
Spire Motorsports owns three NASCAR Cup Series charters (the sport's equivalent of franchises) this season and is using two of them for drivers Justin Haley and Corey LaJoie. The team is leasing the third to newcomer Trackhouse Racing and driver Daniel Suarez.
Last week, Kaulig Racing bought two of Spire's charters ahead of launching a Cup Series team next season. Haley will be a full-time driver, and the other charter will go to the car that AJ Allmendinger will drive on a limited basis. NBC Sports reported that Spire will use its remaining charter to keep LaJoie racing.
Suddenly then, Trackhouse Racing faces the prospect of competing without a charter in 2022, and Jordan's 23XI Racing might not be able to land one to run a second car. That poses a hurdle if Jordan and minority owner Denny Hamlin are serious about expanding their outfit beyond just Bubba Wallace's car.
This new headache is courtesy of Matt Kaulig, the founder and executive chairman of LeafFilter North Inc., which makes gutter protection systems. Kaulig founded his Xfinity Series team in 2016 and has upset the balance with his plan to run two Cup Series cars.
Besides Trackhouse and 23XI, JTG Daugherty Racing is in the market for a charter because it has been running Ryan Preece's No. 37 team without one, and the field is suddenly crowded.  That's why attention is shifting to Rick Ware Racing, which owns four charters.
Ware has said he anticipates using three charters on his own cars in 2022, leaving one to lease or sell. With multiple teams interested and other charter options limited, Ware should soon benefit from a bidding war.
That will require Jordan to write a bigger check than he might have expected just a week ago if he really wants to sponsor two cars next season.
The 23XI Racing team's plan to grow has taken a hit
Jordan and Hamlin are serious about competing quickly. One step in that direction is to operate a multi-car team. Firstly, economies of scale mean that a second car doesn't require doubling the budget. However, the primary advantage is that drivers and crew chiefs can pool their knowledge about what does and doesn't work. Hamlin brought some of that savvy to 23XI Racing, but his primary obligation is to his own team at Joe Gibbs Racing.
Jordan and Hamlin have spoken about adding a second Toyota in 2022, and acquiring a charter for it is a good place to start. That's because the only way to qualify for NASCAR Cup Series races automatically is to own a charter for the car.
Most teams own one or more of the 36 available charters under the system that went into effect in 2016. A few teams don't have cars to run this season, so they lease charters to others.
If all 36 chartered cars go to the starting line, then all those without charters have to fight it out for the four remaining spots in the field. A well-funded team like 23XI should always be able to qualify, but it's inconvenient to go through the weekly process. Plus, should the car not qualify, there will be unhappy sponsors.
Michael Jordan's 23XI Racing is off to a slow start
The combination of Jordan's money and Hamlin's knowledge of the workings of a NASCAR Cup Series team has not rocketed 23XI Racing into contention in its first season. No one should have expected regular top-10 finishes this soon, but Wallace is figuratively spinning his wheels.
Wallace owns one 11th-place finish and two 14th-place results in points races. That's as close as the No. 23 Toyota has come to victory lane. Sunday's race in Nashville was another disappointment. Wallace cut a tire on debris midway through the race, triggering a spinout and a profane tirade on his part. Another spinout after making contact with Michael McDowell's car later in the day meant a 20th-place finish.
Wallace stands 22nd in points, and everyone above him has posted at least two top-10 finishes. The driver and his team would benefit from the help that adding a second car to the team would bring. However, the cost of doing so has most certainly gone up thanks to Kaulig's pre-emptive move.
Like Sportscasting on Facebook. Follow us on Twitter @sportscasting19.