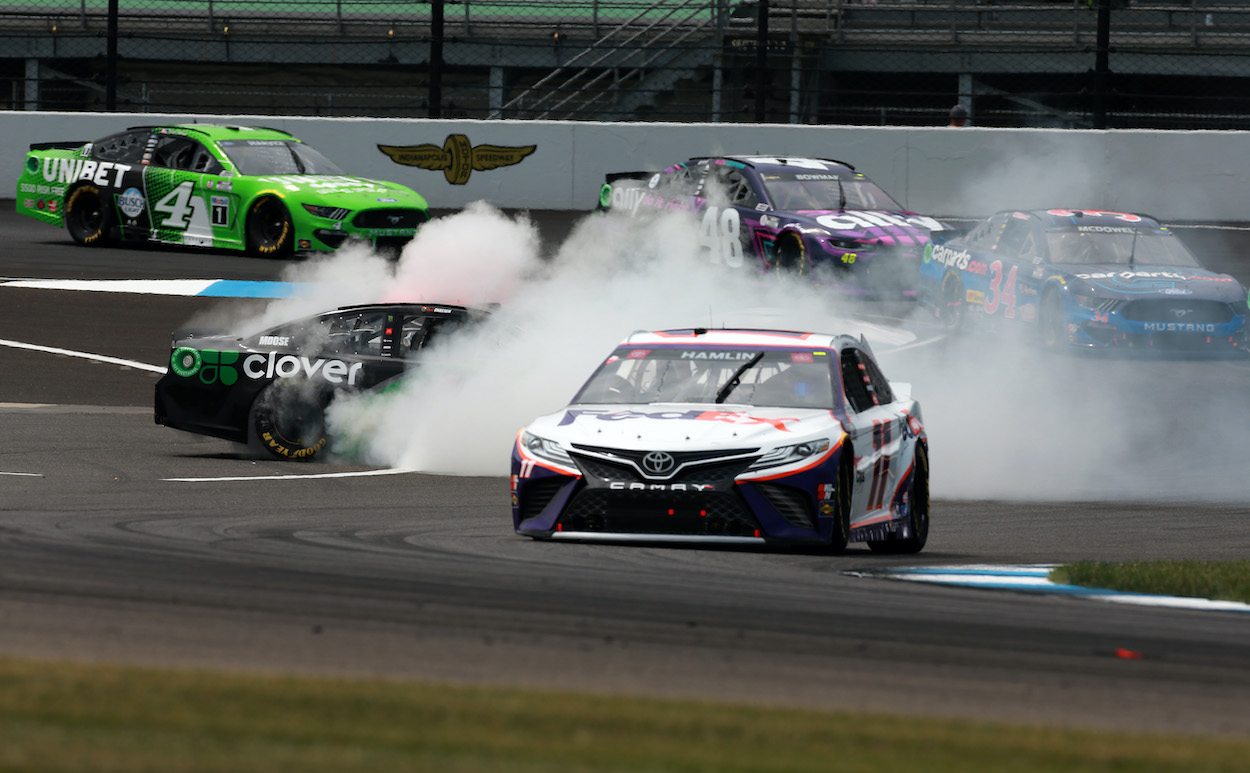 Frustrated Denny Hamlin Rips NASCAR for 'Crash Fest' Disaster at Indianapolis: 'It's a Complete Circus'
Denny Hamlin didn't mince words with his criticism of Indy's road course.
Denny Hamlin made it abundantly clear last week that he wasn't on board with moving the NASCAR Cup Series race at Indianapolis Motor Speedway from the iconic oval to the road course. His harsh words were met with some disdain at first, but they were clearly warranted considering what went down at The Brickyard on Sunday.
After the smoky, debris-filled race concluded, Hamlin doubled down on his criticism and ripped NASCAR for the "crash fest" at Indy.
Denny Hamlin spins out with victory in reach at Indianapolis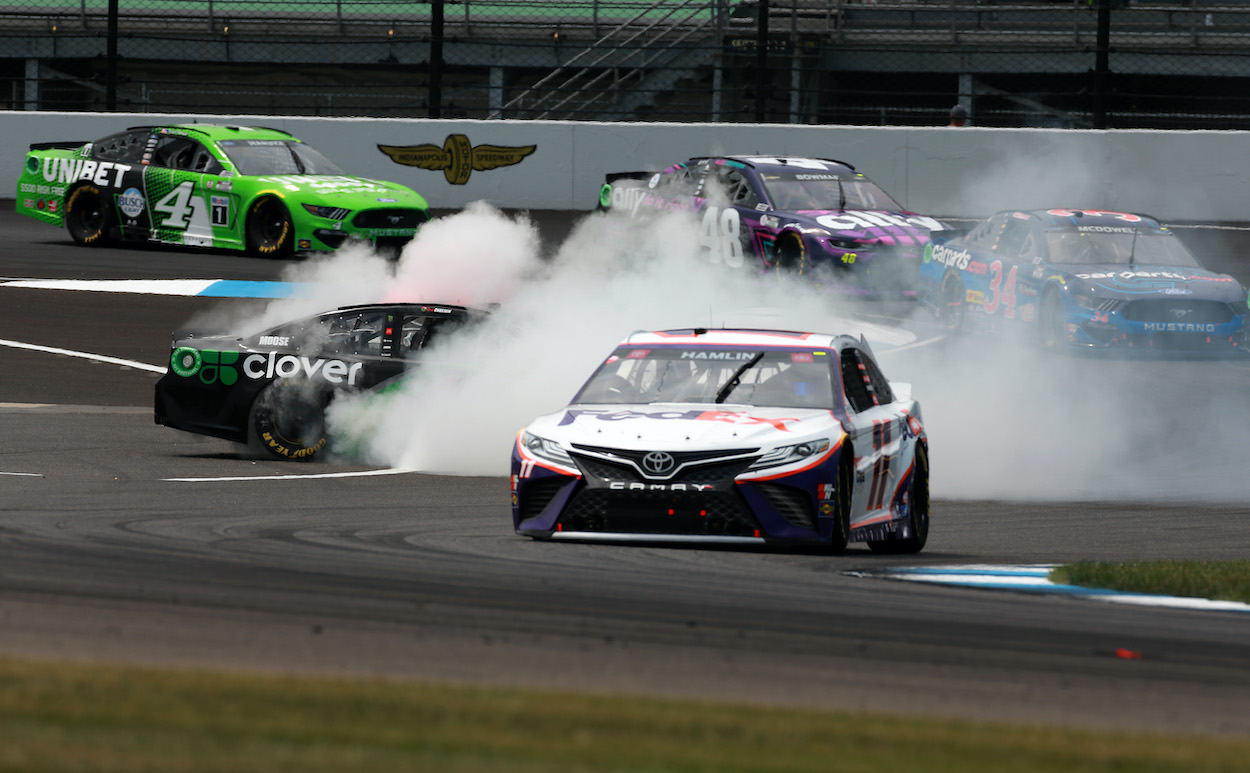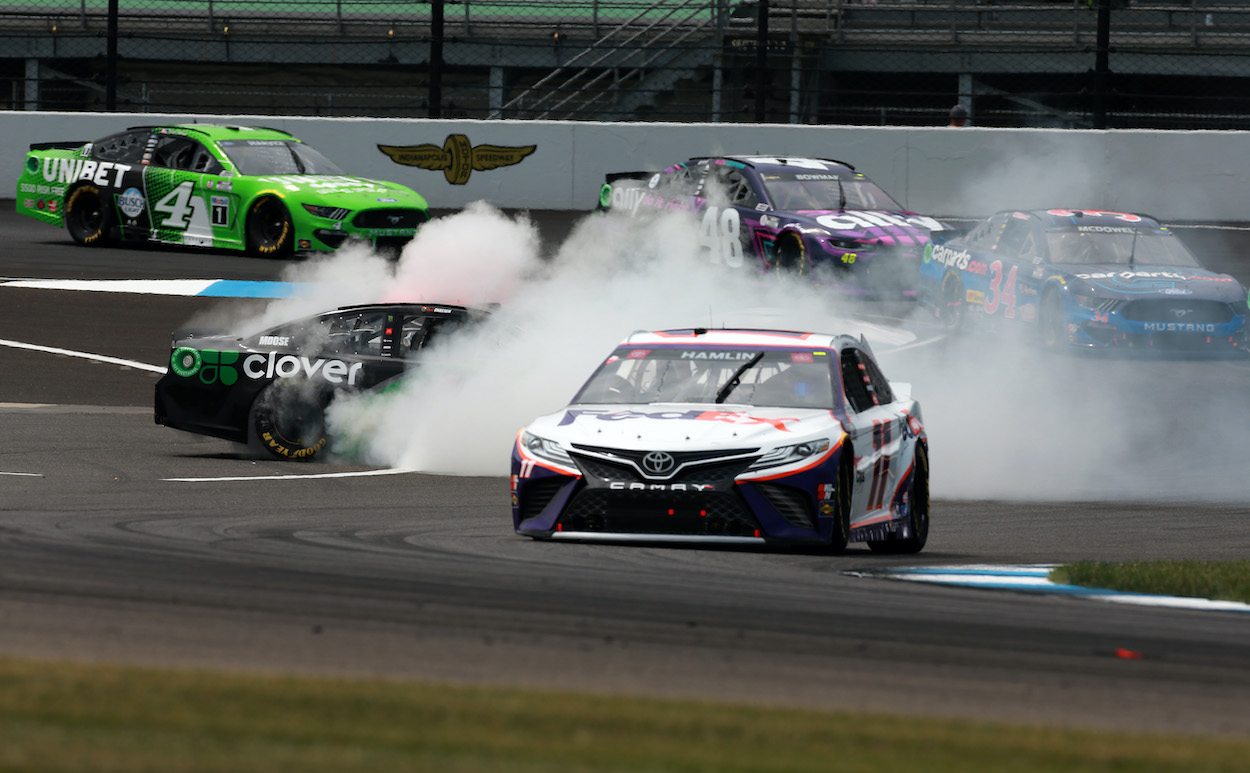 Despite Hamlin's disapproval of the road course race at Indianapolis Motor Speedway this past weekend, he found himself in the front of the pack with just two laps to go in the second overtime period. With his first Cup Series victory of the season in reach, the driver of the No. 11 Camry was nudged from behind by Chase Briscoe and spun out of the lead.
Briscoe told Hamlin after the race that it wasn't intentional and that he was unaware he had been penalized beforehand.
"I can accept it," Hamlin told NBC in an interview after the race. "The roles have been reversed other times. I've been doing this a long time and I've been on the giving end of a mistake. So I get it. To me, it's like a lack of situational awareness where obviously you're going to have a penalty until you cut the race track."
It wasn't just Hamlin who saw his car spin off the race track on Sunday, though. Two different crashes on Turn 6 brought out red flags, and multiple drivers were unable to finish the race.
It wasn't a good look for The Brickyard or NASCAR, and Hamlin let them hear it afterward.
Hamlin rips NASCAR for "crash fest" at Indy
Hamlin was against the road course race from the beginning, so imagine his frustration when he watched multiple crashes take place throughout the race and got spun out just two laps away from the checkered flag.
After the race, he didn't hold back on NASCAR for the disaster he saw on Sunday.
"The track was a mess," Hamlin told reporters, per NBCSports.com. "These cars and curbs and all that stuff just doesn't go together. We're trying to force sports car racing into these fans. Although the finish was a crash fest, I'm sure everyone will love it. It's just stupid. It's a complete circus at the end of the race. You just roll the dice and hope you don't get crashed."
Hamlin rolled the dice by racing at Indy on Sunday despite his hesitations, and his fears came to fruition.
He wasn't done criticizing NASCAR just yet
You might've figured Hamlin got all his anger out in his post-race comments, but that clearly wasn't the case. Later on Sunday night, he took to Twitter and continued to vent his frustrations with NASCAR's latest string of controversial decisions.
"Imagine the tracks who NET hundreds of millions of dollars a year can't be held to a higher standard," Hamlin wrote in a Twitter reply to Matt Weaver of Autoweek. "They cost the race teams millions today. But we will get a we'll do better next time. This will continue because we never make real changes. It's always something."
Hamlin's relationship with NASCAR is obviously strained, and missing out on yet another victory this past weekend surely didn't help matters.