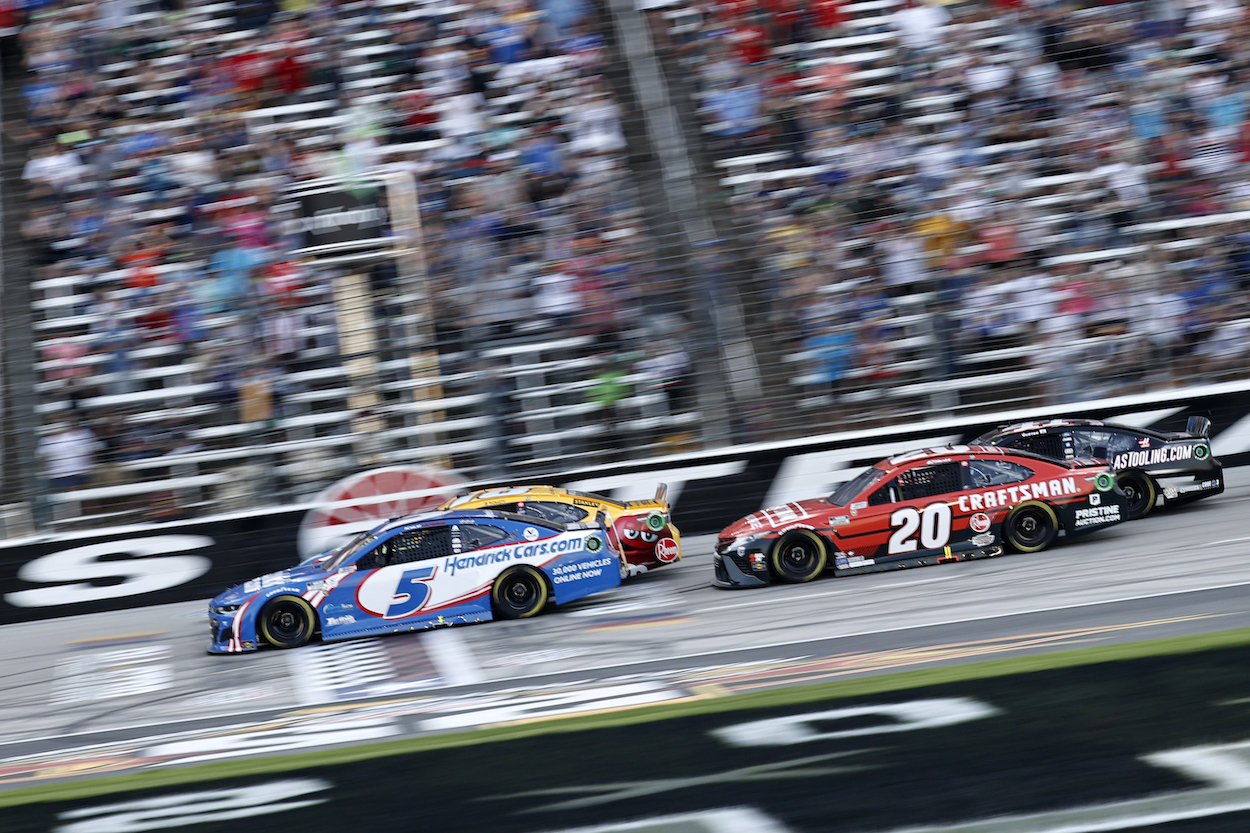 Christopher Bell Confesses He Hasn't Ruled Out Wrecking Kyle Larson in Playoffs as Payback for Watkins Glen
Christopher Bell offered a candid answer and said he hasn't ruled out wrecking Kyle Larson in the playoffs as payback for what happened at Watkins Glen.
Less than a month ago, Christopher Bell was running near the front at Watkins Glen when Kyle Larson spun him out late in the race. Bell finished seventh. Larson won the race. A war of words followed. Now, on the eve of the NASCAR Cup Series playoffs, Bell made it clear this week that their beef is not over, and Larson should keep an eye on the No. 20 car. 
Kyle Larson initially apologizes to Christopher Bell before shifting some blame 
After Kyle Larson spun out Christopher Bell late in the race at Watkins Glen and went onto victory, the Hendrick Motorsports driver apologized and accepted responsibility for the incident in the postrace interview. However, a couple of days later, Larson changed his tune during an appearance on SiriusXM NASCAR radio. 
"Initially, I thought I was completely at the wrong," Larson said. "But honestly, more after watching the replay, I think that we both had a factor in what happened. I definitely got in there. I didn't divebomb like he said I did. Either way, I still feel bad about it. I don't ever want to spin anybody out, especially Christopher Bell. I've got a lot of respect for him on the race track. We've had amazing races together."
Larson then called out Bell for not talking to him about what happened.
"I reached out and tried. But I guess he's not willing to talk to me, which is kind of, whatever," Larson said. "Any other adult in the field would at least have a conversation with ya. But he doesn't care to. We'll move on from it and if he wants to get me back, that's fine. The quicker, the whatever. I'm not going to worry about it. If it makes him sleep better at night to ignore me and then want to crash me or whatever, so be it."  
Christopher Bell responds a week later
A week later at Indianapolis, Christopher Bell publicly addressed the on-track incident. 
"I went back and looked at it on SMT, which is real data, and I was a car length and a half above the normal bottom line," Bell said. "That was compared to my normal bottom line and his normal bottom line…He hit me and spun me out. I left him a lane and a half to not do that."
When asked about his communication with Larson regarding the spin, Bell didn't sugarcoat his feelings.
"He did send me a text message, albeit at midnight, but I read it and was moved on from the on-track incident," Bell admited. "And then him running his mouth is a little uncalled for. But it is what it is. It's very frustrating to hear that Larson has called me and I'm not answering the phone when that's so far from the truth. If he really wants to talk about it, I'll be glad to talk about it." 
Still no communication and payback looms
The 16 NASCAR Cup Series playoff drivers met with the media this week and talked about the upcoming postseason. Reporters asked Christopher Bell and Kyle Larson where things stood between each other.
"I mean, we haven't communicated. I guess that's that," Bell said. 
"It's been a long time since that. I don't even know why we're still talking about it," Larson answered. "But yeah, I'm looking forward to the playoffs and I know he is, too. He's got a great car. I've got a great car. It's both of our best opportunities to go chase a championship."
When Bell was asked if everything was over with Larson or whether he might still owe him some kind of payback, the Joe Gibbs Racing driver offered an interesting response. 
"I mean, I don't know. The opportunity hasn't presented itself yet," Bell said. "We haven't raced around each other yet. So, I don't know."
High-stakes drama in the playoffs anyone?
Like Sportscasting on Facebook. Follow us on Twitter @sportscasting19.