'He's Mario Andretti,' but Can Kyle Larson Juggle NASCAR With Making a Run at Hélio Castroneves?
The cliché says Kyle Larson would have nothing left to accomplish if he emerges victorious from the NASCAR Cup Series playoffs this fall. That's silly, of course. Richard Petty and Jimmie Johnson accomplished the feat seven times apiece, so there's plenty left to accomplish.
However, winning the championship this fall would give Larson a license to explore new challenges. We know he has one in mind – driving in the Indianapolis 500 – and one of the most knowledgeable IndyCar observers out there says it's a command performance that motorsports needs.
Kyle Larson's dream season can still get better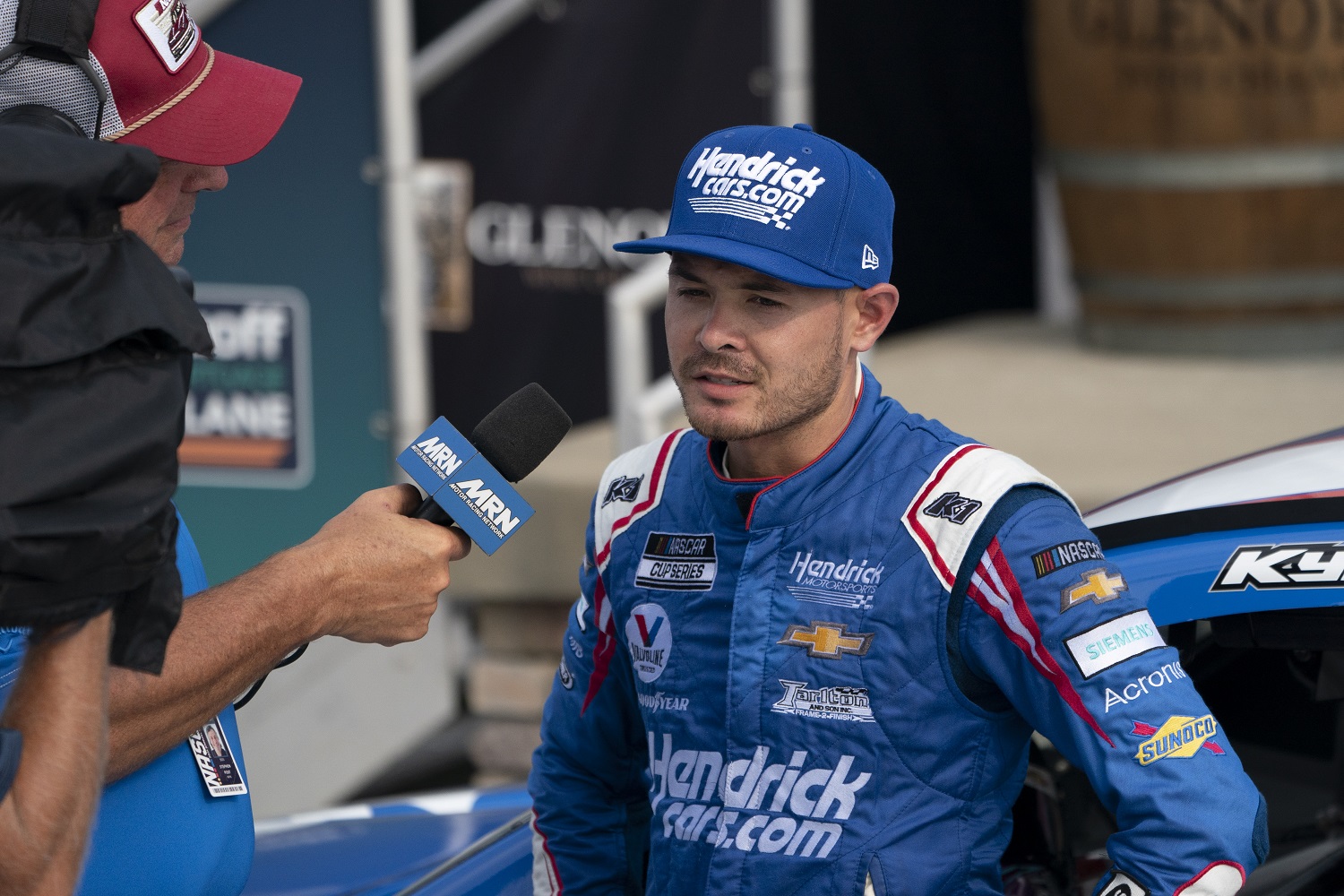 Fourteen other drivers are focusing on the NASCAR Cup Series playoffs in a little more than two weeks. On the other hand, Larson and Denny Hamlin have been waging their own playoff this month, and it continues this weekend at Michigan International and the following Saturday at Daytona. One of the two will finish atop the regular-season points and bank five valuable extra points for the playoffs.
Larson has already won five points races and the $1 million All-Star Race this year with a dozen events to go. That's not special in itself since Kevin Harvick and Denny Hamlin won nine and seven, respectively, just last year. But Larson has led 1,496 laps, which is more than the next two competitors combined. Teammate Alex Bowman has swooped in to take three checkered flags while leading a total of 151 laps for the year. What Larson is doing is simply dominating.
Still, work remains. For all his success last season, Harvick became a footnote because Chase Elliott captured the season title. If Larson doesn't walk away with the hardware at Phoenix on Nov. 7, he just be the guy who made a nice comeback from the self-inflicted damage of a year ago.
Can Kyle Larson add the Indianapolis 500 to his busy racing schedule?
Robin Miller is a reporter and columnist unparalleled in IndyCar racing. He made enemies along the way, notably Indianapolis Motor Speedway czar Tony George, but the industry respects his racing observations and knowledge.
That's why people take note when Miller calls Larson "a grassroots American hero – humble and gracious, and easy to cheer for any night of the week."
Retired NASCAR great Jeff Gordon, now one of Larson's bosses at Hendrick Motorsports, also has a take on the 29-year-old driver from Elk Grove, California.
"He's Mario Andretti," Miller quoted Gordon as saying. "I mean, who has ever had a season like this? And it's only half over."
Gordon was speaking in a broader context than just NASCAR. Larson has been moonlighting all year and winning big events like the Chili Bowl, the King's Royal, and the Knoxville Nationals, on smaller circuits.
It adds up to Miller imploring someone to fulfill Larson's dream and put him in a car for the 2022 Indianapolis 500.
"It needs to happen next May," he wrote. "Larson entering the race will sell an automatic 10,000 additional seats, and drive the media coverage up to a level we haven't seen for more than a decade."
The logistics of getting to the Indianapolis 500 are daunting
One does not simply unload a car from the hauler and drive over to the starting grid of the Indianapolis 500 on the last Sunday in May. Even drivers as accomplished as Larson have to go through "race school" to prove their competence in open-wheel racing.
And while Larson could log some seat time once the Cup Series ends in early November, the real practice takes place in Indianapolis throughout May, in the heart of the NASCAR season. Getting comfortable on the 2.5-mile oval and qualifying the car can be done on days off from his "day job."
If he gets that far, there's still the matter of potentially logging 1,100 miles of racing in one day since the Coca-Cola 600 on Charlotte is on the calendar the same night. Others have done it, including Tony Stewart in two of his first three NASCAR Cup Series seasons.
If Roger Penske has an extra car sitting around, Larson's presence in the field alongside IndyCar greats like Hélio Castroneves would giving racing a jolt of adrenaline in the heart of the NBA and NHL playoffs and golf's in-between season after The Masters and before the U.S. Open.
Miller is right. The racing community needs to make this happen.
Like Sportscasting on Facebook. Follow us on Twitter @sportscasting19.