NASCAR Legend Jimmie Johnson's Racing Plans Have Taken a Turn That Complicates a Crucial Relationship
Tom Brady doesn't play football because he wants to reach one of the NFL conference finals. Nor does Giannis Antetokounmpo lace up his sneakers because he aspires to reach the play-in round at the end of the NBA regular season. Now, Jimmie Johnson is signaling there's no sense driving IndyCars if the goal isn't to compete in the biggest race.
NASCAR legend Jimmie Johnson is ready for the next step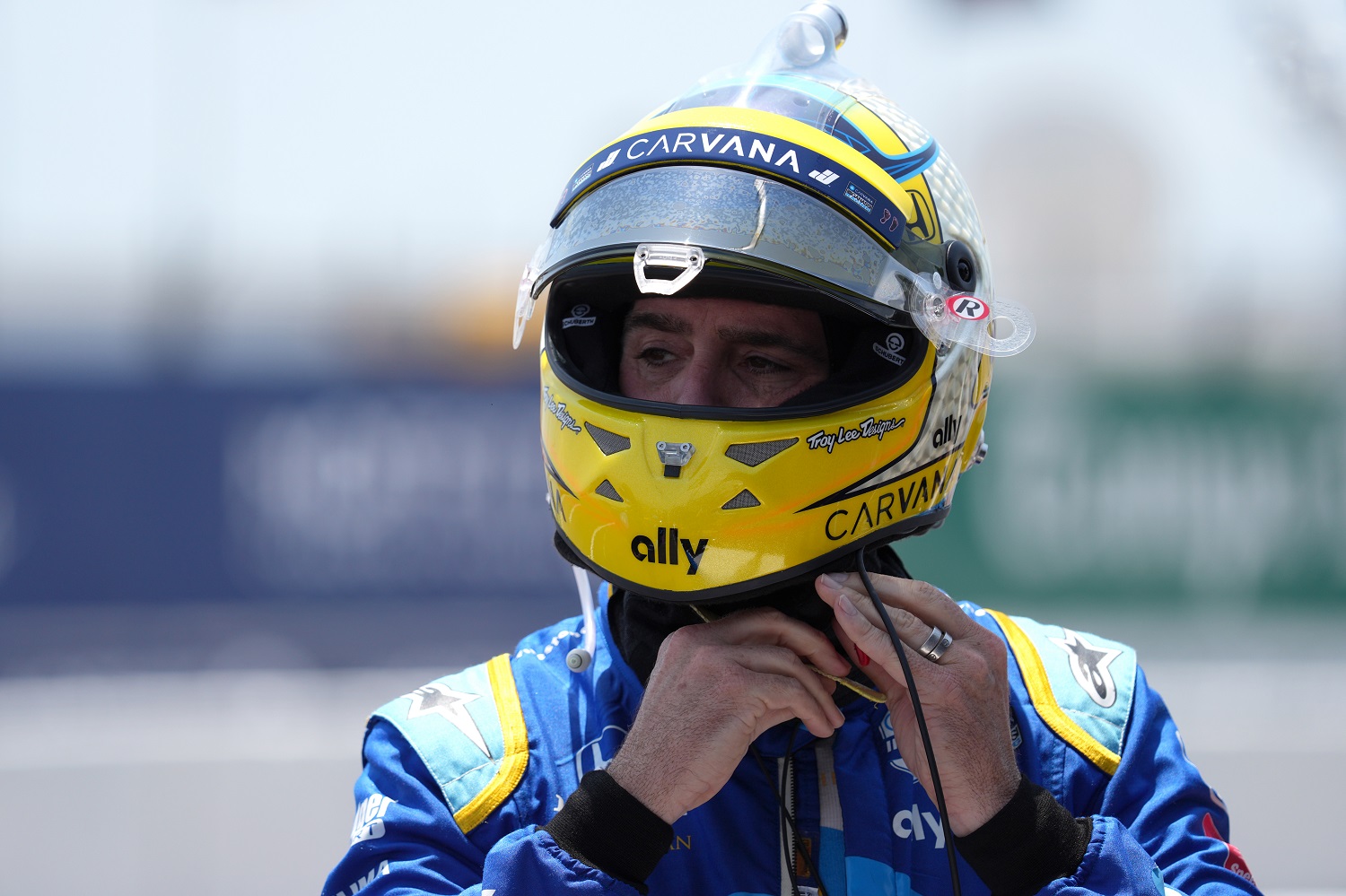 Johnson walked away from racing stock cars after winning seven NASCAR Cup Series championships and 83 races, but that didn't mean he lost his desire to compete. Rather, he switched his priorities by moving to IndyCar and IMSA competition, which cut his racing schedule in half.
Johnson, 45, scored a second-place finish in his Weathertech SportsCar Championship debut on the Daytona road course, but getting a feel for the NTT IndyCar Series has been more challenging. In seven starts, Johnson has yet to improve on the 19th-place showing he made in Birmingham to start his season.
Johnson is driving for Chip Ganassi Racing while splitting seat time with Tony Kanaan in the No. 48 car. Johnson handles the road and street courses while Kanaan, the 2013 Indianapolis 500 winner, handles the ovals. It's a set-up for which Johnson lobbied when he joined the program.
However, the arrangement could be changing in the not-too-distant future. Johnson hopes to test on the oval at Homestead-Miami Speedway in August as a first step toward competing in the Indianapolis 500.
Aiming for the Indy 500 is a natural progression
Johnson's next IndyCar assignment comes on Aug. 8 in Tennessee for the Streets of Nashville race. Nashville is hardcore NASCAR territory, and his presence will undoubtedly bolster interest. After that, he wants to turn his attention to logging seat time at Homestead-Miami Speedway. After that comes the rookie orientation program this fall, required to race at Indianapolis next Memorial Day weekend.
Formula 1 veteran Romain Grosjean, an IndyCar Series rookie with the Dale Coyne Racing team, has already started ovals testing. Like Johnson, he was reluctant to jump directly into competing on the ovals because of their higher speeds.
"We've both been chatting over the course of the year about ovals and really about the experience altogether," Johnson said this week. "As I get more and more comfortable with ovals, hopefully the test when it happens late August will go well, and I'll continue to work closer to the Indianapolis 500 or more ovals in general."
But Indy is the key the same way that the Daytona 500 is the key to the NASCAR schedule. Sure, fans look forward to the Coca-Cola 600 the same day as the Indianapolis 500, but nothing on the schedule attracts the attention that Daytona does.
IndyCar works the same way. One look at the circuit's 2021 schedule shows that nothing else has the name value of Indy. If a driver doesn't aspire to race there, is there any sense in a team spending money on him or her for the rest of the schedule?
Jimmie Johnson's desire to race at Indy poses a potential problem
Johnson is a long way from competing in the Indianapolis 500. Aside from gaining experience on ovals and completing rookie orientation, qualifying poses its own challenge since there's a 50/50 chance that there will be more drivers attempting to qualify than spots available on the 33-car grid.
There is also the dynamic between Johnson and Kanaan. Johnson confirmed that Kanaan's deal for this year and next guarantees the 46-year-old Brazilian a Ganassi car for all oval races. If Johnson goes to Indy, he'll need another car, crew, and sponsor, and it hasn't been decided yet which driver would get the No. 48 car.
"Maybe Tony and I could be in an arm-wrestling contest for that," Johnson joked. "Maybe I could use two arms to try to beat him."
If the Indy 500 isn't a problem, then maybe the bigger picture will be. IndyCar doesn't spend a lot of time on ovals. Even with all the practice time carved out each May, only racing on the Indianapolis oval doesn't do much for driver development.
If Johnson does aspire to become a full-time driver and a serious contender at Indy, then Ganassi may have to add a car to the team for more than just one race in May. Otherwise, it could hasten Kanaan's exit. The last of his 16 victories came in 2014, and he's a year older than Johnson.
"We have a commitment with TK and the 48 car and all the sponsors that he was able to raise and bring on board to run those four races," Johnson said, "so to run a one-off at the 500 is a more realistic option than looking at the full schedule, but we'll just have to see how things unfold."
Like Sportscasting on Facebook. Follow us on Twitter @sportscasting19.