Jimmie Johnson Emotionally Reveals His Biggest Regret From Final NASCAR Cup Series Season
Jimmie Johnson still hasn't gotten over the positive COVID-19 test that cost him a NASCAR Cup Series playoff appearance last season.
Jimmie Johnson's final season in the NASCAR Cup Series didn't go exactly as he had hoped. The motorsports legend finished the 2020 season with no wins and just 10 top-10 finishes, and he missed out on the playoffs in the end by just six measly points.
Johnson most likely would've qualified for the playoffs if not for a positive COVID-19 test that cost him a start in the Brickyard 400 at Indianapolis Motor Speedway last July. The seven-time Cup Series champion knew at the time that missing the race was going to prove costly, and he just recently opened up about his biggest regret from his final season in NASCAR's premier division.
Jimmie Johnson's final NASCAR Cup Series season ended in heartbreak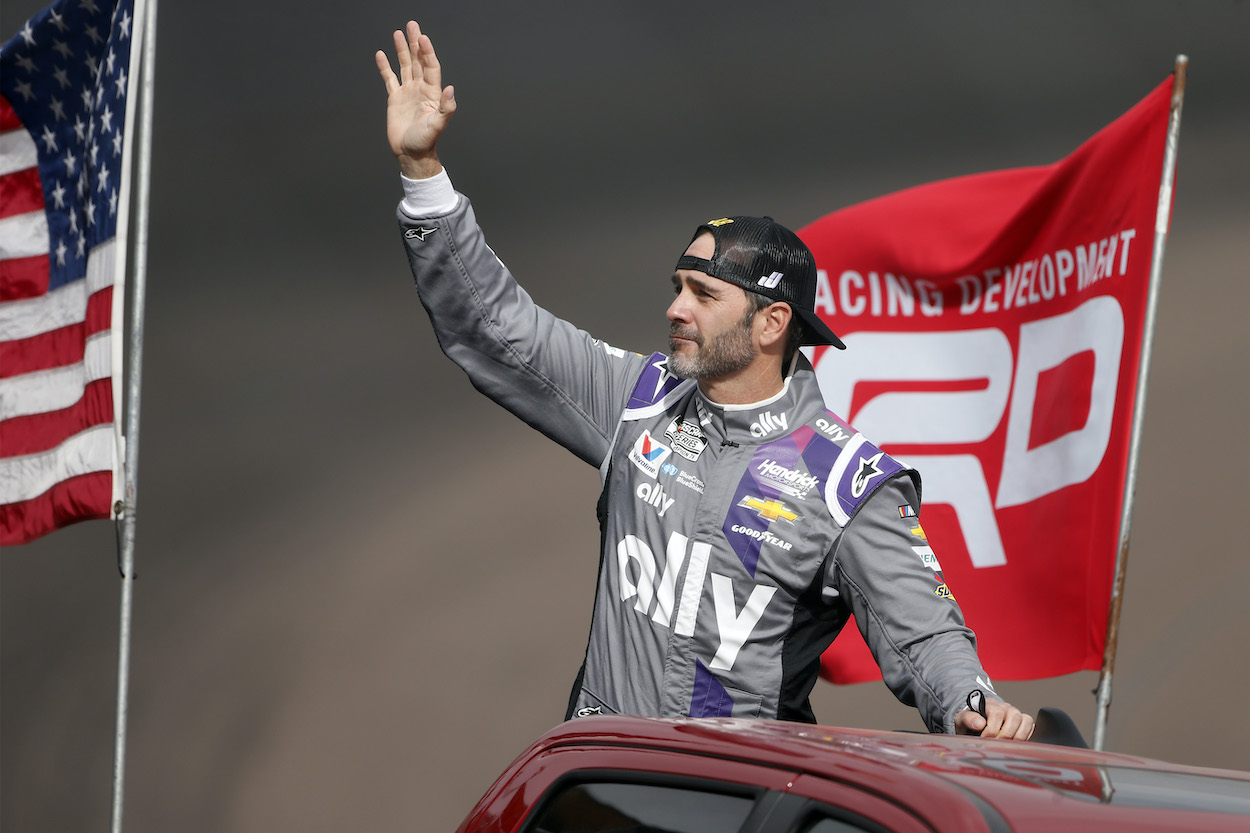 Johnson is considered one of the greatest NASCAR drivers in the history of the sport. He was Mr. Consistent throughout his entire Cup Series career, as he made the playoffs 15 straight times before 2019. Before the 2020 season, Johnson announced it would be his final campaign in NASCAR's top division, and he set a goal to at least make the playoffs one more time before he moved to his next chapter in life.
At 44 years old, Johnson fought hard against the up-and-coming stars but ultimately missed out on the playoffs by six points to Matt DiBenedetto. If not for a disqualification at Charlotte Motor Speedway and a missed start at Indianapolis Motor Speedway due to COVID-19 earlier in the year, Johnson would've been moving on to the postseason.
The future Hall of Famer couldn't help but get emotional after the final race of his career.
"Definitely disappointed to not be in the playoffs. That was the No. 1 goal to start the year. But when I look back at the disqualification in Charlotte, and then missing the Brickyard 400 due to my COVID-19 positive test, and to only miss it by six points… I mean…" he said in a defeated tone from Daytona International Speedway.
One year later, Johnson got real about the disappointing finish to his final Cup Series season.
Johnson emotionally reveals his biggest regret from final season
It's been a full year since Johnson was forced to miss the Brickyard 400 due to a positive COVID-19 test. The 83-time Cup Series winner recently spoke to Asher Fair of Beyond the Flag about how that positive test cost him a spot in the playoffs, and he said he even knew it at the time.
"What's interesting is that weekend I missed the race in July, I knew how it would impact the year, and I had a rough couple of days," Johnson said. "Missing that race, watching my car on television, knowing the implications that were going to come with it."
"…Then we fast-forward to the race in Daytona," he continued. "I missed the cutoff by six points. I'm in a very strong space of saying 'Hey, I saw this coming, I knew it was going to be tight.' And my wife was very upset and distraught and I was then consoling her on missing the championship battle by just six points!"
Johnson continues today to point to his positive COVID-19 test as the main reason why he missed the playoffs in his final Cup Series campaign, and he admitted it to be his biggest regret of 2020.
"It was a really tough time, and now looking back, there are so many things that I would have handled that environment differently," he said.
Johnson makes shocking admission about positive COVID-19 test
While speaking with Beyond the Flag about his thoughts on the 2020 season, Johnson also made a shocking admission about that very positive test. He's still skeptical that he was ever positive for the virus in the first place.
"We just know so much more about COVID-19, and I still have a lot of speculation if I was even positive or not because I had a positive test and a couple days later had two negatives," he said. "So you live and learn. But sadly, I did miss that race."
Johnson said both he and his wife, Chandra, were asymptomatic that week. It's possible a false positive test cost him a chance to compete for a record eighth Cup Series title.
But still, in typical Jimmie Johnson fashion, he found a bright side to it all.
"Thankfully, no one in my family was really ill," he said. "If I did have it, I was asymptomatic. My wife certainly was asymptomatic, and we've survived a pandemic now. We're fully vaccinated and ready for the world to open back up!"
Now that's positivity we can all strive for.