Former NASCAR Star Jimmie Johnson's IndyCar Sponsor Aims to Capitalize on His Michael Jordan Moment
Former NASCAR standout Jimmie Johnson and former NBA great Michael Jordan probably don't get confused for each other too often. Johnson made his living behind the wheel in a stellar motorsports career, while Jordan used his incomparable athletic ability to dominate on the basketball court. Where they are similar is they are both winners. The similarity also goes beyond the championships, according to Johnson's IndyCar sponsor, Carvana.
Jimmie Johnson and Michael Jordan have 13 combined titles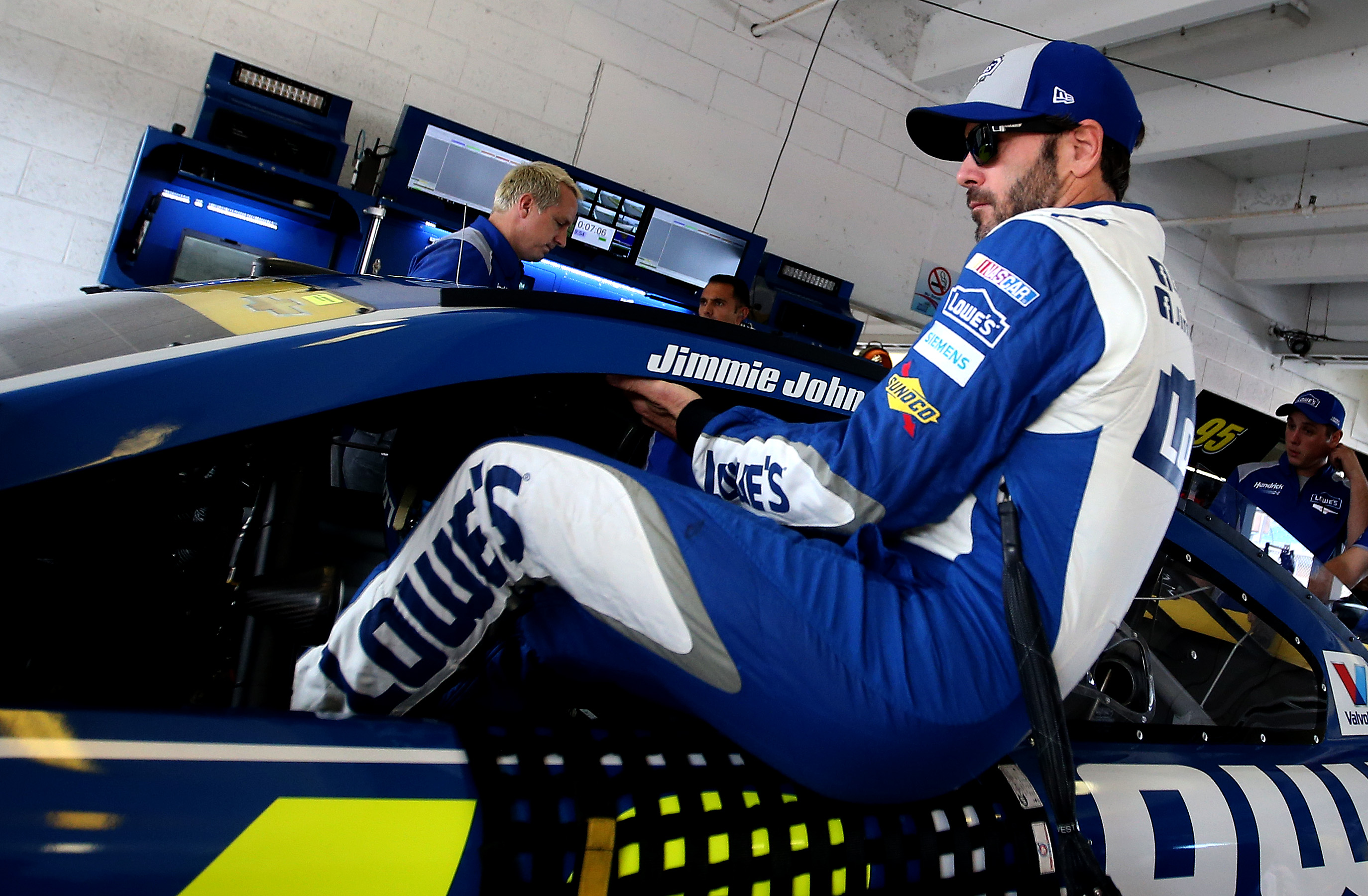 Jimmie Johnson and Michael Jordan are clearly winners in their respective sports. Both set the bar high and were considered the best during their time, if not of all time. Both Johnson and Jordan played major roles in taking their sport to the next level.
Johnson won seven NASCAR Cup Series championships in his career. His seven titles are tops all-time, tying him with legendary drivers Richard Petty and Dale Earnhardt Sr. Johnson had an incredible stretch from 2006-2010 when he won five straight championships, the only NASCAR driver to accomplish the feat. He is also a two-time Daytona 500 winner, claiming victory in 2006 and 2013.
Jordan is the owner of six NBA titles. His Chicago Bulls team put together a pair of three-peats as Jordan led the way. During his NBA career, Jordan was a five-time MVP winner, and he also led the league in scoring in 10 seasons. Jordan is widely considered the best NBA player of all time.
Jimmie Johnson made the switch to IndyCar
At the age of 45, Jimmie Johnson is a rookie again. Johnson recently retired from NASCAR and has focused on fulfilling a lifelong dream of racing IndyCar. He gave up the chance to shoot for a record eighth straight Cup Series titles to become an IndyCar rookie.
Johnson has made an impression on some IndyCar drivers despite the fact he had a lot to learn. "It's going to be difficult at the beginning, it's going to be hard, let's not beat about the bush," Dario Franchitti, a four-time IndyCar Series champ, said, according to Autoweek.  "Talent-wise, you've seen what he's done. It's ridiculous. He's got so much talent. His work ethic is incredible."
Many racers, including two-time IndyCar champion Josef Newgarden, believe the crossover between NASCAR and IndyCar is good exposure for both series. Similar to what you see going on with Jimmie Johnson and other guys from that series, they're interested in driving in our world, and vice versa, we're interested in driving in their world," Newgarden said. "I only see that as a positive. This crossover stuff is fantastic for the sport. We're all racers at the end of the day. We all kind of want to drive anything we can, have new experiences."
IndyCar sponsor likens Johnson to Jordan
Jimmie Johnson is in a new world, and Carvana, Johnson's IndyCar sponsor, is looking to capitalize. In an interview with Danica Patrick on Patrick's Pretty Intense podcast, Patrick asked if the sponsor had an additional role other than going along for the ride. She said Johnson's switch to IndyCar was a huge story in itself and he didn't even have to win for the sponsor to benefit.
"I think the founder, Ernie Garcia Jr., picked up on that quickly with the conversations that we had," Johnson said. "He mentioned it was similar to Jordan trying to leave basketball and go play baseball and how marketers wish they could've been a part of that journey somehow and couldn't and weren't, but here you can.
"Carvana has not been in motorsports marketing in the past. My demographic fits their core demographic very well. There's a lot of synergy there, but most importantly, the executive staff loves the story. They can see and understand the power in that story."