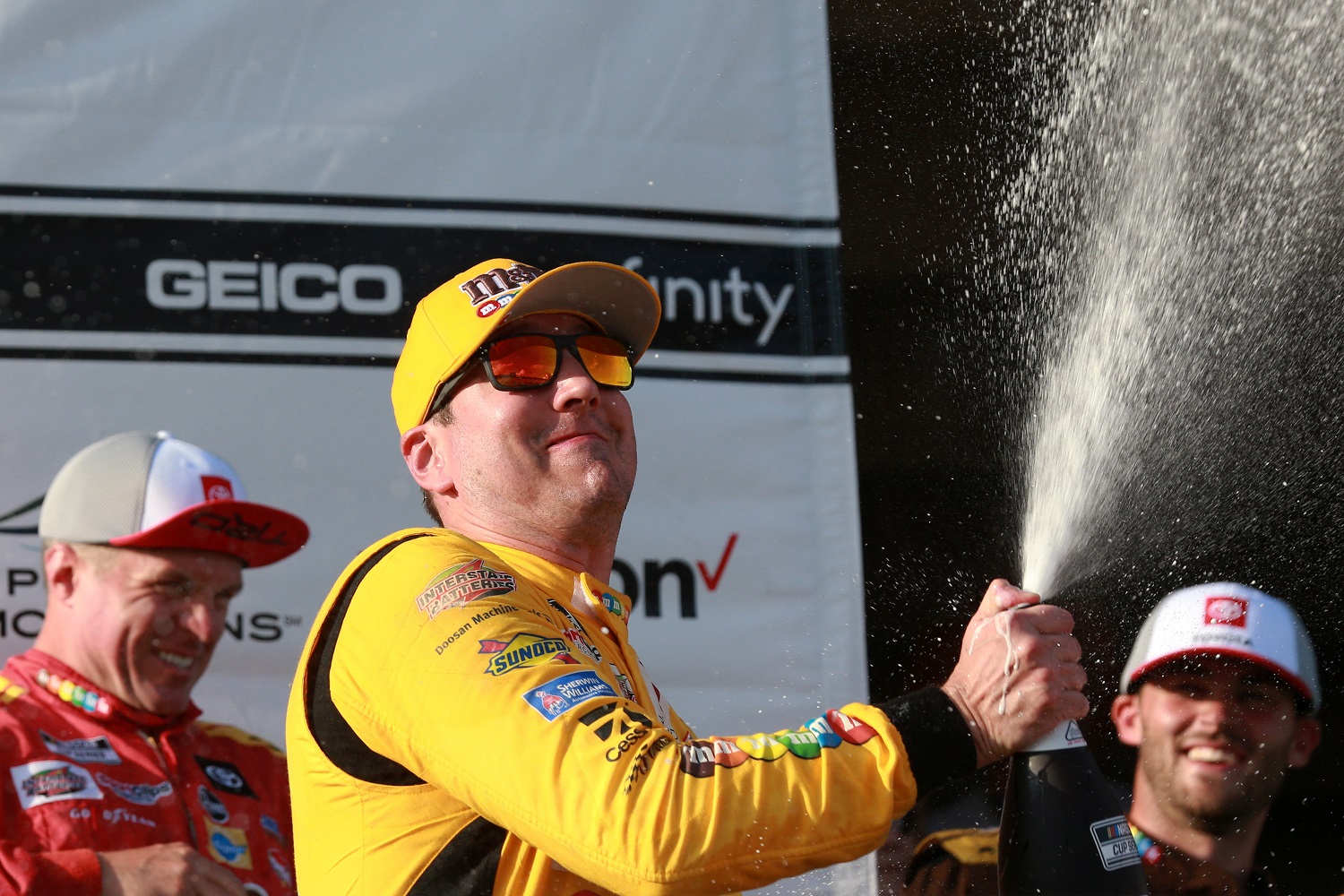 Kyle Busch Has a Plan to Keep the NASCAR Cup Series Momentum
Kyle Busch broke the Hendrick Motorsports winning streak with a victory at Pocono, adding intrigue to the last quarter of the regular season.
The racing suddenly got a lot more interesting at Pocono, and Kyle Busch is just the sort of driver to keep the NASCAR Cup Series that way.
First, Kyle Larson's winning streak ended on a fluke. Then, Hendrick Motorsports' dominating stretch ended. Now, Joe Gibbs Racing is going all-in when it comes to making the second half of the season something other than the inevitable coronation of Larson or some other Hendrick driver as the series champion.
Busch is right in the middle of it.
Kyle Busch is going hunting for back-to-back victories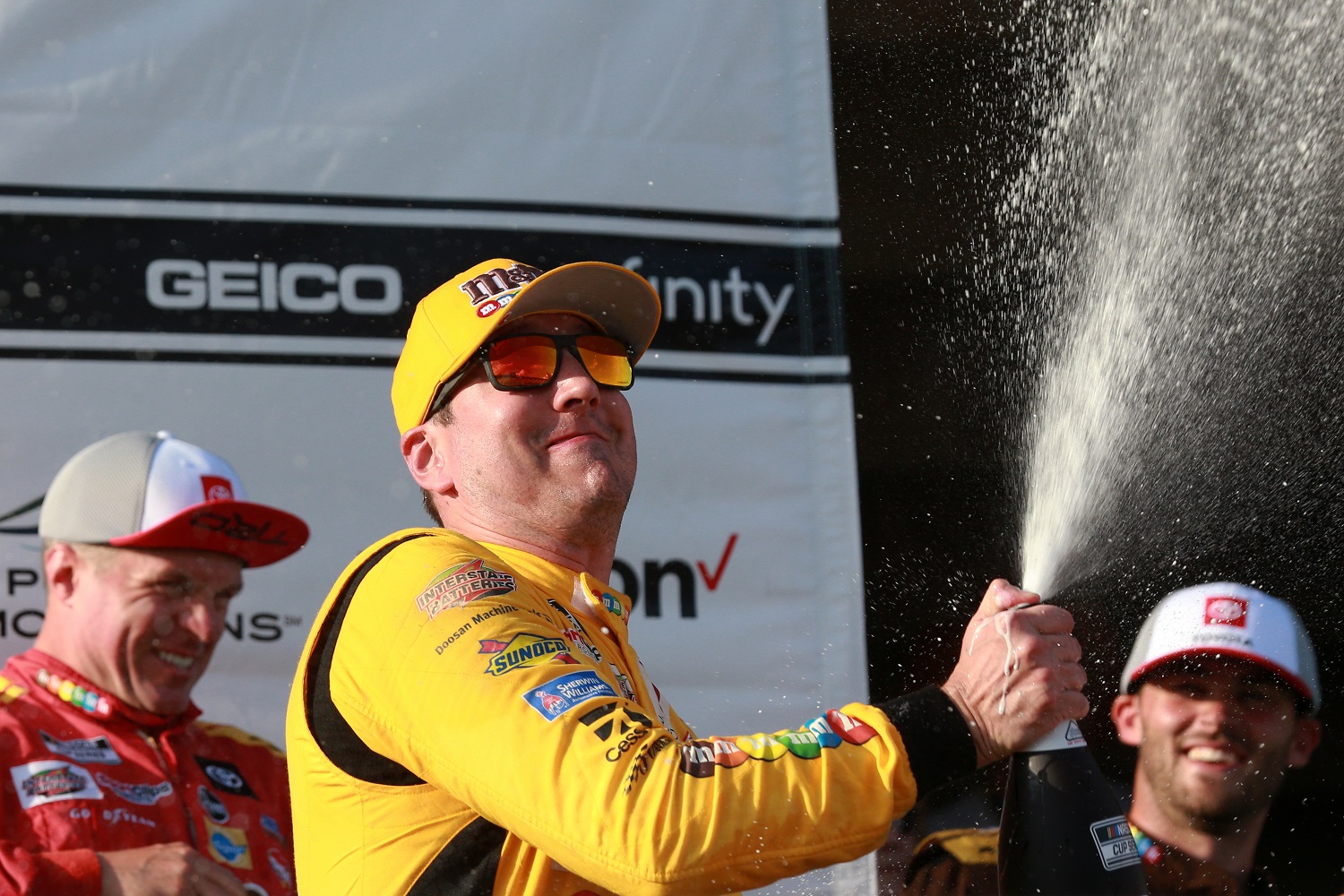 The Pocono doubleheader produced two unexpected results. Alex Bowman pulled out a victory Saturday after Larson had a tire go down on the final lap. Sunday's race turned into a fuel-mileage finish, and Busch overcame transmission problems to win for the second time this season.
Drivers from Joe Gibbs Racing and Hendrick Motorsports own six of the first seven places in the NASCAR Cup Series standings, and those organizations have won nine straight points races since Brad Keselowski's triumph at Talladega.
Understandably, Busch has to feel as though he has a shot at his third Cup Series championship overall and first since 2015. With the series coming to Road America in Elkhart Lake, Wisconsin, for a road race, he will work in extra practice time by using one of his five permitted Xfinity Series starts to kick off the weekend.
Busch is the king of Xfinity racing with 100 career victories (including all three starts this season), but he doesn't log much time on road courses. However, he has scored a victory this season on the Circuit of the Americas course and won in the past at Watkins Glen.
Whatever insight he gains by running in the Xfinity race only stands to help on Sunday in the Cup Series.
Joe Gibbs is running five cars in the Xfinity Series
Giving Busch more seat time at Road America, where he has never raced, required Joe Gibbs to do some juggling. As a result, he will enter five cars in Saturday's race. It's an unusual move, but it speaks to how badly JGR wants to gain ground on the Hendrick Motorsports drivers.
Busch will drive the No. 54 Toyota, which Ty Gibbs rode to victory on the Daytona road course in February while making his Xfinity debut for his grandfather. He'll move over to the No. 81 at Road America, and Daniel Hemric, Harrison Burton, and Brandon Jones will take their usual assignments.
Busch acknowledged after his Pocono victory that the Hendrick cars are still the fastest. Road courses take some of the raw speed out of the equation. Learning how late to break coming into the turns and how soon to go back to the gas coming out of them matters more – but the Hendrick drivers seem to do a good job of figuring that out, too.
"I wanted to run there as much as I could," Busch said, according to NBC Sports. "We were able to work it out so both myself and Ty can run here, as well, so I think it's beneficial for both of us. He loves road racing, too.
"It was kind of a perfect scenario – being able to get in the Xfinity Series and be able to practice in both of those races. I'm hoping it will be a really good weekend for us."
Chase Elliott will be Busch's target on Sunday
Larson has attracted all the NASCAR Cup Series attention for the past month, but he won't be the favorite Sunday. That distinction belongs to defending series champion Chase Elliott.
Hendrick Motorsports cars have won six of the past seven road-course races, and Elliott owns five of those victories. In fact, his only 2021 triumph came at the Circuit of the Americas in a race shortened by rain.
If it's Elliott in the lead late Sunday, there's a good chance that he'll have support close behind. Larson won both stages and took the checkered flag at Sonoma, the most recent road race. Bowman hasn't won on a road course yet, but he owns top-10 finishes his last four times out.
It's Busch, though, that will attract the most attention. A win in Wisconsin would make him the new driver to watch for the remainder of the regular season.
Like Sportscasting on Facebook. Follow us on Twitter @sportscasting19.