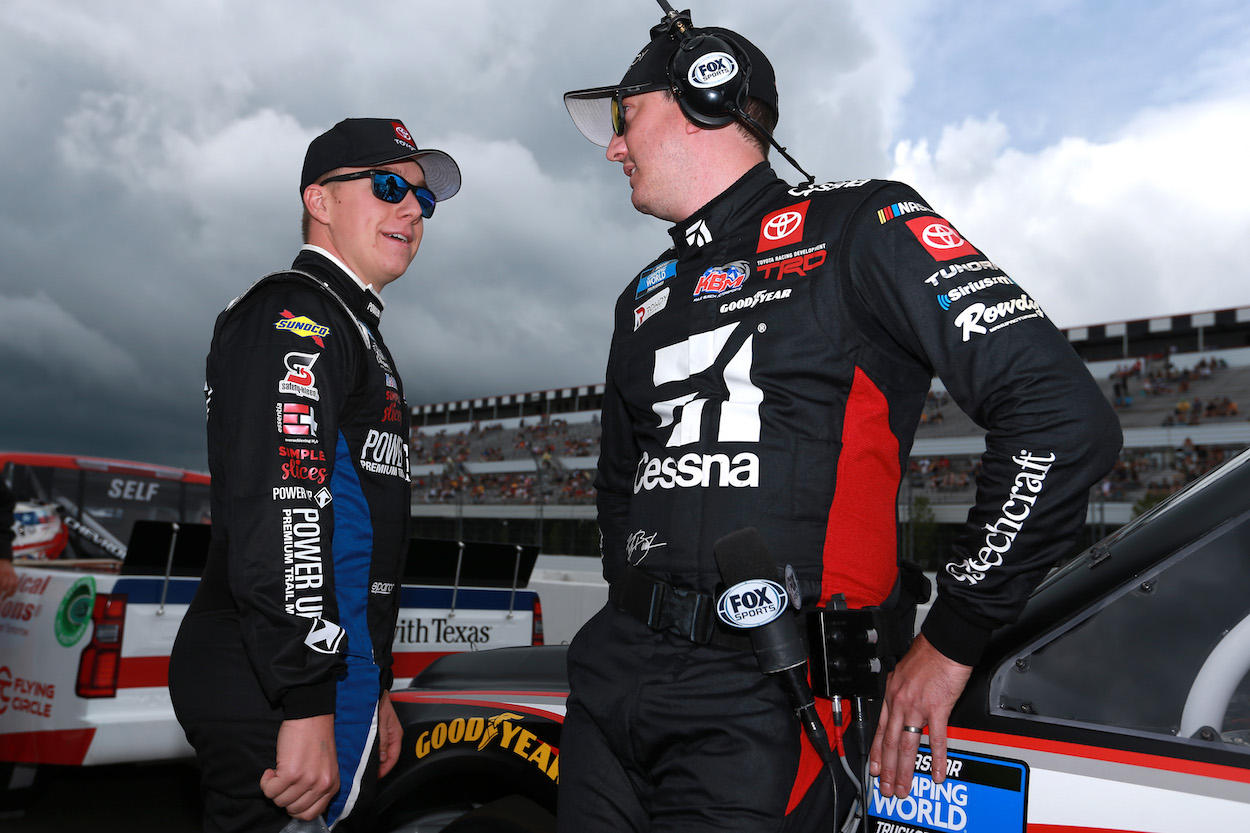 Unhappy Kyle Busch Refuses to Answer Question From Todd Bodine During NASCAR Prerace Show and Then Surprisingly Questions Their Friendship
Kyle Busch didn't like a question from Todd Bodine during FS1's prerace show, refused to answer it, and then questioned their friendship.
Kyle Busch has never shied away from confrontation. Sometimes it's almost as if he seeks it out. On Saturday, that's exactly what happened during the NASCAR RaceDay prerace show on FS1 before the Truck Series race at Pocono when the two-time Cup Series champion got upset by what sounded like a harmless question from two-time Truck Series champion Todd Bodine.
By the end of the exchange, an obviously unhappy Busch refused to answer the question and then questioned their friendship.  
Kyle Busch and his success racing with the Truck Series
Last week, Kyle Busch reached a big milestone by earning his 100th win on the Xfinity Series. His record on the Cup Series is well documented with 58 wins and two Cup titles in 2015 and 2019. 
Busch has been even more successful with the Truck Series since he debuted in 2001. In 160 races, he has won a series-record 61 times, or just shy of 40 percent of the time. 
In 2021, Busch's dominance in the trucks has continued. In four races, he's had a pair of runner-ups and a pair of wins at Atlanta and Kansas. At Pocono, he finished second behind his Kyle Busch Motorsports teammate, John Hunter Nemechek.
Gets upset with Todd Bodine and questions their friendship
Before the start of Busch's fifth race of the Truck Series season at Pocono Raceway, he visited with the NASCAR RaceDay crew of Kaitlyn Vincie, Larry McReynolds, and Todd Bodine. After he answered Vincie and McReynolds' questions, Bodine stepped up. 
"Every professional athlete has a moment in their career where they have a regret," Bodine started. "There was something they wish they could do over. Now you've had such a stellar career, all these wins, all these accolades, the things you've done. You've gotta have that one moment you just wish, man I could just do that over, I'd do something different."
After a few awkward seconds of silence, Busch simply responded with a "yep," which drew laughter from all three back in the studio.  
"OK, you're not going to give us a clue on it?" Bodine asked.
"Not sure why we're bringing up the past and old moments and bad stuff, but Todd, I thought we were friends," Busch fired back.
"Dude, it's got nothing to do with us," Bodine responded. "I just wanted to know the one moment in time that you wish, you know, I wish I could do something different here because you've been so good for so long."
"Yeah, pretty self-explanatory there, bud," Busch said before McReynolds jumped in to change the direction of the conversation. 
Busch had an uncomfortable exchange with another Fox NASCAR reporter earlier this year
Interestingly, this isn't the first time this season Kyle Busch has had an uncomfortable exchange with a Fox reporter covering the Truck Series. 
In Las Vegas, Busch suffered a flat left-rear tire late in the race. While turning down onto pit road, the No. 51 truck inexplicably spun out, which brought out the caution. As a result, Busch got the free pass and back on the lead lap. He then rallied from his 26th spot and navigated his way through the field for a second-place finish.
After an initial interview on television during which Busch expressed how happy he was that John Hunter Nemechek won the race in one of his trucks, Bob Pockrass of Fox Sports asked Busch if he could explain what happened with the spin. 
"Nope," Busch curtly replied.
"I'm sorry," Pockrass responded, confused by the initial answer.
"Nope," Busch repeated.
"You're not going to explain what happened?" the reporter asked again.
"Nope," Busch said for a third time.
Busch walks to the beat of his own drum. That's a big reason why so many of his fans love him. And that's why those who aren't his fans question his sometimes petulant behavior. On Saturday, he once again gave both groups something to talk about.
Like Sportscasting on Facebook. Follow us on Twitter @sportscasting19.