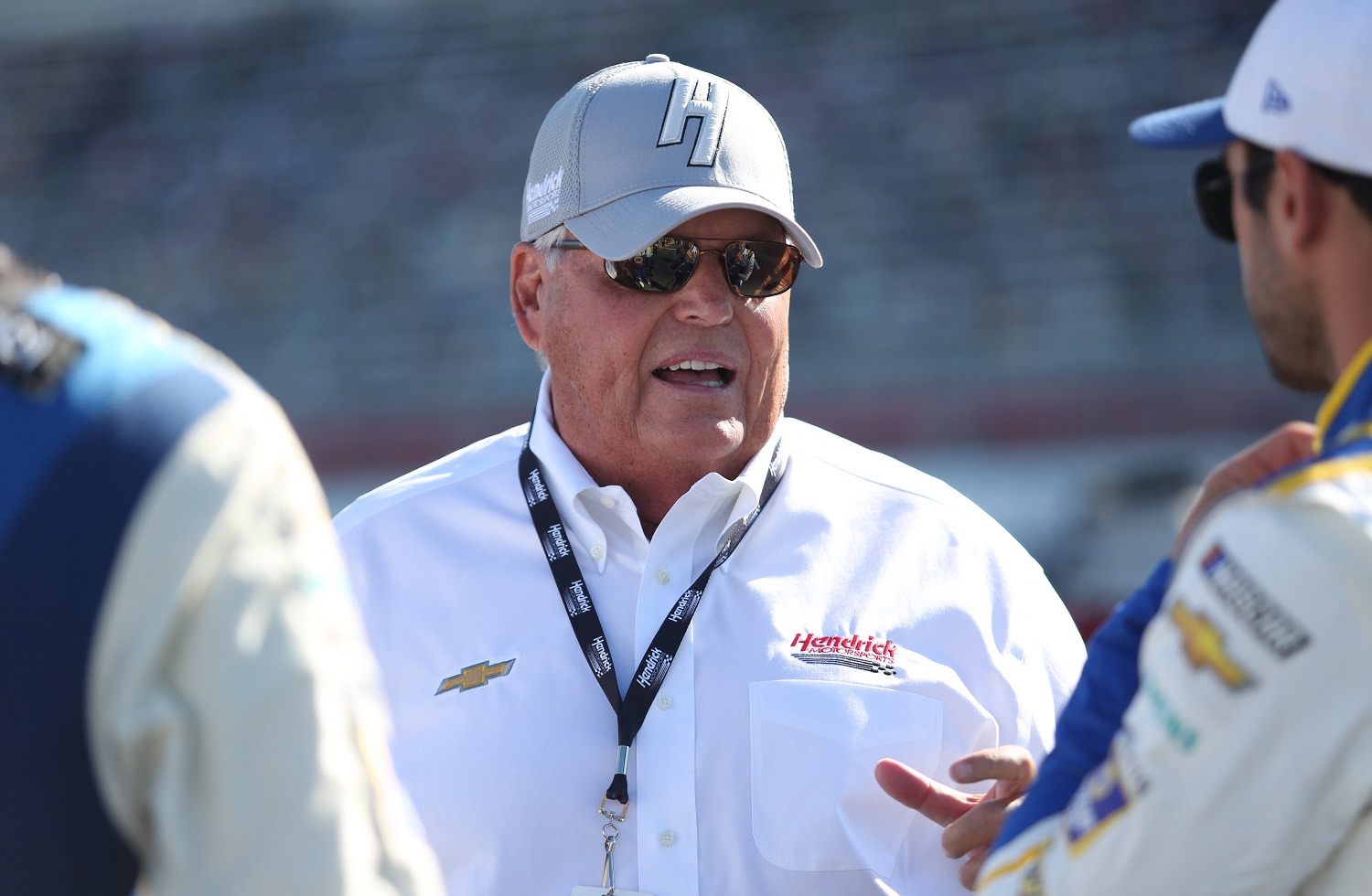 Rick Hendrick Missed Witnessing Hendrick Motorsports' Biggest NASCAR Win Ever, so He Toilet-Papered the Driver's Yard
Rick Hendrick was at a church retreat, causing him to miss the victory in 1984 by Geoffrey Bodine that kept Hendrick Motorsports from shutting down.
Jeff Gordon and Jimmie Johnson made the most of their time driving for Hendrick Motorsports, winning 93 and 83 races, respectively, in the NASCAR Cup Series. Together, they account for nearly two-thirds of the victories by the most successful team in Cup Series history, but neither of those great drivers was there for the biggest HMS win ever.
Then again, neither was team owner Rick Hendrick. His absence is a story that combines a religious retreat, dwindling financial resources, and toilet paper.
Hendrick Motorsports holds the NASCAR Cup Series record
Kyle Larson's victories at Charlotte and Sonoma to bookend Memorial Day raised Hendrick Motorsports' total in the NASCAR Cup Series to 270, breaking the record held by Richard Petty Motorsports.
With the talented lineup of drivers, which also includes Alex Bowman, William Byron, and defending series champion Chase Elliott, stalking the record to start the season, numerous stories from the organization's past have surfaced this spring.
Naturally, one of them was about just how close Hendrick came to shutting down his relatively new team for financial reasons before Geoffrey Bodine scored a timely victory at Martinsville on April 29, 1984.
"I told (crew chief) Harry Hyde we couldn't go past Darlington or I'd be putting my entire business at risk," Hendrick told Autoweek. "We went to Darlington and finished 35th, and I thought that was it. Now, Harry was a great salesman. He kept saying, 'Just let us go to Martinsville. Bodine is good there. We can win.' He talked me into it. We won the race and ended up getting a sponsor because of it."
Bodine won twice more that year, assuring that there would be a second season, and a third, and so on. His clutch victory alone makes for a great story, but it gets better.
Rick Hendrick missed his team's biggest win ever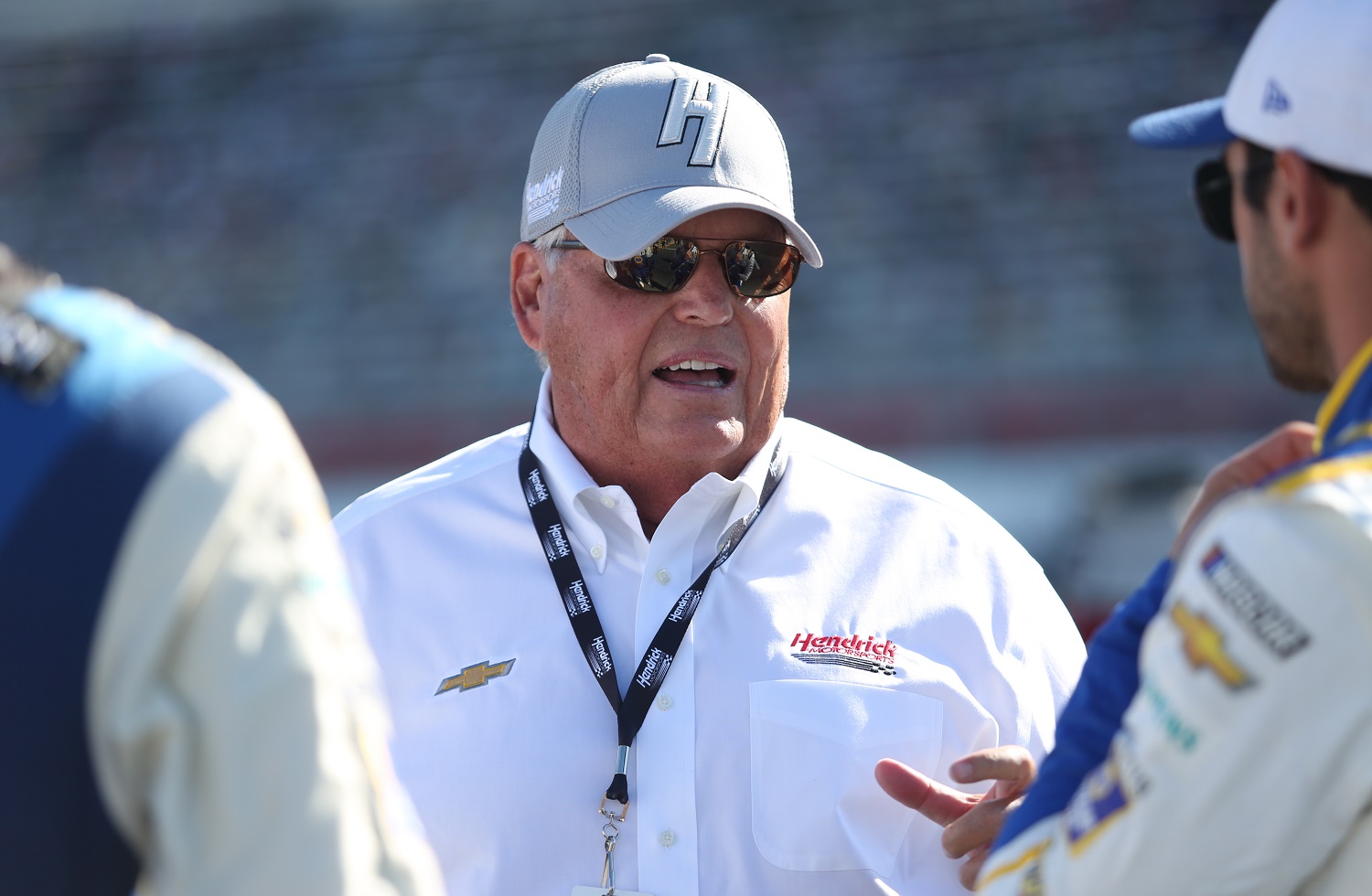 Hendrick understood that operating a NASCAR team would be good promotion for his car dealerships. Hendrick Automotive Group has grown into the country's biggest privately-owned vehicle retailer, but Hendrick worked tirelessly in those days getting the business off the ground.
The racing team was a distant third to his family and the dealerships, so Hendrick missed Bodine's breakthrough victory in 1984 at the Sovran Bank 500 in order to attend a church retreat with his wife, Linda. Unable to follow the race, he called his mother during a brief break.
"She said, dead seriously, 'You haven't heard? He blew up,'" Hendrick told Autoweek. "I thought it was all over. Then she said, 'No, he won!' I couldn't believe it; I about dropped the phone. Then we went straight to Bodine's house and covered his yard in toilet paper.
"It was such a relief to win. If we hadn't, there's no way we'd be here today."
Bodine made the Gordon and Johnson era possible
Bodine drove for Hendrick through the 1989 season, finishing with seven victories in the No. 5 Chevrolet. Driver Tim Richmond made it a two-car team in 1986 and won nine times in his time. Darrell Waltrip and Benny Parsons turned it into a four-car outfit in 1987.
All told, 20 drivers have won races for Hendrick over the years. Elliott leads the current crew of drivers with a dozen victories, and he'll move into sole possession of third behind Gordon and Johnson the next time he takes the checkered flag.
Unlike that day in 1984 that started it all, the owner will watch it happen in person.
Like Sportscasting on Facebook. Follow us on Twitter @sportscasting19.