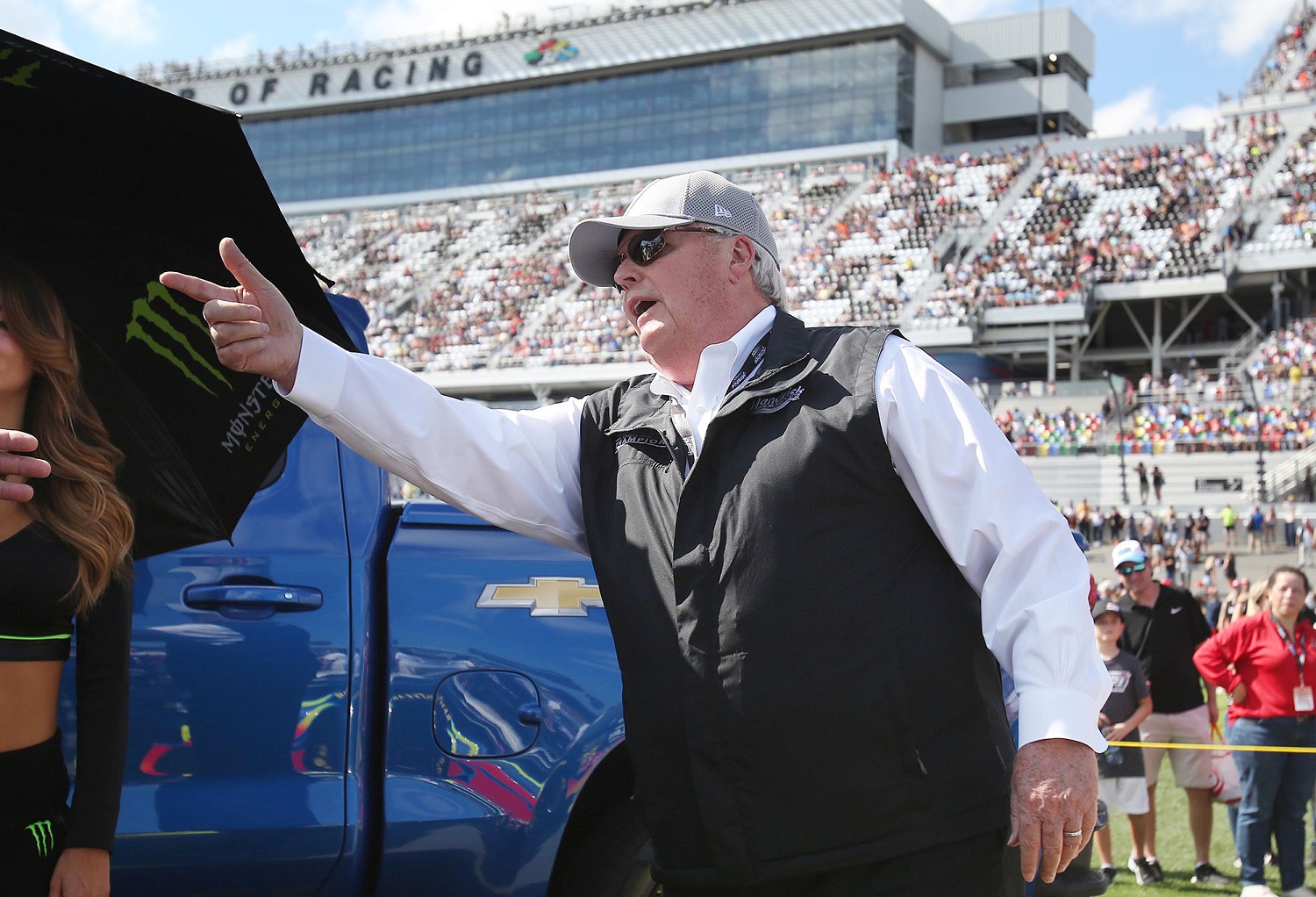 What Is Rick Hendrick's Net Worth?
Rich Hendrick raced cars at the age of 14, became a pioneering businessman, and has turned Hendrick Motorsports into a NASCAR powerhouse. His net worth hit a major milestone in 2020.
There is no bigger race in the NASCAR Cup Series than the Daytona 500, and one would be hard-pressed to find a more successful businessman in the sport than Rick Hendrick. Besides presiding over a consistently successful racing organization, Hendrick operates a car dealership empire that's resulted in a staggering net worth.
Rick Hendrick's team is in the Daytona 500 spotlight
Although Jimmie Johnson has retired with his seven NASCAR Cup Series championships, the Hendrick Motorsports lineup in the country's best-known racing organization remains as formidable as ever. Chase Elliott won five races for Hendrick on the way to the 2020 series championship, and Alex Bowman and William Byron added one victory apiece. Bowman slides into Johnson's No. 48 Chevy this season, and Kyle Larson completes the lineup.
The quartet comes to the season's opening race in pursuit of a record-tying victory. Triumphs by Johnson in 2013 and Dale Earnhardt Jr. in 2014 raised Hendrick Motorsports' total to eight at the Daytona 500, one short of the record nine that Petty Enterprises has been holding at since 1981.
The 2021 season could also usher in another milestone moment for Rick Hendrick. His drivers have taken the checkered flag 263 times in the NASCAR Cup Series. The record is 268 by Petty Enterprises, and it's not difficult to envision the Hendrick crew racking up half a dozen wins to become the all-time leader.
"I'm a little humble to think that 'Hey, I'm going to maybe one day pass his record of wins," Rick Hendrick said. "I would love to, but I don't know if I'll ever contribute as much to the sport as Richard Petty and the Petty organization have."
The owner has built an automotive empire
Although he is widely known as a team owner, Rick Hendrick started out racing cars at the age of 14 and even drove in a handful of NASCAR races. After attending college, he opened a used-car lot at the age of 23. Four years later, he bought a struggling franchise in South Carolina to become the youngest Chevrolet dealer in the country.
That paved the way for an expansion into Charlotte, North Carolina, with another Chevy dealership, followed soon afterward by the acquisition of his first Honda location. The portfolio grew in the 1980s to include Audi, BMW, Isuzu, Mercedes-Benz, Nissan, Porsche, Toyota, Volkswagen, and Volvo outlets. That made Hendrick an influential figure in the industry.
Hendrick Automotive Group now boasts of 133 dealerships in 14 states across the country. The company's website says the auto empire generated $9.5 billion in revenue in 2018, selling more than 206,000 vehicles and servicing 2.5 million cars and trucks.
A Rick Hendrick net worth estimate contains three commas, nine zeroes
With his ever-expanding dealership empire generating huge money, Rick Hendrick launched Hendrick Motorsports in 1984. On April 29 of that year, Geoff Bodine won a NASCAR Cup Series race at Martinsville for the outfit's first triumph. In 1986, Tim Richmond scored seven wins and Bodine three, including the prestigious Daytona 500.
Jeff Gordon scored their 100th win in 2001, Jimmie Johnson logged the 200th in 2012, and Chase Elliott nailed down the 250th in 2018 at Watkins Glen.
Meanwhile, Hendrick Automotive Group has kept humming along. As a result, Celebrity Net Worth estimated last year that Hendrick had broken the $1 billion barrier in personal wealth.
Like Sportscasting on Facebook. Follow us on Twitter @sportscasting19.