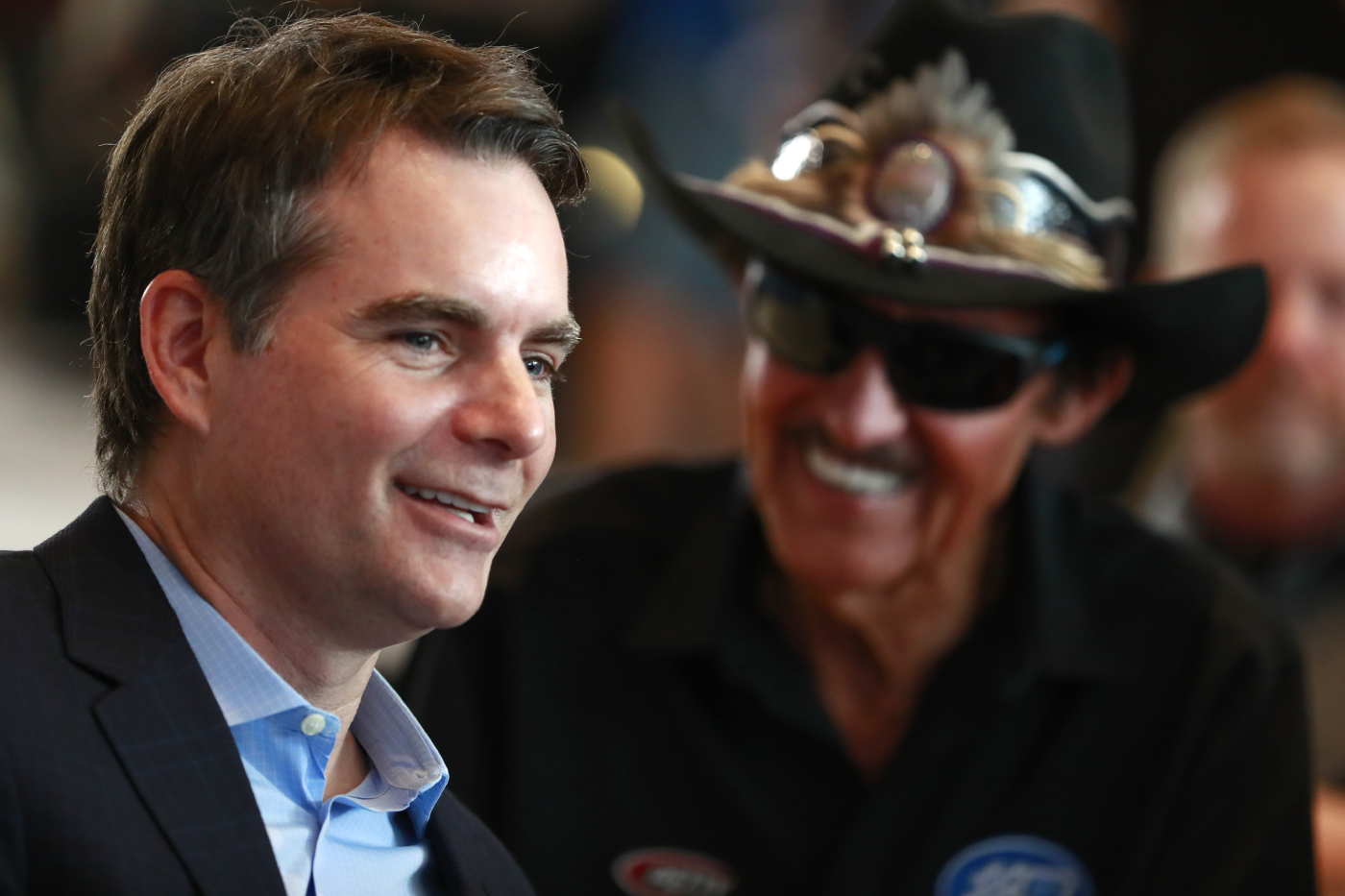 Jeff Gordon's Biggest Achievement Might Be His Praise from a NASCAR Icon
Jeff Gordon has the NASCAR hardware to prove he was one of the best, but his biggest achievement might be the high praise from another icon.
Jeff Gordon ranks right up there in the world of motorsports. Gordon is a NASCAR icon who is a member of two racing Halls of Fame. The resume is full of awards and achievements, but perhaps his biggest accomplishment is the praise he received from one of NASCAR's all-time greats.
Gordon needs no introduction
Jeff Gordon certainly did his part in helping NASCAR become what it is today. One of the most influential drivers in racing history, Gordon finished his 25-year racing career third on the all-time Cup wins list with 93 victories. In 1998, NASCAR named Gordon to its list of top 50 drivers of all-time.
In 2008, ESPN named Gordon 10th in its list of top 25 drivers of all-time. Gordon set a NASCAR record by winning a pole at least once for 23 straight years. At 24, Gordon was the youngest driver ever to win a title when he did it during the 1995 season.
Gordon is a three-time Daytona 500 winner. He claimed victories in 1997, 1999, and 2005. He's a three-time Grand Slam winner. Gordon was inducted into the NASCAR Hall of Fame in 2019. In 2018, he was inducted into the Motorsports Hall of Fame of America.
Gordon draws high praise from a NASCAR legend
Jeff Gordon's resume speaks for itself. He has enough hardware to prove he was one of the best in NASCAR history. One of his biggest accomplishments, however, might just be getting some high praise from Richard Petty. Petty is statistically the most accomplished driver in racing history. He's collected 200 victories in 1,884 races over 35 years.
Petty was inducted into the NASCAR Hall of Fame in 2010 as a member of the inaugural class. Petty is a seven-time winner of the Daytona 500. In 1967, Petty won a record 27 races, including 10 straight. He finished his racing career with better than 700 top-10 finishes.
Petty gave high praise to Jeff Gordon, saying Gordon "changed the face of NASCAR" and has been a huge asset in developing the sport. Petty had nothing but good things about Gordon, who made his first race on the same day Petty had his last one.
Richard Petty said Jeff Gordon represented an era
In an interview with Graham Bensinger, NASCAR legend Richard Petty had nothing but good things to say about another racing legend, Jeff Gordon. "Jeff's done a heck of a job," Petty said. "If you look back at NASCAR, you got different leaders at different times bringing the sport forward.
"To begin, there was an era. Then I came through in an era with Pearsons and Allisons and Bakers and Yarboroughs. Then it kind of shifted over to Darrell Waltrip and then to Dale Earnhardt and then it shifted to Jeff Gordon. He was the first really young guy to come in cause most of the guys went through the process of doing the NASCAR Sportsman and they were always 25, 26 years old before they got a first-class ride.
"He came in and got a first-class ride at 20 years old, 21 years old. So he starts a new trend of younger people coming into the sport. In doing that, the face of NASCAR, he changed it from one face to another. He's been a really big asset to be able to be as personable, to be on late-night TV or early-morning TV, and still be a heck of a racecar driver."