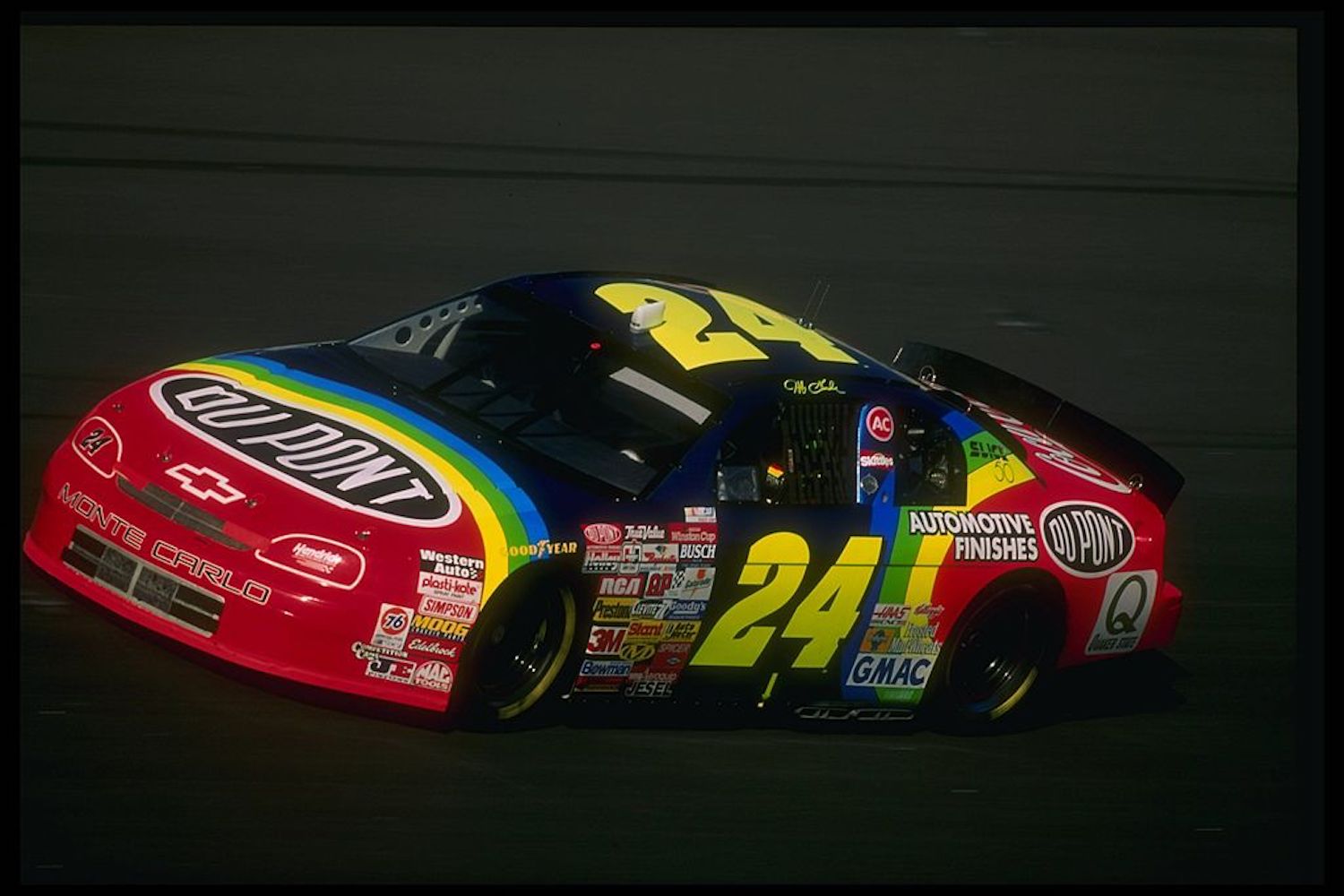 Jeff Gordon Is About to Lose a Sentimental Piece of His Historic NASCAR Career
Jeff Gordon won three NASCAR races with his Chevrolet Monte Carlo in the mid-1990s, but his old race car was just put up for auction.
During the mid- to late-1900s, Jeff Gordon was the most dominant driver in the NASCAR Cup Series. Gordon won 40 Cup Series races in a four-year span from 1995-98, and he won three championships during that historic stretch.
In the middle of that run, Gordon drove a Hendrick Motorsports Chevrolet Monte Carlo decked out in all the colors of the rainbow and his signature No. 24. Gordon drove the car to three victories in nine races in 1996 and 1997, but he's about to lose his old friend to the highest bidder.
Jeff Gordon won three races with his old Monte Carlo
Throughout the height of Jeff Gordon's NASCAR career, it really didn't matter what race car he drove. Gordon was so dominant during his prime he could've driven a minivan to victory in any particular week.
The NASCAR Hall of Famer drove a handful of race cars during his string of three championships in four years, but one of his favorites was a colorful Chevrolet Monte Carlo (Chassis No. 2421) his team called "Brewser." Brewster was Gordon's go-to short-track race car during the 1996 and 1997 Cup Series seasons. He drove the car in nine total races and won three times behind the wheel.
Two of the three victories came at Martinsville Speedway just seven months apart. The other came at North Wilkesboro Speedway in between the two Martinsville wins. In the nine races in which Gordon employed Brewster, he recorded seven top-five finishes and never finished worse than 34th.
Gordon last drove the Monte Carlo in competition in September of 1997.
"Brewser" is now on the auction block
Nearly 24 years after Gordon last raced behind the wheel of Brewser, the car has been put up for auction.
The car has less than 4,000 miles on it, and it was last driven in 1999. Rhine Enterprise of Denver, N.C. refurbished the race car in 2009, and it looks good as new. It comes complete with a Hendrick-sourced 358ci V8 engine and four-speed manual transmission.
"Chassis #2421—nicknamed "Brewser" by the race team—is finished in a rainbow-style DuPont Automotive Finishes livery over a Hendrick Motorsports tube-frame chassis," the auction post states. "Bodywork includes front brake-duct inlets, cooling vents, longitudinal stabilizing strips on the roof and over the back window, a roof flap, and an adjustable spoiler on the rear deck. Decals mimic the headlights from a contemporary production Monte Carlo."
How can you purchase Jeff Gordon's iconic race car?
Interested in purchasing a famous piece of Jeff Gordon's iconic NASCAR career? You can!
The Monte Carlo is currently up for auction online at Bring a Trailer. Buyers have until Jan. 21 at 2 p.m. MT to bid on the race car. As of Jan. 12, the current highest bid stands at $80,500. Expect that to rise exponentially as we approach the end of the bidding period.