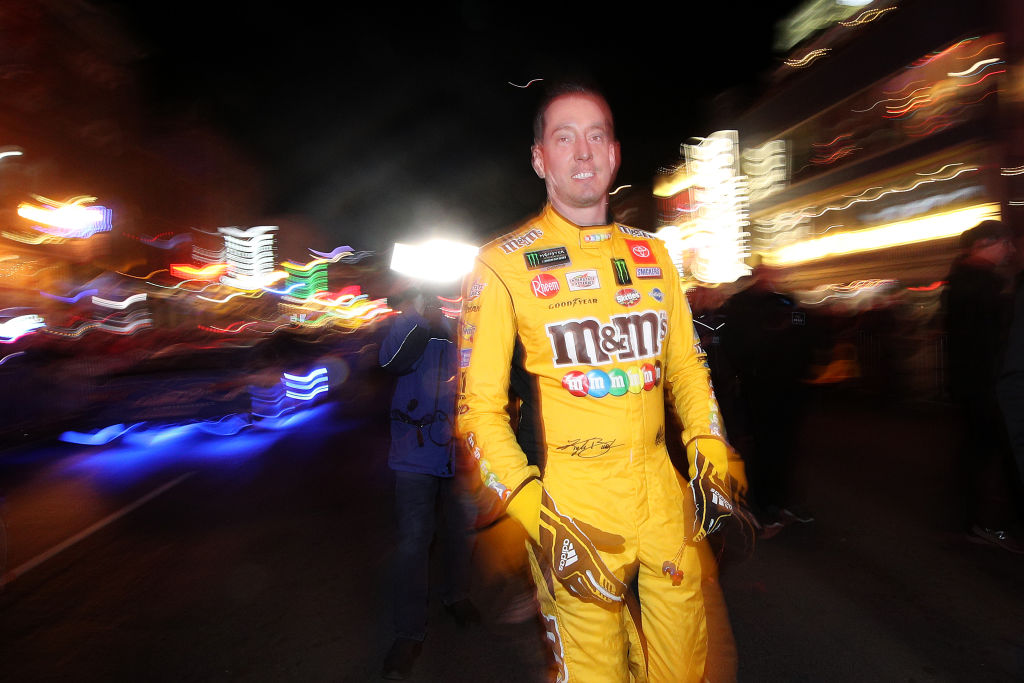 Do NASCAR Drivers Work Out?
Racing is a sport and drivers are most definitely athletes requiring peak physical fitness to deal with extreme conditions.
Of all the juxtapositions in sports, one involving a leading NASCAR driver is among the funniest. While wife Samantha Busch is recognized as one of the biggest fitness enthusiasts traveling the racing circuit, Kyle Busch drives a Toyota sponsored by candy company Mars.,Inc., and is a walking billboard for M&M's on race day.
Yes, NASCAR drivers are most definitely athletes
The physical demands during races make it essential for Kyle Busch or any other driver to be in peak condition, so you can be sure he's not living on a steady diet of M&M's. Whether it's two hours in a Formula One car or three and a half in a NASCAR race, drivers endure a combination of heat and g-forces that will tax the body to the limit.
Cardio fitness is essential in a sport that pushes heart rates above 140 beats per minute for long stretches, with upper-body strength to handle the arm and shoulder strain of handling the steering wheel a close second. Remember, there is no halftime in races that allow a driver to hop out of the car and stretch.
NASCAR race fans see their favorite drivers on the track every Saturday or Sunday. What they don't see is that those drivers work out the other six days of the week with very little downtime in the offseason.
'NASCAR's toughest couple'
A USA Today story last year labeled Kyle and Samantha Busch as the toughest couple in NASCAR. Kyle credits Samantha for keeping him in the best shape possible with demanding workouts in the gym.
As parents of a young child and with commitments to sponsors to fulfill, there might only be one hour a day to focus on cardio, so Kyle fits in other components of his workouts – stretching and weights – whenever he can. It's all complemented by a healthy diet.
Busch regards himself as being fitness-conscious, whereas Carl Edwards was the epitome of a NASCAR workout warrior in his driving days.
Jimmie Johnson always finds time to work out
Jimmie Johnson is in the final season of a driving career that has seen him win seven NASCAR Cup Series championships. He has cited multiple benefits to setting aside time to work out, including how the routine adds a level of discipline.
Johnson's workout schedule already would have challenged the fittest athletes in any sport, but he added weight training in 2007 after having already captured the first two of five consecutive NASCAR race series championships. And then for good measure, he started training for triathlons.
His typical week:
Monday: A 45-minute easy run and a short strength workout including squat thrusts with 20-pound dumbbells, pushups, and bench tricep dips. Finish the day with a moderately hard, 75-minute bicycle ride.
Tuesday:  A 3,000-yard swim, mixing in some breaststroke with freestyle and changing tempos, and 30 miles of biking broken into three eight-minute segments at a "race" pace.
Wednesday: Seven miles of jogging beginning with 10 sets of 80-second climbs up a hill and easy recovery jogs back down, followed by brief core work.
Thursday: More time on the bike, though at a slightly less aggressive pace, followed quickly by a strength workout beginning with 20-rep sets on the weights.
Friday: An easy three-mile run, then in the water for 3,000 yards and another three-mile run. Finish with a core workout.
Saturday: Another 50 miles riding, working hard on the hills but steady otherwise, and then 20 minutes of easy running followed by push-ups and plank holds.