Dale Earnhardt Would Likely Still Be Alive Today If He Made 1 Simple Change at the Daytona 500
In 2001, Dale Earnhardt Sr. suffered one of the most tragic deaths in NASCAR history at the Daytona 500. Earnhardt was a beloved competitor, friend, and father in the NASCAR community, so the sudden loss stunned and saddened the racing world on that fateful day.
Many still wonder if anything could've been done that day to save Earnhardt's life, and it turns out he likely would still be alive today had he taken one extra safety precaution before the race.
Dale Earnhardt refused to wear a HANS device during his NASCAR career
The HANS (head and neck support) device first surfaced in the early 1980s. Dr. Robert Hubbard, the late Michigan State University biomechanical engineering professor, teamed up with his brother-in-law and former road racer, Jim Downing, to create the safety device after their mutual friend, Patrick Jacquemart, died of head injuries from a 1981 mid-race crash.
The purpose of the device is to keep the driver's head stable and prevent whiplash after a crash, similar to what an airbag does in a regular car. The U-shaped gadget goes over the driver's head and supports his or her neck from behind, which keeps the head and neck in place even when a car goes from a blazing speed to a dead stop in an instant.
Brett Bodine, a former driver who raced in the Cup Series for 18 years, was the first professional NASCAR driver to start using the HANS device in 2000. He loved it so much that he never raced without it again, and he even claims the HANS has saved his life more than once. But other drivers weren't as receptive to the new technology at first. Dale Earnhardt Sr. was among that group.
"In our last conversation, Dale came up to me (prior to the 500) and ridiculed me for wearing it," Bodine recently told Autoweek. "He said, 'What are you, some kind of p—-?' He said he didn't know if he'd feel comfortable racing around me if I had it on. He said he'd tried one and didn't feel good in it, that it limited his vision and he couldn't turn his head. But none of that bothered me because that was just Dale being Dale. You know, the Intimidator, the guy who was always going to do things his own way."
Earnhardt's tragic death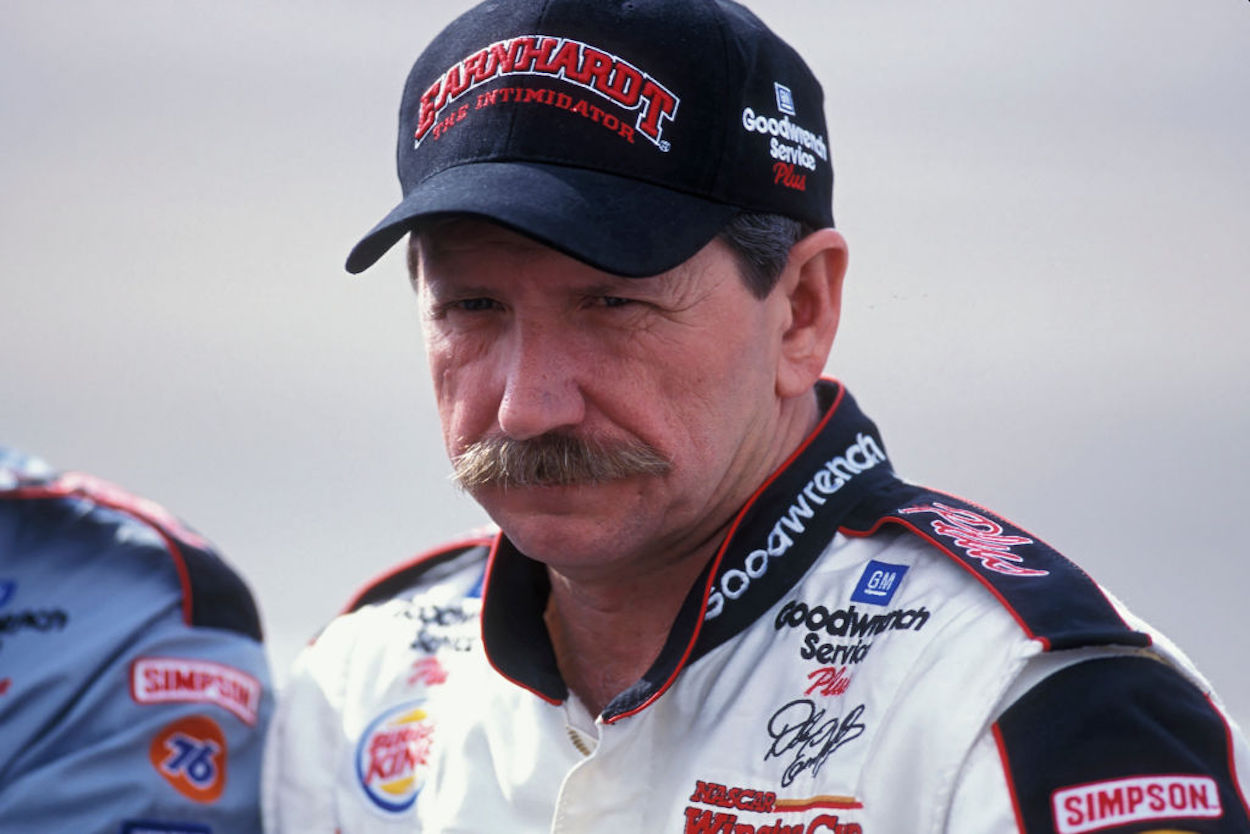 Feb. 18, 2001 is a day that will forever live in infamy for NASCAR fans around the world. It's the day the legendary Dale Earnhardt Sr. tragically lost his life at the iconic Daytona International Speedway.
During the final lap of the 2001 Daytona 500, Earnhardt rubbed up against Sterling Martin and Ken Schrader and lost control of his No. 3 race car. The car went crashing into the nearby retaining wall, and Earnhardt was killed instantly from a basilar skull fracture.
Earnhardt, who previously shunned the HANS device and even made fun of drivers who utilized it, wasn't wearing one during the crash.
HANS inventor says Earnhardt had a 95% chance of surviving his crash if he wore the device
Jim Downing, one of the inventors of the HANS device, said a few months after Earnhardt's death that the Hall-of-Fame driver had a better chance of survival if he employed the device for the race.
"If he'd had the device on, it would have stopped a fair amount of the (body) twist and taken a bunch out of the neck (stress)," Downing told Winston Cup Scene in 2001. "It may have pushed him below that threshold where he didn't die. But it's speculation."
But 20 years later, with all the data he has now, Downing is almost positive the HANS device would've saved Earnhardt's life that day.
"There were times back when I was 60% to 70% sure the HANS would have saved Dale's life," Downing told Autoweek. "But I had to be careful about it because it was difficult to speculate at that time. Even so, I thought there was a high probability of him surviving with a HANS.
"Since then, we've had wreck after wreck after wreck, and we haven't lost anybody since Dale. Similar wrecks to his. Really bad wrecks (that HANS-wearing) drivers survived. So, now I can be even stronger than in the early days. I can say it's probably 95% he would have survived. The evidence is in and it's pretty conclusive that the HANS eliminates the 'snap' that causes the basal skull fractures."
It's easy to get frustrated by what-ifs 20 years after his death, but NASCAR fans can take solace in the fact that Earnhardt died exactly how he lived — with absolutely no fear.