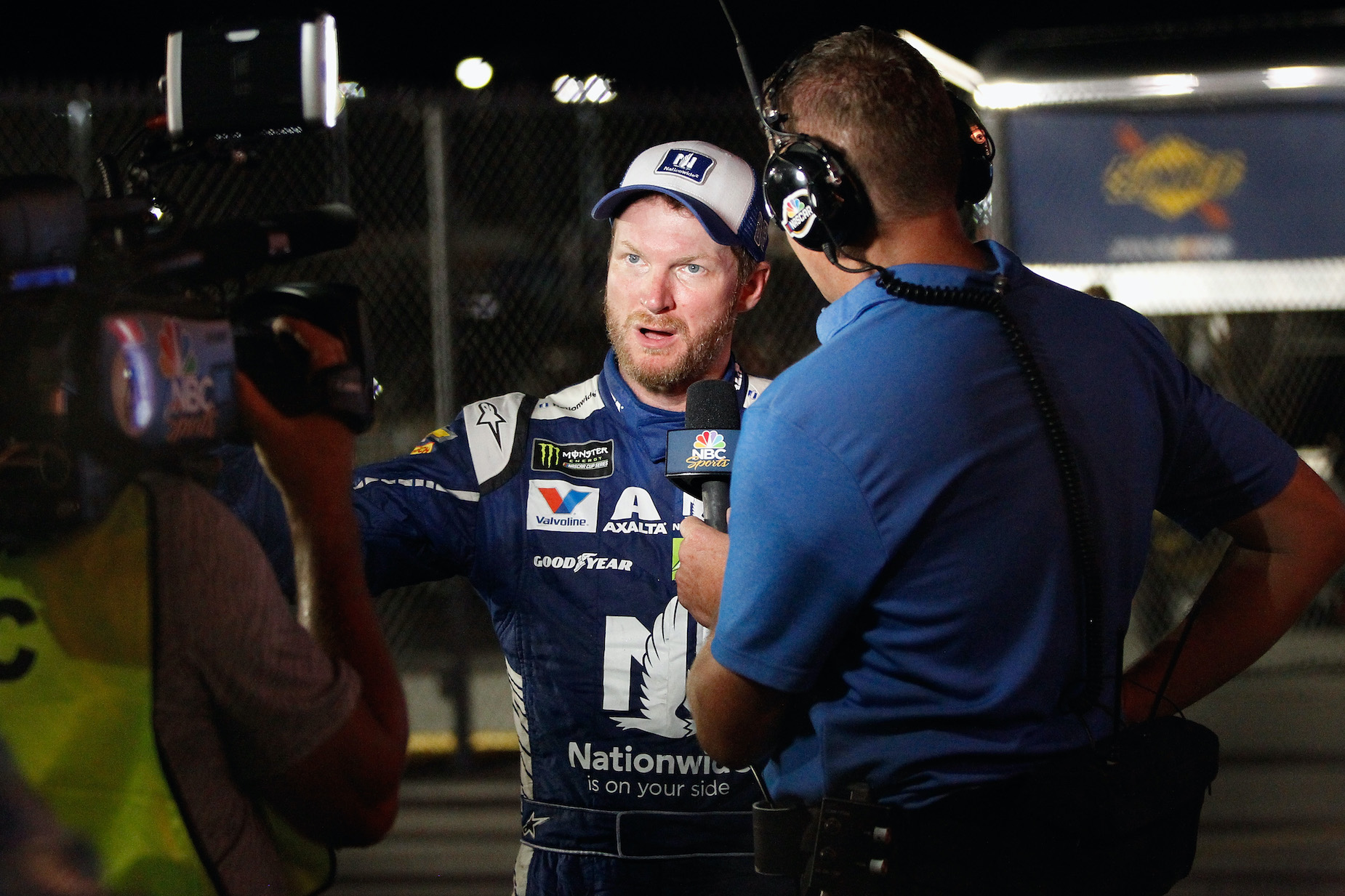 Dale Earnhardt Jr. Once Blew $10,000 Because of a Single, Four-Letter Word
Dale Earnhardt Jr. has made plenty of money on the NASCAR circuit, but he once had to pay a $10,000 fine after letting a four-letter word slip.
While it can be easy to view NASCAR as a niche sport, there's still big money tied up in auto racing. If you want evidence of that, you don't need to look any further than Dale Earnhardt Jr. Thanks to a solid career and his enormous popularity, the driver has built up a multimillion-dollar fortune; even in relative retirement, he's still a fixture on the motorsports scene.
Although Dale Earnhardt Jr. has made plenty of money during his time on the NASCAR circuit, he's also had to give some of it back. During the 2004 campaign, for example, he cost himself $10,000 with a single, four-letter word.
Dale Earnhardt Jr. is modern NASCAR royalty
Every sport, no matter if it's played with balls, pucks, or cars, has its own superstars. In the world of NASCAR, few names are bigger than Dale Earnhardt Jr.
While he didn't always plan on driving—Junior got an automotive degree and took a job at his father's car dealership—he ultimately found his way behind the wheel. Although he was initially motivated by something bigger than racing, Dale Jr. proved to be a natural behind the wheel.
Earnhardt Jr. began racing on the short track scene before moving up to the Busch Series in 1996; two years later, he made his Winston Cup Series debut. While there were some painful bumps in the road—his father, Dale Earnhardt Sr., tragically died during the 2001 Daytona 500, and Dale Jr. battled through some serious concussion issues—the driver still put together quite the career.
While he's still known to hit the track every now and then, Junior's time as a driver has essentially come to an end. His resume, however, is still pretty impressive. Earnhardt Jr. won 50 races across the Cup Series and what's currently called the Xfinity Series, took the top spot at two Daytona 500s, and was a 15-time winner of NASCAR's Most Popular Driver title.
Making millions of dollars along the way
During his time on the track, Dale Earnhardt Jr. didn't quite find the same level of success as his famous father. That reality, however, didn't hurt his bottom line.
Thanks in large part to his name-recognition, Earnhardt Jr. had no problem earning money during his time as a NASCAR driver. "Earnhardt only finished in the top three of Nascar's year-end standings once during his career, but his popularity with sponsors and fans helped him earn more than $400 million from salary, endorsements, and his share of race winnings and licensing," Forbes explained in 2017.
Dale Jr.'s cash flow hasn't exactly dried up in 'retirement,' either. He's the co-owner of JR Motorsports, looks like a rising media star, and has no shortage of business ventures. In all, Earnhardt is estimated to have a $300 million net worth, which shouldn't shrink anytime soon.
Dale Earnhardt Jr. once paid a $10,000 fine for his foul language
On the whole, Dale Earnhardt Jr.'s fortune probably isn't going anywhere. During 2004, though, the driver did find $10,000 missing from his bank account.
As recorded by the Greensboro News & Record, Earnhardt Jr. was hit with a $10,000 fine and docked 25 points after he let a four-letter word slip during a post-race interview. After a win at Talladega, the driver was asked how his victory stacked-up against his father's 10 checkered flags at the track. "It don't mean s— right now," Junior said during an NBC interview.
Although Earnhardt Jr. appealed the punishment, arguing that it was more severe than the crime, the ruling held.
At the end of the day, a $10,000 fine isn't too big of a deal for Dale Earnhardt Jr. Cutting that check and losing points in the standings, however, probably inspired at least a few more choice words.