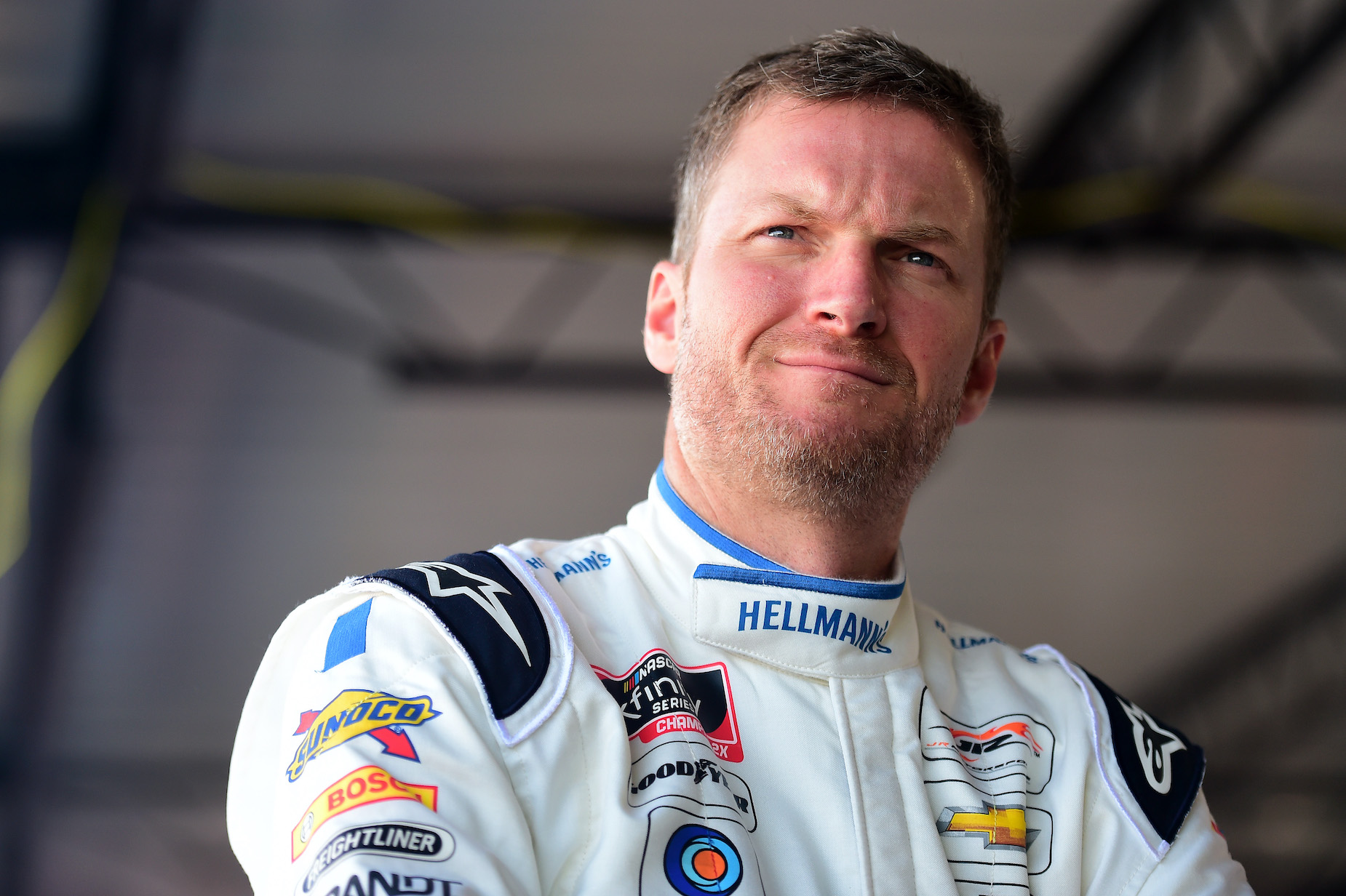 Dale Earnhardt Jr. Takes His Sandwiches Almost as Seriously as His Racing: 'When You Build a Sandwich, It's Like Building a Model'
While Dale Earnhardt Jr. made a name for himself as a NASCAR star, he's also pretty passionate about something simpler: sandwiches.
Based on his time on the NASCAR scene, Dale Earnhardt Jr. presumably knows a thing or two about fuel. Apparently, he also takes fueling up his body pretty seriously.
In 2016, Dale Earnhardt Jr. made quite the stir on Twitter when he shared an image of an unconventional sandwich combination. That isn't the motorsports legend's only contribution to the culinary world, though. On an episode of his podcast, Dale Jr. delved into some serious detail about building a superior sandwich.
Dale Earnhardt Jr. saw plenty of success in the world of NASCAR
Dale Earnhardt Jr., of course, didn't become famous solely for his sandwich knowledge. During his time in NASCAR, the driver proved to be one of the sports' biggest names.
While he didn't initially plan on climbing behind the wheel himself—he actually earned an automotive degree and worked in his father's dealership—Earnhardt Jr. eventually found his way to the race track. Once he arrived on the scene, it didn't take him long to show what he could do.
Junior began racing on the short track scene before moving up to the Busch Series in 1996; two years later, he made his Winston Cup Series debut. Although things didn't always go perfectly—his father, Dale Earnhardt Sr., tragically died during the 2001 Daytona 500, and Dale Jr. battled through some serious concussion issues—the driver still put together quite the career.
While Earnhardt Jr. didn't quite reach the same heights as his father, the younger man's racing resume was nothing to sneeze at. He won 50 races across the Cup Series and what's currently called the Xfinity Series, claimed two checkered flags at the Daytona 500, and was a 15-time winner of NASCAR's Most Popular Driver title. He also built up an estimated $300 million fortune along the way, which isn't a bad consolation prize.
Making waves with a mayonnaise and banana sandwich
When you're a celebrity, every little detail of your life is placed under a microscope. Dale Earnhardt Jr. experienced that reality in 2016 when he tweeted about his favorite sandwich.
On that fateful day, Dale Jr. took to Twitter and posted a picture of a mayonnaise and banana sandwich; he simply wrote, "Making my favorite sandwich. I swear it's delicious," and tagged Hellmann's Mayonnaise. As you might imagine, plenty of fans responded, either voicing their disgust or confirming that they also loved the combination.
That wasn't Junior's only contribution to the world of sandwiches, though.
Dale Earnhardt Jr. apparently takes his sandwiches pretty seriously
Regardless of what you think of Dale Earnhardt Jr.'s banana and mayonnaise sandwich, the meal isn't too complicated to assemble. These days, though, he takes things a bit more seriously.
"So what I've been trying to do is push into this new direction another sandwich that I ate when I was younger, and it's any kind of deli meat — I prefer ham, but probably these days, I'd use turkey. But ham, Doritos, and mayonnaise and pickles," Earnhardt Jr. explained on his podcast, according to For the Win. "Everybody likes to put the crunch on there, some people do Fritos. I love the Doritos. I don't like to crunch them. I like to try not to break the Dorito before I eat it."
Meticulously Doritos to his sandwich isn't the only innovation, though. Junior also has to construct things in a very specific way. In his mind, "when you build a sandwich, it's like building a model [car.]"
"You put mayonnaise on one side, put the Doritos in there because if they do break into small pieces, they'll stick to the mayonnaise. All right? and then you put the meat, and then you put large pickles sliced longways — not pickle chips, long sliced pickles and, deal." He also specified that the pickles have to be dried in a napkin before making it onto the sandwich; if not, they'll drip and make everything too soggy.
In order to find success in NASCAR, you need incredible attention to detail. It's safe to say that Dale Earnhardt Jr. also applies those same meticulous standards to his sandwiches.