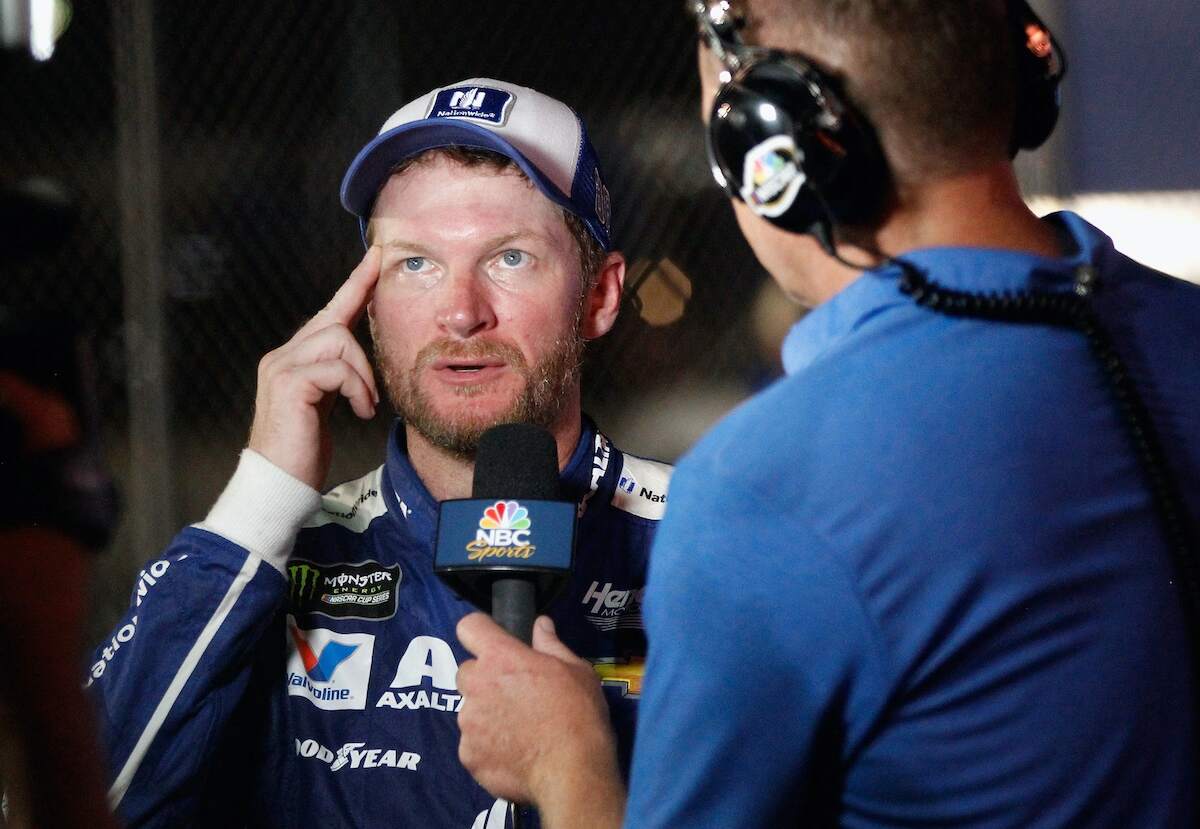 Dale Earnhardt Jr. Learned a 'Frustrating' Lesson About the Reality of NASCAR Stardom Before He Even Made His Cup Series Debut
Dale Earnhardt Jr. learned a "frustrating" lesson about what it meant to be a NASCAR star before he even made his Cup Series Debut.
From afar, life as a NASCAR driver seems like a pretty sweet gig. Work, for the most part, consists of talking tactics and climbing the wheel of a race car. While there's some risk involved, you're rewarded with fame and fortune. It's not all fun and games, however. Dale Earnhardt Jr. can confirm that reality firsthand.
While Dale Earnhardt Jr. may come from a racing family, he still needed to learn what life was like as a motorsports star. That "frustrating" lesson came early in his career, and, in retrospect, everything ended up working out pretty well.
Dale Earnhardt Jr. didn't plan on becoming a NASCAR star
Based on his grandfather and father's NASCAR success, it's easy to assume that Dale Earnhardt Jr. grew up dreaming of driving his own race car. In reality, though, he planned on repairing them rather than racing.
Junior actually earned an automotive degree and took a job at his father's car dealership. He had actually worked his way up to the rank of "assistant engine guy" before a new service manager took over. Shortly after, Earnhardt Jr. was fired and found himself working on his sister's late model.
While Dale Jr. eventually found his way behind the wheel, driving wasn't initially a labor of love. More than anything else, it was a way to build a relationship with his dad.
"The only reason I raced was to get closer to my dad," Earnhardt Jr. told Graham Bensinger. "That was the only way I would. Nothing I did would register with him … and finally, when I started racing, and I won a couple of races, I noticed we would talk about it, and he'd come in the shop and want to know what happened. And so I got more and more into [it], like 'hey I gotta, I want to do racing' because it gets me closer to dad."
Learning a 'frustrating' lesson about life as a NASCAR star
No matter why he started driving, Dale Earnhardt Jr. quickly made a name for himself on the NASCAR circuit. Things clicked into overdrive in 1999, though, when news broke that the young driver would be stepping up to the Cup Series that season.
Budweiser made Dale Jr.'s debut — dubbed "E-Day" — a major event, promoting it in virtually every way imaginable. That experience proved to be a crash course in the demands of professional racing.
"The only thing I'm uncomfortable with is that there was never a break period," Earnhardt Jr. told reporter Dustin Long for the Roanoke Times, according to NASCAR.com. "One year, I couldn't scrounge up $20,000 to run my late model car. The next year, I've got people knocking down the door to sign me. Having to do an appearance two to three times a week, we're booked up solid."
As you might imagine, dealing with that change wasn't always easy for the young star.
"I'm somewhere every single day of my life," Earnhardt Jr. continued. "That's taking some getting used to. A year ago, I was sitting back at home hanging out with my friends doing what I want to. Now, I'm out of touch with just about everything I was in touch with last year. At times it's a little frustrating. My father tells me that's the way it is, and that's the way it's going to be."
Dale Earnhardt Jr. proved to be pretty good at handling the spotlight
Stepping into the spotlight as the son of a racing legend would be a challenge for anyone, no matter how much media training they had. Thankfully for Dale Earnhardt Jr., he proved to be pretty good at the whole NASCAR thing.
While there were some major bumps along the way, like the tragic death of Dale Earnhardt Sr. and some serious concussion issues, Junior still had quite the career. He won 26 races, including 2 Daytona 500s, during his time in NASCAR's Cup Series. He also took home 15 Most Popular Driver titles and built up an estimated $300 fortune.
Even in retirement, Dale Earnhardt Jr. hasn't slowed down. He owns JR Motorsports, covers NASCAR for NBC, and hosts his own podcast. It's safe to say that, more than 20 years after 'E-Day,' he's gotten a handle on the demands of being a celebrity.