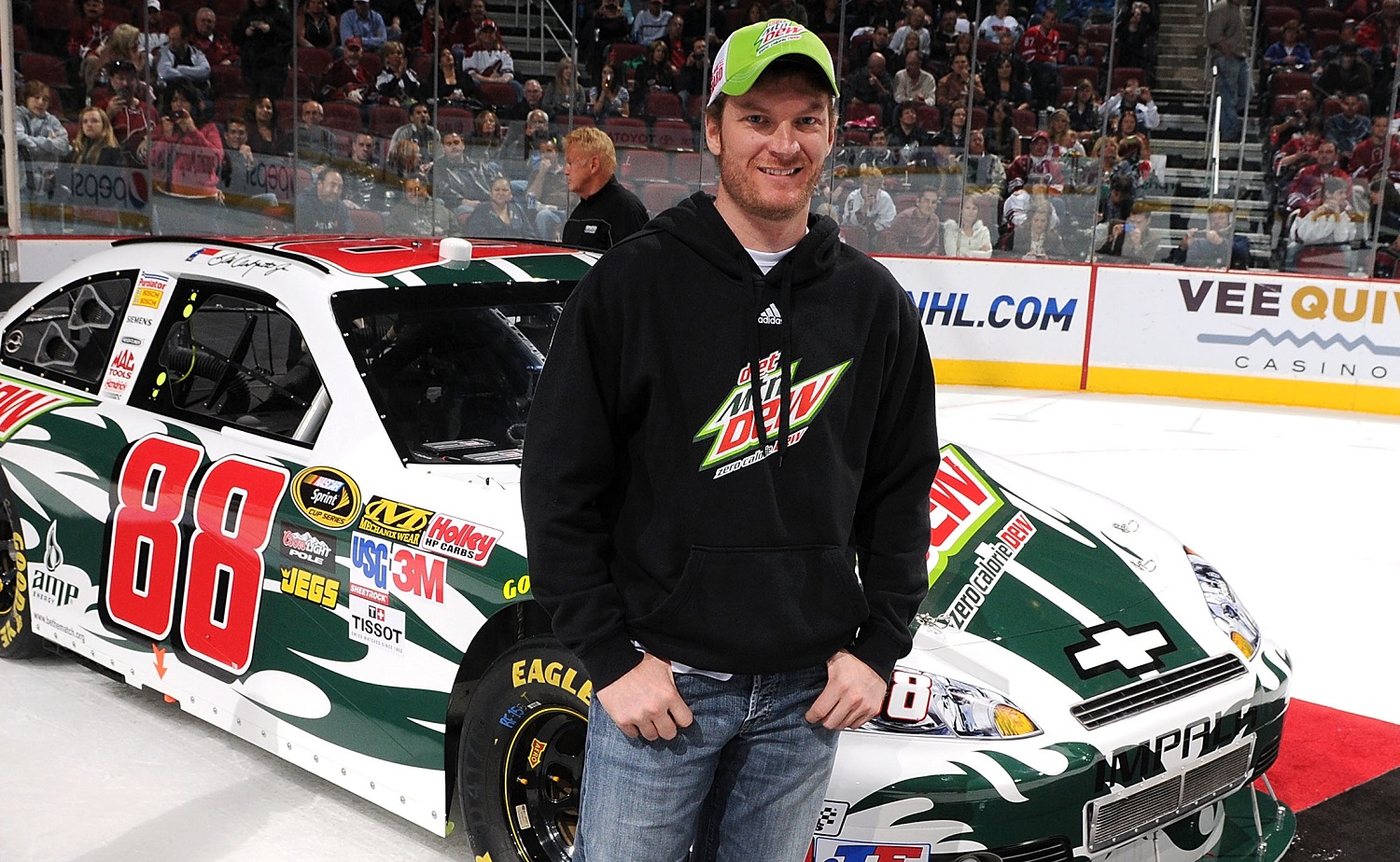 The 1 and Only Time Dale Earnhardt Jr. Raced in a Ford
Dale Earnhardt won 50 NASCAR Cup Series or Xfinity races, all while driving Chevys. He did race once early in his career in a Ford.
With apologies to the TV commercial, Dale Earnhardt Jr. ranked right up there with baseball, hot dogs, and apple pie when it came to being associated with Chevrolet during his NASCAR Cup Series racing career.
While driving the No. 8 car for Dale Earnhardt Inc. in the first half of his career and then the No. 88 for Hendrick Motorsports from 2008-17, Earnhardt always competed in Chevys on the nation's biggest racing circuit. That also extended to his 142 starts in the Xfinity Series.
But there was one day in 1996 when Earnhardt had to choose between strapping himself into a Ford or watching the race from the pits.
The Dale Earnhardt connection to Chevrolet
Money speaks loudly in the NASCAR Cup Series and its companion circuits. It costs top teams well more than $500,000 a week to compete over a full season, and prize money doesn't come close to footing the bill.
That's where sponsorships and partnerships come into play. Advertisers want to align themselves with the best and most popular drivers. Team owners want to strike deals with auto manufacturers that can build cars giving them an edge in a sport in which the rules are designed to level the playing field. In a perfect world, teams, drivers, and the partners forge long-lasting relationships.
It certainly worked that way for Dale Earnhardt Jr., who came up through the ranks following his father. When Richard Childress Racing switched from Pontiac to Chevy in the early 1980s, Dale Earnhardt Sr. signed on and never looked back.
The influence rubbed off on Dale Jr., beginning with his Xfinity Series debut in 1996. He drove Chevys right up until his retirement from the NASCAR Cup Series after the 2017 season.  It worked out well for all involved; Earnhardt took the checkered flag 50 times in 773 starts between the two series.
Dale Earnhardt Jr. made a rookie mistake
Dale Earnhardt Jr. was an Xfinity Series newcomer in 1996 at the age of 21, competing in just one race that year. Most of the season was spent on the Late Model division in the Carolinas putting to use the automotive knowledge he acquired while working as a mechanic in his father's dealership.
The Late Model schedule took Earnhardt to Nashville's Fairgrounds Speedway one weekend in 1996. Earnhardt owned his car, and it looked to be the class of the field during practice on the six-tenths of a mile oval. In a story retold by NASCAR.com, Earnhardt made the classic mistake: He took one last run even after being advised by his crew chief to shut it down.
Sure enough, a wreck in front of him forced Earnhardt to go low on the backstretch. Another driver slammed Earnhardt's Chevy at full speed, triggering a fire that estroyed both cars.
This wasn't the big-time, where NASCAR Cup Series teams travel with backup cars. The very few drivers who did have an extra car on site were often testing their future ride or trying to showcase an old one that they might be able to sell.
Earnhardt was about to pack up and head for home when another driver made an offer that came with a catch.
Bobby Hamilton salvaged the weekend for Junior
Bobby Hamilton got his start by running his own Xfinity Series team in late 1988. By the time illness forced him to retire in 2006, he had won four times in the NASCAR Cup Series, once in an Xfinity car, and 10 times while racing in the trucks series. He was known in the racing community, and some others knew about Hamilton from his participation in filming for Days of Thunder.
Hamilton was at the Nashville track the day Dale Earnhardt Jr. wrecked his Chevy, and it just so happened that he had an unused car sitting on a trailer. He offered it to Earnhardt, but there was a catch: It was a Ford.
"I'm thinking, 'I can't drive it because it's a Ford.' But I want to race real bad," Earnhardt said, as recounted by NASCAR.com. "So, I'm calling my dad, trying to see if I can get a hold of him and try to ask him if I can drive this Ford. It's a Petty blue, because Bobby at the time I think must have been driving for Richard in the Cup Series, and it had No. 43 on it.
"I couldn't get a hold of dad, but I got a hold of dad's general manager. … He said, 'Yeah, go ahead and drive it. Just don't talk about it and try not to make too big of a deal about it.'"
Others have raced it, but the No. 43 car will always be associated with Richard Petty, who won 200 NASCAR Cup Series races. By duct-taping over the "4," Earnhardt's crew turned it into the No. 3 car – the number made famous by his father.
Dale Earnhardt Jr. didn't get the storybook ending
Despite his lack of familiarity with driving Fords, Dale Earnhardt Jr. had a great run that day at Nashville's Fairgrounds Speedway. Approximately 150 laps into the race on the short oval, he had lapped all but one competitor. Earnhardt was on his way to victory when misfortune struck, and the transmission blew with under 20 miles remaining.
So, Earnhardt went home without the win – and Hamilton went home without the car. With plenty of people seeing how fast the car was and appreciating the novelty of it being driven by the son of one of the greatest drivers ever, Hamilton sold the Ford as it sat on pit road after the race.
Like Sportscasting on Facebook. Follow us on Twitter @sportscasting19.