Richard Petty Won 200 Nascar Races but Crashed and Burned When He Ran for Political Office
When it comes to winning NASCAR races, no one was better than Richard Petty. During his time behind the wheel, the King claimed the checkered flag an unbelievable 200 times. That success, however, didn't extend to political races.
In 1996, Richard Petty tried to break into politics, running for North Carolina's secretary of state. While he knows a thing or two about motorsports, even the King couldn't come out on top in this race.
Richard Petty has won more NASCAR races than anyone
RELATED: Richard Petty Once Celebrated the Fourth of July by Making NASCAR History and Eating Kentucky Fried Chicken With Ronald Reagan
In the history of NASCAR, racing fans have been lucky to see plenty of talented drivers hit the track. While it's been a while since he climbed behind the wheel, no one can forget Richard Petty and all that he accomplished.
Petty looked like a talented football player during his youth, but racing was in his blood. He started working for his father's racing company and eventually found his way behind the wheel; Richard made his NASCAR debut shortly after turning 21 and promptly captured the Rookie of the Year crown.
Other than a brief spell on the drag racing circuit, Petty became a NASCAR fixture. No matter what else was happening in the world, you could count on him hitting the track and winning plenty of races.
While things eventually slowed down, Petty spent 35 years in NASCAR's Cup Series. He won an incredible 200 races, earned 712 top-10 finishes, and made plenty of money along the way. If nothing else, he's worthy of being called 'the King.'
Running for political office in North Carolina
RELATED: Richard Petty Received a Life-Changing Piece of Fan Mail After His Grandson's Tragic Death
Based on his NASCAR and business careers, it's easy to think that anything Richard Petty could find success in any field. In 1996, he put that idea to the test by running for North Carolina's secretary of state.
As you might assume, Petty's name recognition proved to be pretty helpful. As documented by a Baltimore Sun story from the time, the NASCAR legend spent plenty of time shaking hands and meeting voters; no matter their political affiliation, everyone wanted an autograph.
Petty still had some missteps along the way, though.
"He has also caused himself some trouble by saying at one rally, 'I won't mess this job up as much as someone else, because I won't be there. I'll be racing," Sandra McKee explained in the Sun. "Controversy has developed, too, about potential conflicts of interest, since he says that he won't put his corporate-sponsored racing businesses in a blind trust or give up personal sponsorships."
Petty also had an "incident" on the highway that gained plenty of media attention. While each party had a different account of what happened that day, the King reportedly tailgated, then rear-ended, another driver; he initially received a $25 fine, but was later hit with a "$65 fine and four points on his driving record for following too close."
Richard Petty ended up losing that political race 'soundly'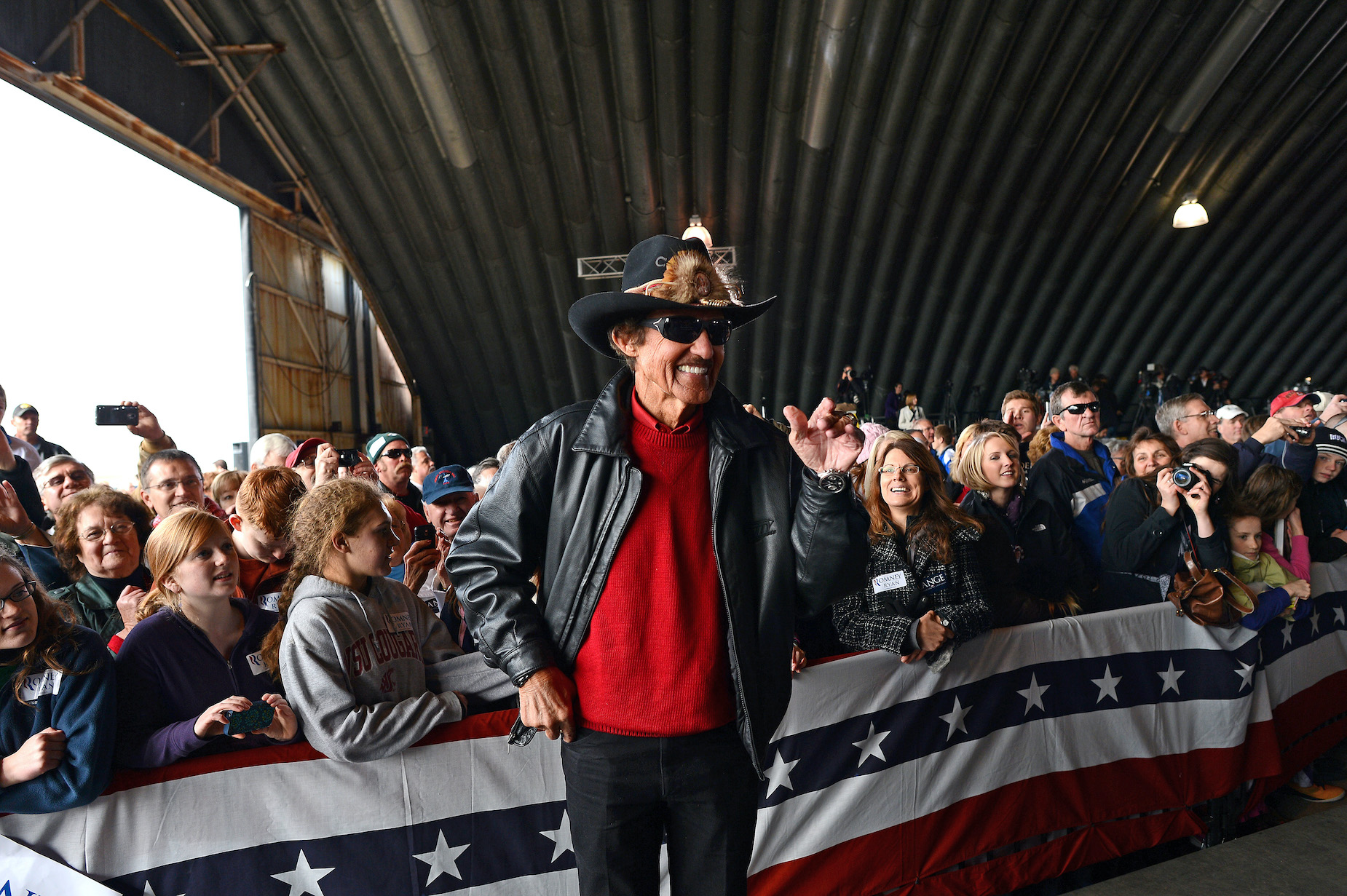 RELATED: Dale Earnhardt Had No Problem Removing the Confederate Flag From His Truck: 'He Didn't Want To Offend Anybody'
During his time on the NASCAR circuit, Richard Petty proved to be quite the serial winner. A political race, however, proved to be a bit tougher than driving a stock car.
As documented by the Las Vegas Sun, "Petty, the biggest winner in stock car racing history, lost his bid to become North Carolina's secretary of state. The 'King' of NASCAR racing was soundly beaten by Democrat Elaine Marshall."
What did Petty have to say about his defeat? The paper included a one-line post-mortem from the driver.
"If I had known I wasn't going to win," Richard Petty explained, "I wouldn't have run."