Richard Petty Wanted to Stop and Watch While Winning the 1979 Daytona 500
NASCAR made its debut in 1948, but it took the 1979 Daytona 500 to elevate the racing series from a regional sport to America's most popular motorsports circuit. All it required was unprecedented start-to-finish TV coverage and an infield brawl between Cale Yarborough and the Allison brothers as Richard Petty came out of nowhere to win.
It's why the 1979 Daytona 500 arguably was the most important NASCAR race ever.
The 1979 Daytona 500 brought NASCAR into the mainstream
RELATED: Richard Petty Once Celebrated the Fourth of July by Making NASCAR History and Eating Kentucky Fried Chicken With Ronald Reagan
Moving the Daytona 500 to the start of the NASCAR season in 1982 added to the significance of a race that was already special for fans. Daytona International's 2.5-mile track is conducive to high speeds and passing, a combination that inevitably produces "the big one" – a multi-car wreck that can alter the outcome in an instant. That makes it compelling viewing wherever it falls in the schedule.
Daytona was NASCAR's second race of the 1979 season, and it received a boost when CBS agreed to make it the first 500-mile race shown start to finish on U.S. television. The network brought innovations to Daytona that included cameras inside cars to keep the attention of viewers.
It turned out that no gimmicks were required. All that CBS needed was a crazy finish that allowed Richard Petty to win NASCAR's most important race for the sixth time in his dominating career.
Cale Yarborough and the Allison brothers foreshadow the finish
RELATED: NASCAR Just Added an Entertaining Country Music Twist to This Year's Daytona 500
Thirty-one laps into the 200-lap Daytona 500, Donnie Allison lost control of his car and forced Cale Yarborough and Bobby Allison to the infield alongside him. Yarborough and Bobby Allison had to pit to make repairs, putting them two laps down, and Donnie Allison fell one lap behind the leaders.
A six-car crash on lap 53 helped Donnie Allison get back onto the lead lap, and he took over first place after the race reached the midpoint. Subsequent cautions allowed Yarborough to make up all the lost ground, and he was in the title hunt with just over 20 laps to go. Even after green-flag stops, Allison and Yarborough, both driving Oldsmobiles, remained in control and moved half a lap clear of Richard Petty and what remained of the rest of the field.
They knew that they were in for a fight to the finish, but neither could have known what kind of fight it would be.
Richard Petty wins the 1979 Daytona 500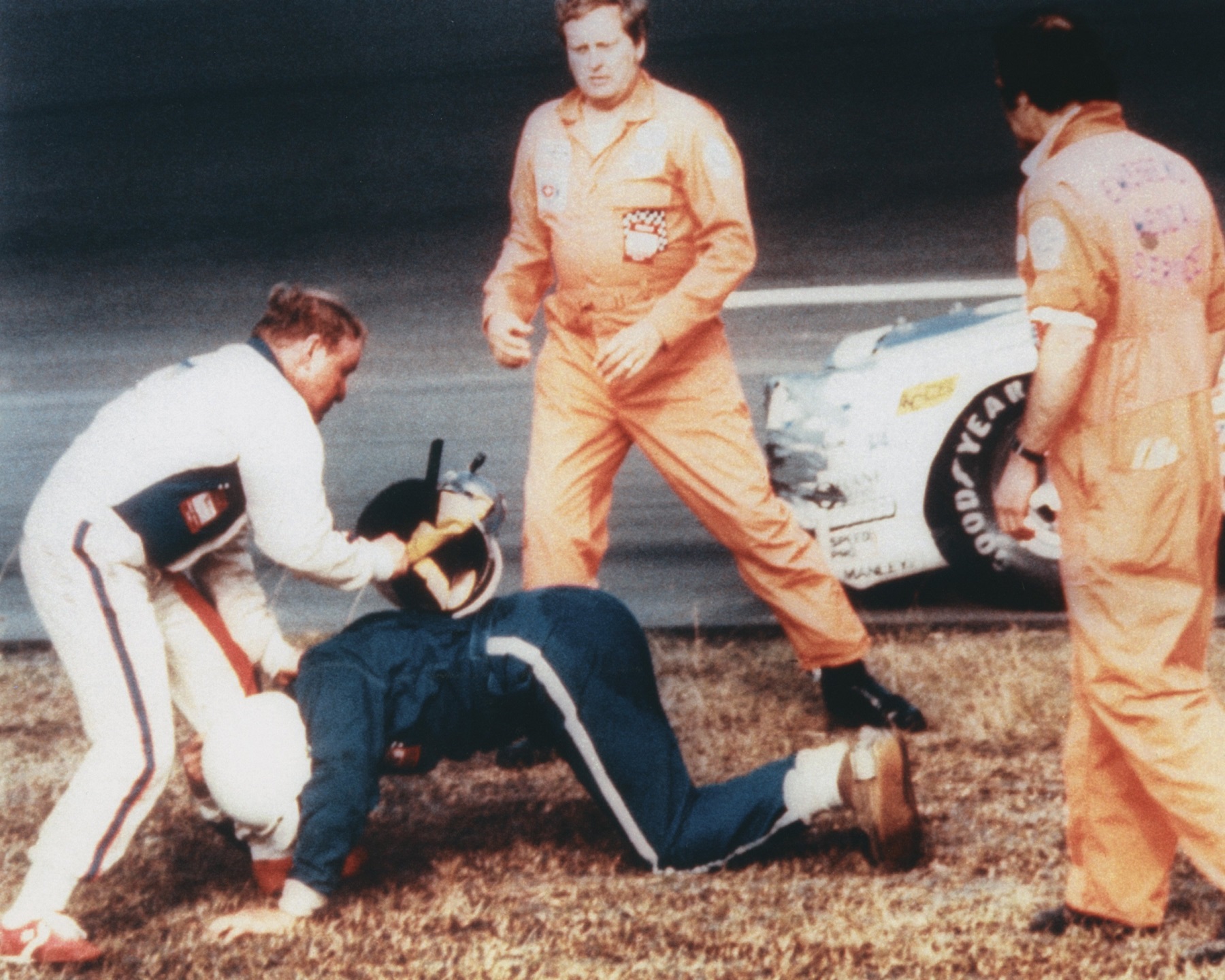 RELATED: Sadly, Trevor Bayne Went From Young NASCAR Sensation To Out of the Sport in Just 8 Years
Donnie Allison took the 1979 Daytona 500's white flag just ahead of Cale Yarborough, who was drafting him. As Yarborough went low on the backstretch to try passing, his driver-side tires caught the infield grass, slamming his car into Allison. They bumped three more times, crashed into the wall in turn 3, and slid down to the infield within sight of the finish line.
The beneficiary was Richard Petty. By virtue of being so far behind the then-leaders, Petty was able to breeze past and take the checkered flag by a fraction of a second over Darrell Waltrip. As that was happening, Bobby Allison pulled into the infield alongside his brother and Yarborough.
In bang-bang fashion, Yarborough was hitting Bobby Allison in the head with his helmet, Bobby Allison was punching back, and Donnie Allison was coming to his brother's defense. The three-man fracas continued – on live television – as Petty was rolling toward victory lane. Track personnel pulled the brawlers apart, but tempers continued to flare.
The juxtaposition on TV was perfect: Petty was celebrating as three rivals were turning NASCAR into the WWE. Afterward, Petty had a hilarious take on the wreck and subsequent melee:
"I'd have liked to have stopped and watched. It looked pretty excitin'."
Like Sportscasting on Facebook. Follow us on Twitter @sportscasting19.