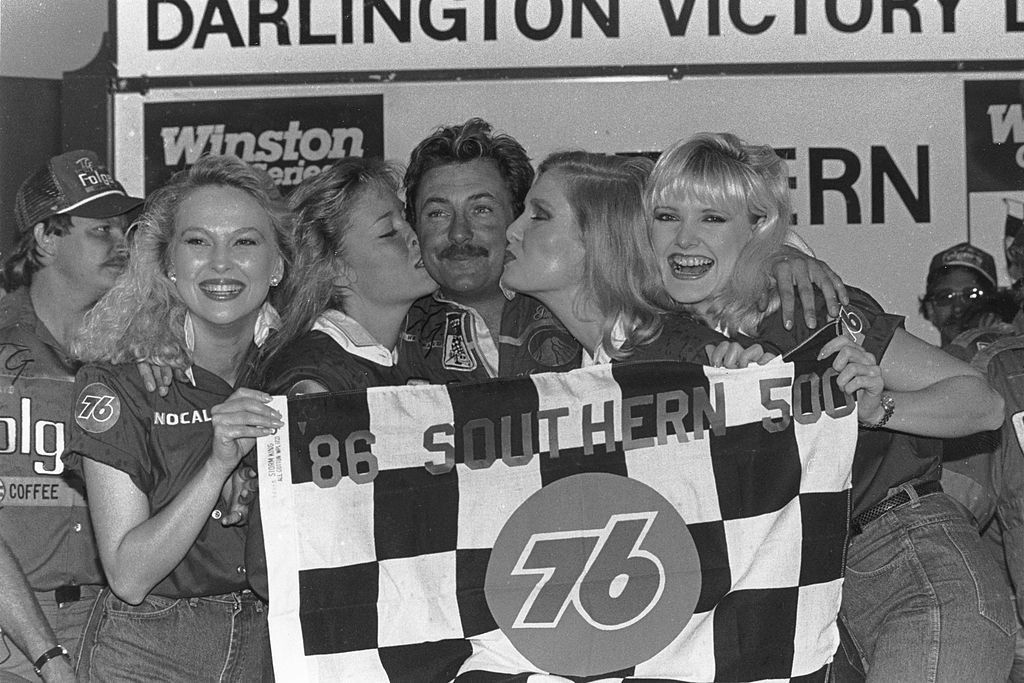 NASCAR's Tim Richmond and His Untimely Tragic Death From AIDS
Tim Richmond was one of NASCAR's brightest stars. He liked to drive hard and play even harder. His promiscuous lifestyle ultimately cost him his life. He died of AIDS at age 34.
NASCAR driver Tim Richmond was a larger than life character. Good looks, charismatic, and he was a natural talent behind the wheel. He was a rock star in a race car. Women were attracted to him. Lots of women. Unfortunately, his partying lifestyle ultimately caught up with him and Richmond became infected with AIDS. Much of the NASCAR community rejected him. He tragically died from the disease in 1989 at the age of 34.
Tim Richmond was one of the best drivers in NASCAR
Before Tim Richmond ever drove a single lap in NASCAR, he was becoming a star on the Indy series. In 1980, Richmond set the fastest unofficial speed for the month of practice at the Indianapolis 500. During the race, he led one lap, and ran out of fuel at the end but finished ninth. He was named the Indianapolis 500 Rookie of the Year.
After a scary accident, Richmond's mother demanded he quit open-wheel racing. He did. He switched to NASCAR. For those first two years, Richmond bounced around with different teams. In 1982, he found some stability with one team and earned a pair of NASCAR wins, both at Riverside in California. 
Richmond won a couple of times from 1983-84, but had his breakout year in 1986 racing for Hendrick Motorsports, when he won six times on the Cup Series. Amazingly, he finished third in the championship points that season. When the 1986 season ended, Richmond got seriously ill. 
Richmond denies allegations of drug use and AIDS
After such a successful 1986 season, expectations were high for Tim Richmond in 1987. It never happened. After a lengthy stay in a Cleveland hospital, Richmond rested at home for months. When he missed the Daytona 500 that year, his condition was reported as double pneumonia, and rumors started swirling.
Amazingly, Richmond returned to NASCAR during the middle of the year, his first race at Pocono. Despite his weakened condition, he won the race by eight car-lengths over Bill Elliott. The next week, Richmond earned victory again at his favorite track in Riverside, where he had won three times before. Each victory, however, in the winner's circle, Richmond would have coughing fits. It was obvious; he was still sick. 
Richmond's health became a common topic of discussion throughout the NASCAR community. Some said he was a drug user. Others believed he had AIDS. Richmond denied each allegation, whether it was from a fellow driver or the media. Only a select few knew he had full-blown AIDS and was dying.
In September of 1987, just months after consecutive wins, Richmond resigned from Hendrick Motorsports.  
Tim Richmond's attempted comeback and death
In 1988, Tim Richmond tried to make another miraculous comeback. There was resistance. Richmond and his jet setting lifestyle with a yacht in Florida and an apartment in New York City never sat well with the "good old boys" from the south in the first place. That lifestyle combined with the suspicion and fear of AIDS, a disease of which the facts were still largely unknown at the time, Richmond received considerable pushback.
"Us good old boys just didn't want to talk about it," Darrell Waltrip said in the ESPN 30 for 30—"Tim Richmond: To The Limit." "I didn't know if I wanted to be around him. You could tell he was sick."
Out of fear of the unknown and concern Richmond might potentially infect others, NASCAR instituted a drug testing policy. He failed the initial test, according to NASCAR, but then it was later revealed the drugs were Sudafed and Advil. Former NASCAR CEO Bill France Jr. admitted in the ESPN documentary the testing of Richmond was a mistake.
"Turned out the test we did was not a good test. We didn't know that at the time. It was messed up. We took him out," France admitted.
Denied by NASCAR, Richmond retreated back to Florida. In a room with a view of the ocean, he stayed inside with the drapes shut all day, every day. He began a steady decline.
"He needed racing in his life to get up in the morning," Rick Hendrick said. 
Richmond died on August 13, 1989. He was 34.