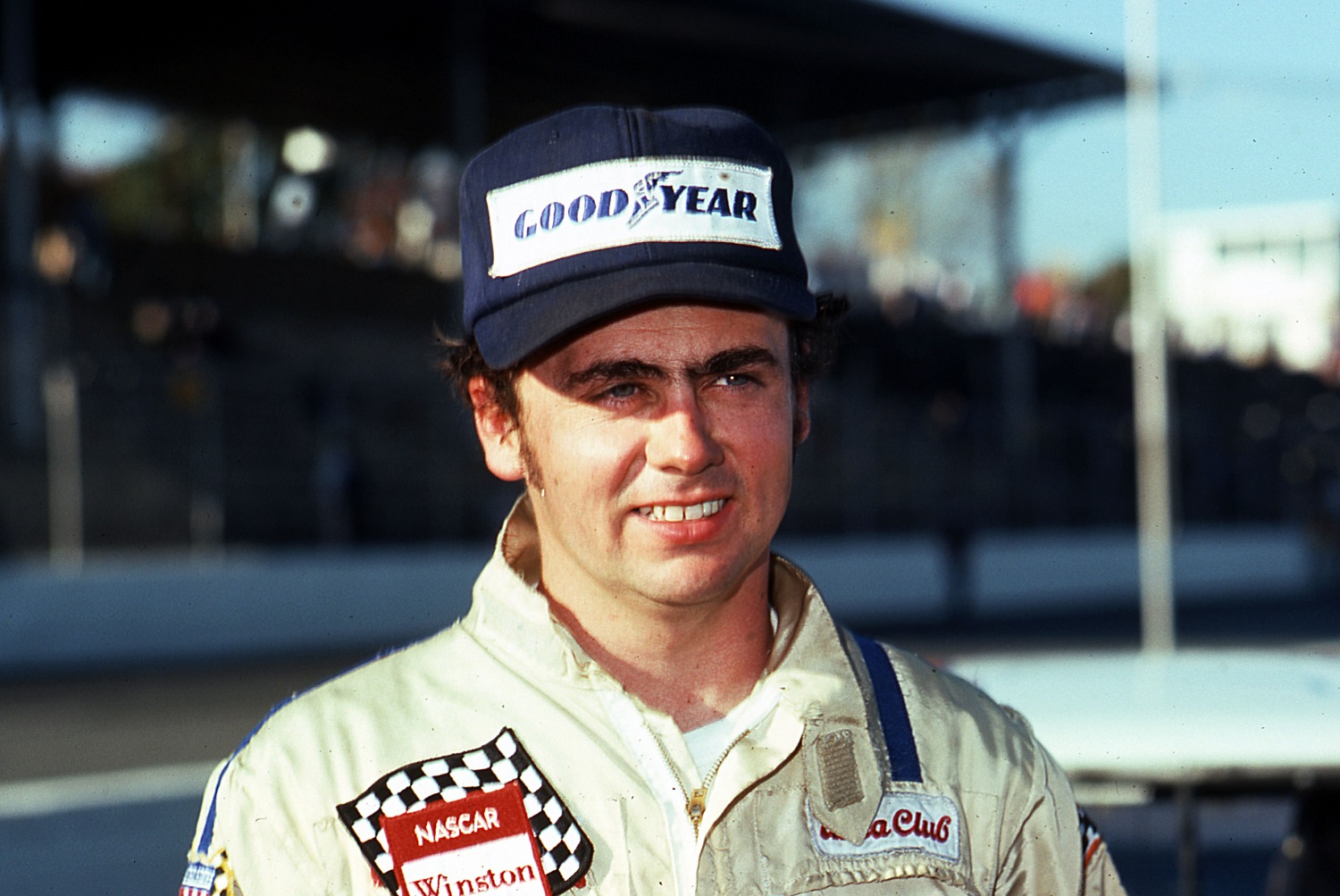 Hendrick Motorsports Was 1 Race From Folding When Geoff Bodine Launched the Dynasty
Hendrick Motorsports was on the verge of shutting down after just seven races in its inaugural season until Geoff Bodine scored a clutch victory.
Drivers Jeff Gordon and Jimmie Johnson might still have achieved greatness, but they would have done it someplace other than with Hendrick Motorsports if not for one of NASCAR's most fascinating figures from the 1980s and '90s coming through in the clutch.
Geoff Bodine is not a name that younger auto racing fans know, but everyone knew him back in the day — whether it was for a bitter feud with Dale Earnhardt, an insane wreck at Daytona, or activities off the track.
Geoff Bodine was a journeyman before Hendrick Motorsports
Racing brothers Geoff, Brett, and Todd Bodine grew up in upstate New York, and all enjoyed racing success. Geoff was the star, beginning with great rivalries on the Modifieds circuit with regional legends like Richie Evans. In 1978, he won 55 of 84 races he entered.
Bodine hopped from team to team in the NASCAR Cup Series beginning in 1979, then found a home with Cliff Stewart Racing, scoring nine top-five finishes over two seasons. That landed him in 1984 with the predecessor of Hendrick Motorsports, where he notched the first seven of his 18 career wins.
Bodine left for the Junior Johnson outfit in 1990 and mostly bounced from team to team (eventually forming his own) for a decade. The 1999 season was his last full-time NASCAR Cup Series schedule, but he raced there intermittently through 2012, also driving in the Xfinity and Truck series. He was 62 years old before finally giving up competitive racing. His ledger included the 18 wins in 575 NASCAR Cup Series races and six Xfinity wins.
Days of Thunder, the movie starring Tom Cruise, undeniably drew from Bodine's career. Most notable was his feud with Dale Earnhardt Sr. beginning at The Winston in 1987. Earnhardt and Bodine went at each other so hard in multiple races over two seasons that NASCAR called a summit and demanded a truce, which held up until Earnhardt's death.
His life off the track was full and fascinating
RELATED:
The story of Geoff Bodine's Daytona crash could fill a book by itself. Driving in the Daytona 250 Truck Series race on Feb. 18, 2000, Bodine got caught up behind a wreck and was launched into the catch fence nose-first. The protective barrier tore the vehicle apart, spraying spectators with debris. (See the video above.) Just as what was left of Bodine's truck was settling on the track, it was hit by Lonnie Rush Jr. and then again by Jimmy Kitchens, igniting spilled fuel.
The fact that Bodine came out of it with only multiple fractures, including a vertebra and his right cheekbone, was nothing short of miraculous. Although Bodine did return to racing later that season, the crash was a signal to a certain extent for him to reassess a life that was going in too many directions. In the mid-1990s, Bodine went through a divorce and was linked romantically to country music star Tanya Tucker. He had also bought the assets of Alan Kulwicki's racing team after that driver's tragic death.
Additionally, Bodine had become an important figure in bobsledding. Intrigued after seeing the sport during the 1992 Olympics, he partnered in a company building bobsleds for the U.S. team, which was mostly using imported equipment. The Americans began using his bobsleds in 1994 and scored three medals at Lake Placid in 2002, followed by Steven Holcomb piloting a four-man gold-medal run at Vancouver in 2010.
When Geoff Bodine's obituary is written, he should be remembered most for helping Hendrick Motorsports become the winningest NASCAR outfit in history, a title they may claim from Petty Enterprises this summer.
Hendrick Motorsports was a race away from folding before Geoff Bodine won
Rick Hendrick, the owner of a growing chain of auto dealerships, started All Star Racing in 1984 to promote his business empire while further immersing himself in a sport he loved. The season started solidly with three straight top-10 results, but Hendrick didn't have the connections yet to land crucial sponsorships. In fact, Hendrick, crew chief Harry Hyde, and Bodine pulled into Martinsville in April facing an imminent shutdown. After just seven races.
"He was a small-time Chevrolet dealer who'd already spent more than he planned to spend all year," Bodine told Autoweek. "He said, 'Sorry, but I might have to shut down.' That's when Harry said the car and engine were ready, then added, 'And Bodine's won some races up there (in Modified and Sportsman).' So, we went to Martinsville and won. That's what kept Rick going."
The $200,000 purse bought Hendrick time, and two subsequent victories that season had sponsors lining up. Bodine would register Hendrick Motorsports' first five victories and be followed there by the likes of Tim Richmond, Darrell Waltrip, and Ricky Rudd. Later would come Jeff Gordon, Dale Earnhardt Jr., and Jimmie Johnson. Now, Chase Elliott is a superstar in the making.
Bodine once asked some of the drivers who followed him whether they had heard the story of how close Rick Hendrick had come to shutting down operations.
"They said, 'Sure, we've heard it and we believe it.' So, I said, 'Well, don't you guys think you owe me something for making y'all gazillionaires?' And Jeff Gordon said, 'The check's in the mail.'

"It's our standing joke: The check's in the mail."

Geoff Bodine
All stats courtesy of Racing Reference.