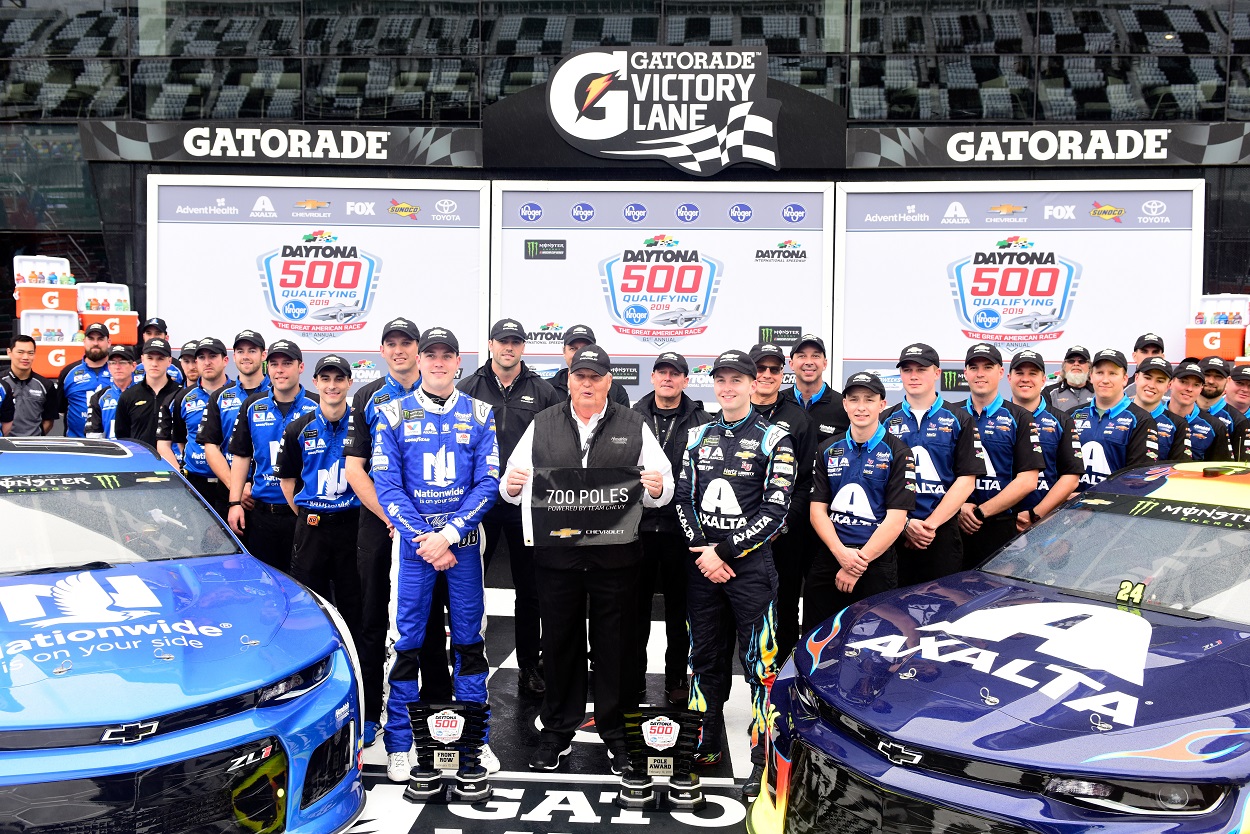 Hendrick Motorsports Is On the Cusp of NASCAR Cup Series History After William Byron's Win at Homestead
Hendrick Motorsports is on the verge of making NASCAR history and moved one step closer after William Byron's victory at Homestead on Sunday.
Easily and obviously one of the premier organizations in NASCAR history, Hendrick Motorsports is on the verge of making Cup Series history and moved one step closer on Sunday as one of their young stars, 23-year-old William Byron, took the checkered flag at the Dixie Vodka 400 at Homestead-Miami Speedway.
With Byron's victory, Hendricks has now moved within four victories of tying Petty Enterprises for the most victories in NASCAR Cup Series victory and obviously has a strong chance of breaking the record this season given their strong roster that features Byron, Kyle Larson, Chase Elliott, and Alex Bowman.
William Byron's win at Homestead was Hendrick Motorsports' 264th NASCAR Cup Series victory
A 28-1 long shot coming into Sunday's Dixie Vodka 400 at Homestead, William Byron began the 267-lap race in 31st position but finished the first stage in fourth position.
He continued to run a smooth race into the second stage, which he won, and essentially coasted in as he led the final 58 laps (he led for a career-high 102 laps) to earn his second NASCAR Cup Series victory, both of which have come in Hendrick Motorsports' famed No. 24 Chevrolet. His first win came last August in the regular-season finale, the Coke Zero Sugar 400 at Daytona.
Hendrick's cars have now won 264 Cup Series races and the organization is now just four behind Petty Enterprises for the most in history.
A full breakdown of Hendrick Motorsports' NASCAR Cup Series victories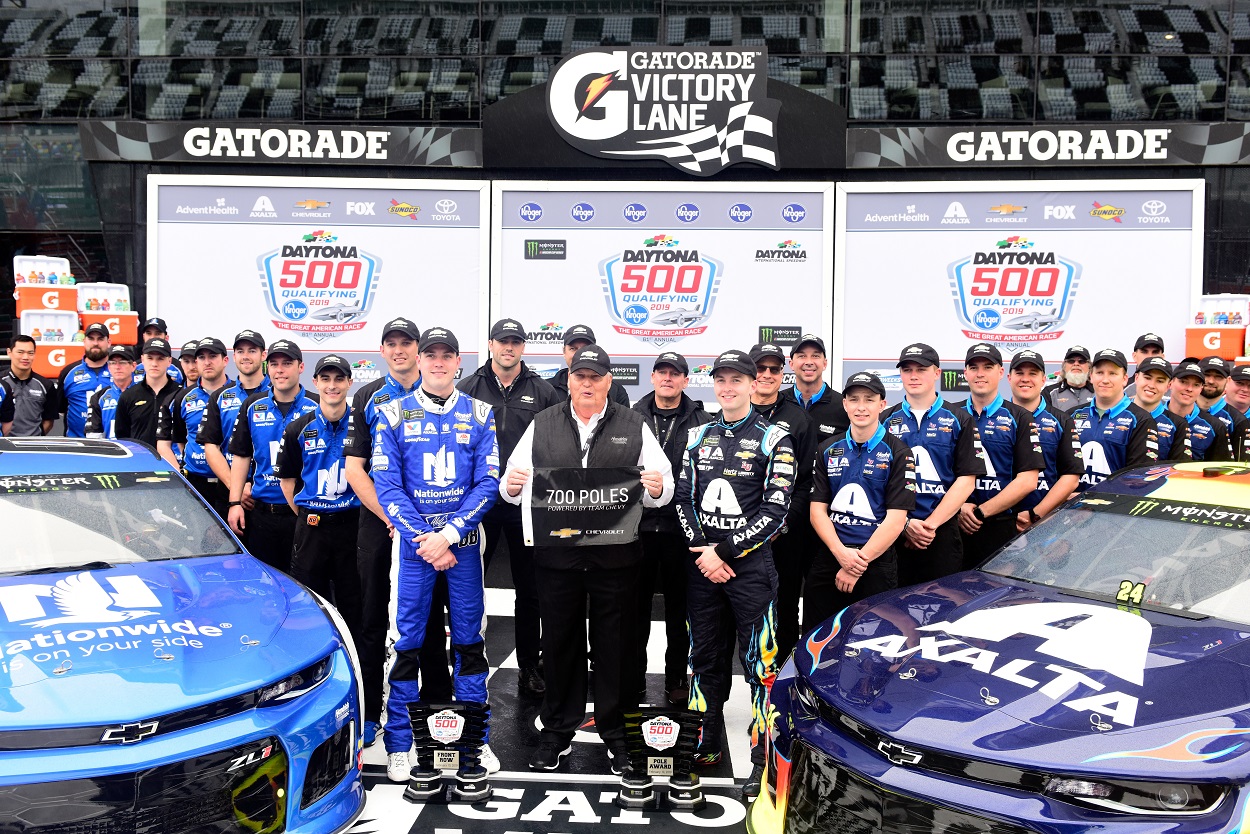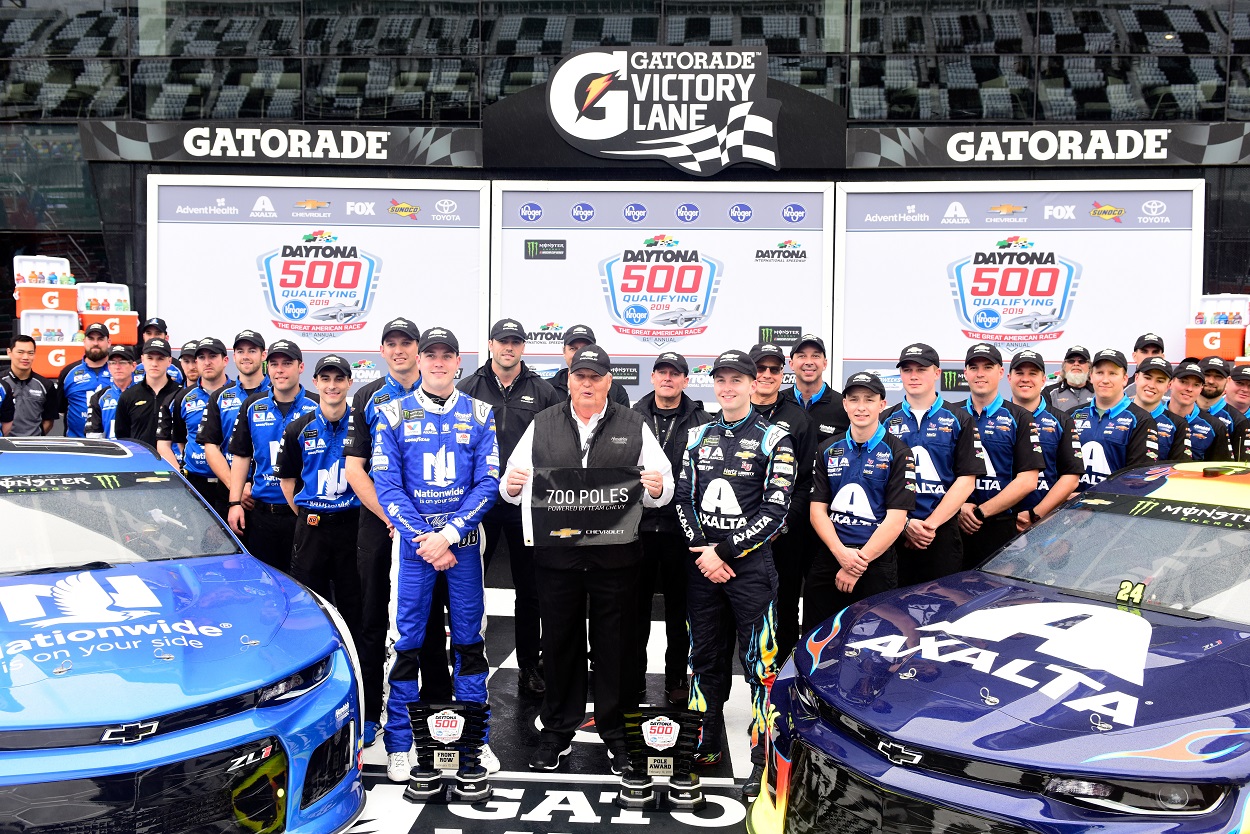 Founded in 1984 as All-Star Racing, Hendrick Motorsports expanded to two full-time cars in 1986, three in 1987, and four in 2002. Over the course of the last three and a half decades, 19 different drivers have won at least one NASCAR Cup Series race for Hendrick. Jeff Gordon and Jimmie Johnson combined to capture 188 of the team's 264 victories.
Jeff Gordon: 93
Jimmie Johnson: 83
Terry Labonte: 12
Chase Elliott: 11
Darrell Waltrip: 9
Dale Earnhardt Jr.: 9
Tim Richmond: 9
Geoff Bodine: 7
Kasey Kahne: 6
Mark Martin: 5
Kyle Busch: 4
Ricky Rudd: 4
Ken Schrader: 4
William Byron: 2
Alex Bowman: 2
Joe Nemechek: 1
Brian Vickers: 1
Jerry Nadeau: 1
Casey Mears: 1
Petty Enterprises currently holds the record with 268 victories
It should come as no surprise that Petty Enterprises currently holds the record for most NASCAR Cup Series victories given the fact that Richard Petty won 196 on his own. "The King" won 200 Cup Series races but four of them came for teams that weren't his father's.
Now, some often confuse Petty Enterprises with Richard Petty Motorsports but the two are not the same. Petty Enterprises ran from 1949 until 2008, at which point the organization closed after failing to find sponsorship for any of their cars. The company then merged with Gillett Evernham Motorsports in 2009 and was renamed Richard Petty Motorsports. This organization has 20 Cup Series victories to its credit and currently has one driver in the premier series, Erik Jones, who drives the No. 43 Chevrolet.
As for Petty Enterprises, they currently hold the NASCAR Cup Series record for victories with 268 with eight drivers contributing to that total.
Richard Petty: 196
Lee Petty: 54
Jim Paschal: 9
Pete Hamilton: 3
Bobby Hamilton: 2
Buddy Baker: 2
Marvin Panch: 1
John Andretti: 1
Seeing as Petty Enterprises no longer exists, it's only a matter of time before Hendrick Motorsports becomes the all-time winningest team in NASCAR Cup Series history.
Stats courtesy of NASCAR.com