Jimmie Johnson Now Understands Why Danica Patrick Bit Her Tongue When Making the Move to NASCAR
Although their NASCAR results were widely contrasting, Jimmie Johnson and Danica Patrick know a heck of a lot when it comes to motorsports. Johnson is a seven-time Cup Series champion, while Patrick never won a NASCAR race. Patrick recently said when she made the move to NASCAR, she was forced to bite her tongue. Now, Johnson completely understands why.
Jimmie Johnson and Danica Patrick made their marks in different ways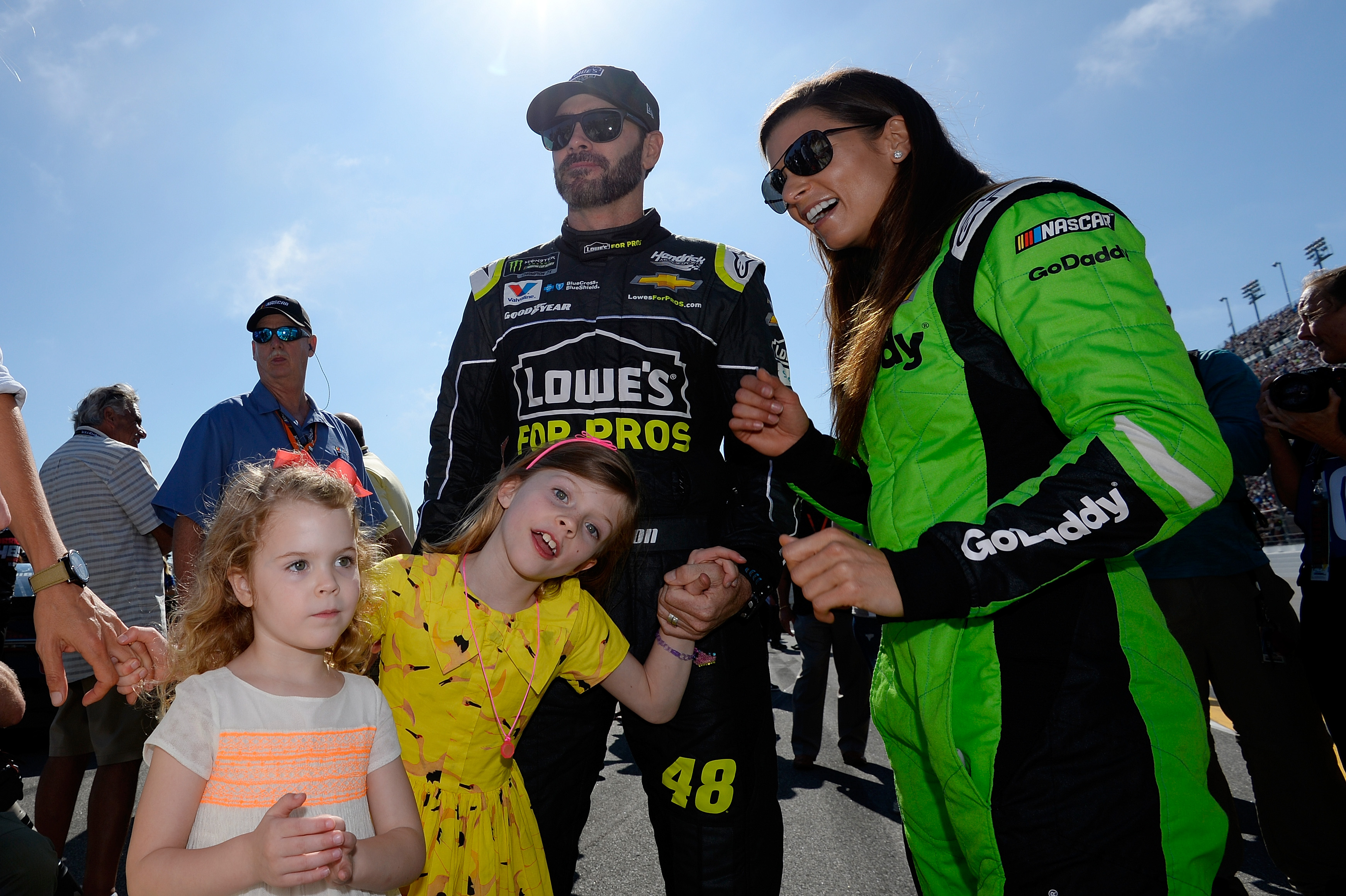 Jimmie Johnson is one of the all-time racing greats. He began running in the NASCAR Cup Series full-time in 2002 and had himself quite a career. Johnson is a seven-time NASCAR Cup champion and strung together an impressive streak of winning five straight titles from 2006-2010. His seven championships put him in great company with Richard Petty and Dale Earnhardt for the most ever.
Johnson has also racked up 83 Cup Series wins in 686 races. He's finished in the top 10 374 times. He's a two-time Daytona 500 winner, claiming victory in 2006 and 2013. In 2009, Johnson was named The Associated Press Male Athlete of the Year. Johnson was also named Driver of the Year in five different seasons.
Patrick, on the other hand, didn't make her mark on stats. She was a pioneer for women in racing. Patrick never won a NASCAR race. She did have one IndyCar race victory and was the first woman to do so. She was also the first woman to win a NASCAR pole. Patrick helped popularize NASCAR and helped create a path for women in the sport.
'Retired' Johnson now making his way in IndyCar racing
At age 45, Jimmie Johnson is starting over in the racing world. He's back to being a rookie. Johnson retired from NASCAR racing after winning seven Cup Series championships and has accepted a new challenge. He's diving into the Indy Car Series part-time, running road courses and street circuits. He's already making quite an impression.
"Jimmie's appetite for details and work, him and (teammate) Scott (Dixon) are very similar in that way," said Dario Franchitti, a four-time IndyCar Series champion and three-time Indianapolis 500 winner, according to Autoweek. "I like to think I was like that. I love details. The more details you can give me, the harder you have to work, that's fine. Jimmie's that guy.
"He's closed the gap to where he needs to be. Percentage-wise, he's getting to those last few tenths. He's trying to recalibrate 20 years of driving stock cars. He's not coming from zero, he's coming from less than zero because of his stock car habits."
Patrick bit her tongue and Johnson understands why
When Danica Patrick made the move from IndyCar to NASCAR, she was peppered with questions. Some of the questions were understandable, but there was one where she had to bite her tongue and go with the flow. Jimmie Johnson understood where she was coming from.
"When I went to NASCAR, people were like, 'how are you going to be able to handle that big car?" Patrick told Johnson recently on her Pretty Intense podcast. "I actually kinda bit my tongue and didn't say how much easier stock cars were to drive. I thought if people want to give me credit for being able to handle these big cars because they're so hard, I'm just going to let them think that I got it."
Johnson agreed that those IndyCars might be much more difficult to handle. "I didn't realize the true importance of core strength, back strength, lower back strength," he said. "That's been something I've been working really hard on. After my first two test sessions last year, I was pretty sore. The thing that is so impressive to me with these cars is the intensity. A lot of my training has been shorter duration and a lot higher intensity compared to what I did for NASCAR."