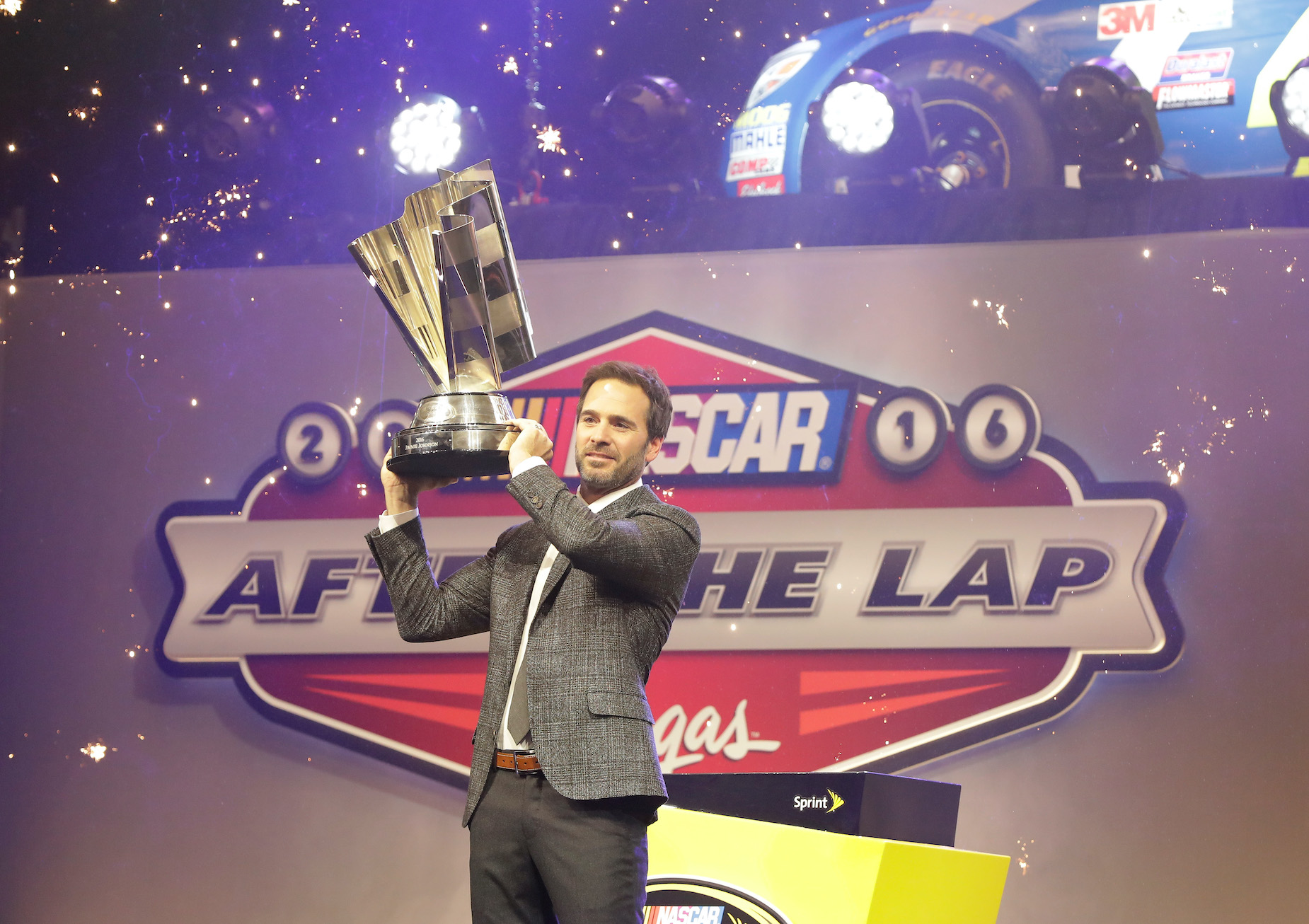 Jimmie Johnson Won His First Championship By Racing Through a Brutal Broken Leg on a Modified Motorcycle
Jimmie Johnson was a seven-time NASCAR Cup Series champion, but his winning ways started long before he started stock car racing.
No matter the sport, winning multiple championships looks pretty good on your resume. By that logic, few NASCAR drivers have a better body of work than Jimmie Johnson. During his time behind the wheel, the modern motorsports legend has won seven Cup Series crowns, in addition to plenty of individual races and personal honors.
Jimmie Johnson's winning ways aren't just limited to stock car racing, though. As a child, he powered through a broken leg on a modified motorcycle to claim his first championship.
Jimmy Johnson started racing before joining NASCAR
During his time on the NASCAR scene, Jimmie Johnson has made quite a name for himself. The driver, however, didn't always sit behind the wheel of a stock car.
Johnson started out motorcycle racing—we'll talk more about that later—before graduating to buggies and trucks. Despite some bumps in the road —the 1995 Baja 1000, for example, could have been fatal—the driver proved to be more than capable of claiming the checkered flag.
In 1997, though, Johnson decided that he was ready for stock car racing. He signed for Herzog Motorsports, starting out in the American Speed Association; he claimed Rookie of the Year honors and, before long, began appearing in Busch Series races.
Johnson eventually left Herzog to sign with Hendrick Motorsports. He stepped up to NASCAR's Cup Series in 2002 and, from then on, the rest is history.
An incredible record of NASCAR success
For some athletes, stepping up from one level of competition to the next can be quite the challenge. Jimmie Johnson, however, didn't have any trouble continuing his winning ways in the Cup Series.
During both the 2003 and 2004 campaigns, Johnson finished in second place in the overall standing. While it might have seemed like a Buffalo Bills-style 'close but no cigar' situation was brewing, the driver didn't have to wait long to claim the top spot.
In 2006, Jimmie Johnson won his first Cup Series championship; then he won again and again. From 2006 to 2010, he claimed five consecutive titles, becoming the first man in NASCAR history to accomplish the feat.
While his success slowed down a bit after that streak, Johnson still managed to win two more Cup Series crowns, tying the all-time record with seven titles. He also earned five Driver of the Year awards along the way and built up an estimated $160 million fortune.
Jimmie Johnson earned his first championship as an eight-year-old with a broken leg
If you believe the classic coaching cliches, winning is a habit; once you've earned your first championship, you understand what it takes to reach the top spot. If that's true, it's no wonder that Jimmie Johnson had such a successful NASCAR career.
As mentioned above, Johnson got his start racing dirt bikes and motorcycles. When he was eight-years-old, however, he had a painful experience during his chase for a championship.
"I went down, got tangled up with the bike, I destroyed my left knee, broke my tibia and fibula and in the end, was in a cast for nine months when it was all said and done," Johnson explained to NBC Sports' Jerry Bonkowski.
Breaking two bones in your leg isn't exactly something that you can walk off, no matter how tough you are. That injury, though, wasn't going to stand in the way of a trophy.
"I was tied for [the lead in] points, and we rigged something up and welded something to the front of the bike, brought my leg up," Johnson continued, "and I rode the next two events, got the starting points, and was able to win the championship.
While allowing a child to climb aboard a dirt bike with a broken leg might not be the safest idea, it set a precedent for Jimmie Johnson's career. When it came to racing and chasing championships, nothing was going to stand in his way.
"For me, I go back to school, I had to try so hard to accomplish what I needed to," he concluded. "I learned things differently and was a little slow in picking things up. But when I've been focused about accomplishing something, or I'm passionate about it, I just go all-in. And that all-in is what's helped me through my whole life."