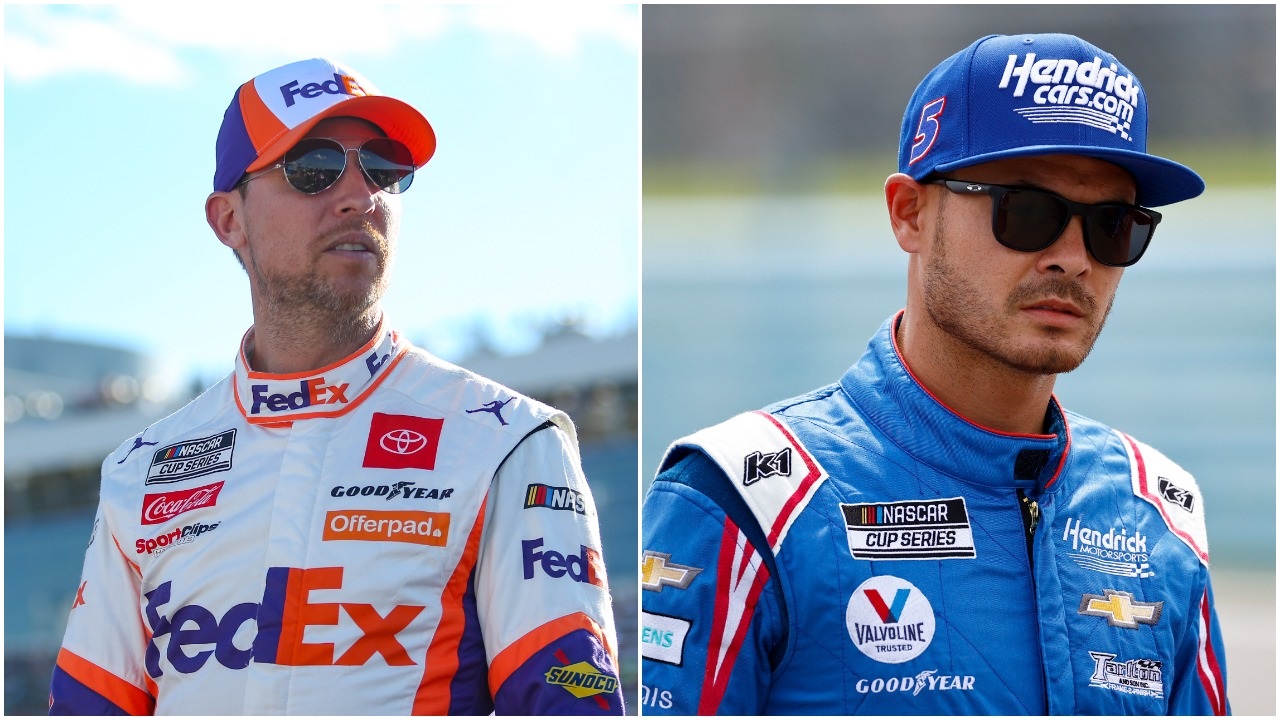 Kyle Larson Left Him Behind on the Watkins Glen Track, so Denny Hamlin Returned the Favor at the Airport
Denny Hamlin of Joe Gibbs Racing and Kyle Larson of Hendrick Motorsports are locked in a battle for the NASCAR Cup Series season points lead, but that doesn't affect their friendship.
With three races left in the NASCAR Cup Series regular season, it's only appropriate that Kyle Larson and Denny Hamlin, consistently successful this year, are dead even in points.
They're rivals on the track but friendly enough off it that Larson doesn't mind that Hamlin called an audible and left town without him on short notice.
Denny Hamlin left Kyle Larson behind in Watkins Glen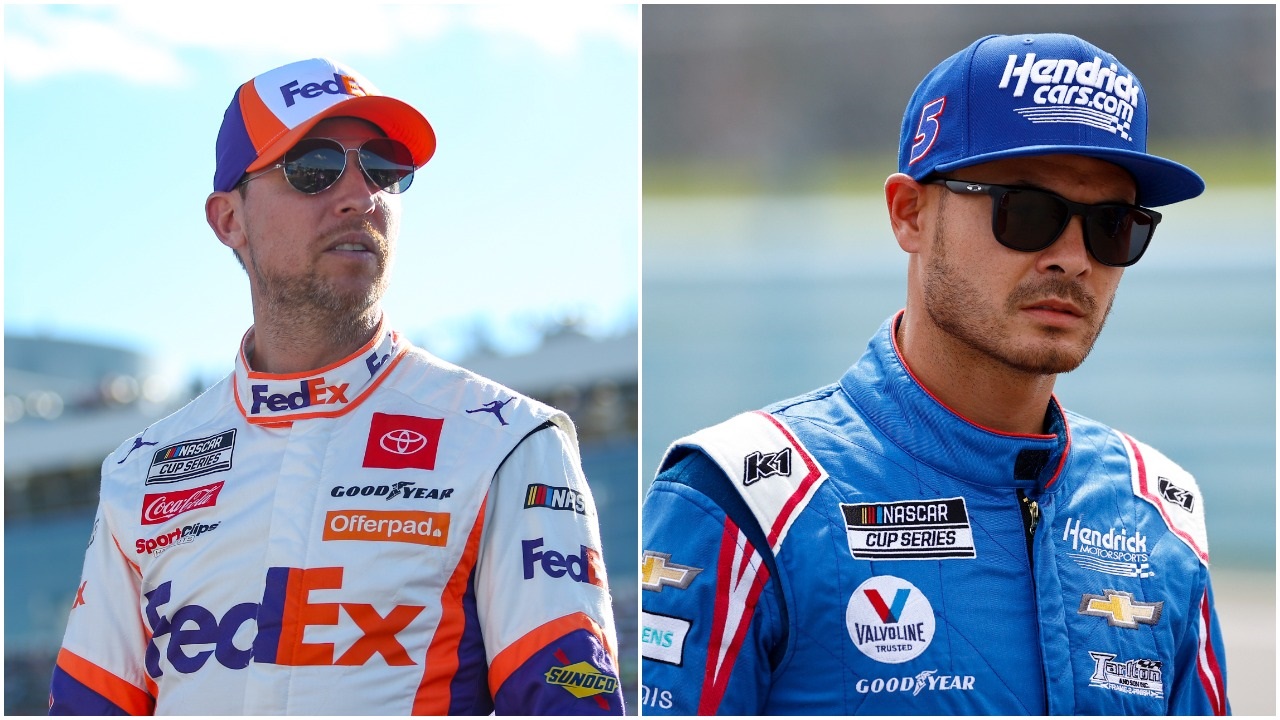 Larson and Hamlin flew into Watkins Glen together last weekend after enjoying some time off because of NASCAR's Olympics-related hiatus. The idea was also to fly out of town together following Sunday's Go Bowling at the Glen road-course race.
However, Larson mucked up the plan by winning his fifth points race of the season, holding off hard-charging Hendrick Motorsports teammate Chase Elliott. Winning results in the driver cashing a nice check, but it also means additional post-race obligations.
While other teams were back in their garages packing up for the trip to Indianapolis and the next race, the No. 5 Chevy team was celebrating on victory lane as Larson was fulfilling various sponsor obligations. After that, he had interviews to handle. All in all, it made no sense for Hamlin to wait around to get out of town. Had the roles been reversed, Larson would have done the same thing.
"I won at Sonoma, too, and he left me," Larson told reporters. "But it's fine. I'll get to fly home with the team now, and that'll be cool. … Nashville would be the only other time I think I won when I got to fly home with the team. It'll be cool to get to fly home with them and celebrate a little bit."
Kyle Larson and Denny Hamlin are waging an interesting fight to the finish
While Larson was taking the checkered flag at Watkins Glen, Hamlin was finishing a strong fifth. When NASCAR added up points after the race, the two wound up tied at 917 for the season, turning the last three races of the regular season into a big finish. Hamlin broke to the lead after the Daytona road-course race, the second event on the schedule. Larson has since reeled him in via the multiple victories.
Through 23 races, Larson and Hamlin own 12 top-five finishes and 16 top-10s apiece. The big difference is in victories. After winning seven times a year ago, Hamlin's Joe Gibbs Racing Toyota is winless in 2021.
The points battle isn't just a matter of pride. Larson already owns a 12-5 lead in stage wins, with each worth a point in the playoffs. The points leader after Daytona on Aug. 28 picks up 15 playoff points to 10 for the runner-up.
Mutual respect and friendship for the NASCAR stars
Hamlin, 40, has been racing in the NASCAR Cup Series since 2005. Larson, 29, began competing in the top series in 2013. That adds up to a lot of time spent together hanging out in garages and motorhomes at the track, and Hamlin and Larson have struck up a friendship.
It doesn't change what they do on Sundays.
"You can still be friends with your competitors," Larson told NBC Sports. "When you're on the racetrack, I want to beat him as bad or more so than other people just because he is a friend and we are competitive. You can still be friends. … I think when you can separate the two (on and off the track), that's good."
Their dominance this season should make for a great three-race finish this month. Unfortunately, only one can be No. 1.
"There's still a lot of racing left," Larson said, "and yeah, it's going to be fun."
Like Sportscasting on Facebook. Follow us on Twitter @sportscasting19.