Why Did NASCAR Penalize Bubba Wallace but Not Austin Cindric for Making the Exact Same Move at Indianapolis?
The record books will show Bubba Wallace finished 13th during the Cup Series race on the Indianapolis road course. All things considered, it was a solid finish for 23XI Racing in the team's first year and the best finish by the No. 23 car on a road course this season. But it could have been better.
And NASCAR played a major role in affecting where the 27-year-old driver finished by assessing a late penalty in overtime. What makes the penalty even more curious is Austin Cindric, who finished ninth, committed the exact same infraction earlier in the race, and NASCAR did absolutely nothing.
Bubba Wallace cuts corner and avoids multi-car crash
Bubba Wallace and the rest of the Cup Series field learned throughout Sunday's race about the dangers of Turn 6 as multiple cautions came out for track officials to make curb repairs. However, no one could have imagined what would happen in that turn with just five laps to go.
It was a bizarre and frightening scene as one car after another traveled over the blue-and-white curb, only to come out mangled on the other side. All the destroyed cars combined sustained millions of dollars' worth of damage. 
After a lengthy red-flag delay, the race resumed, and the field's first time through that same turn just turned out to be round two of the demolition derby. However, to Wallace's credit, he wasn't part of the multi-car crash as he pulled off one of the best race moves of his career and certainly one of the best maneuvers all day on the Indianapolis road course.
Entering the turn three-wide on the right-hand side with Cole Custer sandwiched between him and Alex Bowman, Wallace swung the No. 23 car out wide to the right, into the grass, and narrowly avoided the remaining curb, which had already caused considerable damage to other cars.
He returned to the track dead-even with Bowman and ahead of Custer, who had slowed trying to avoid a spinning Michael McDowell after he had gone airborne over the curb a second earlier. Austin Dillon slammed into Custer's rear, sending both heavily damaged cars sliding off the track. Incredibly, both Wallace and Bowman narrowly missed McDowell and maintained their positions.
NASCAR penalizes Wallace for move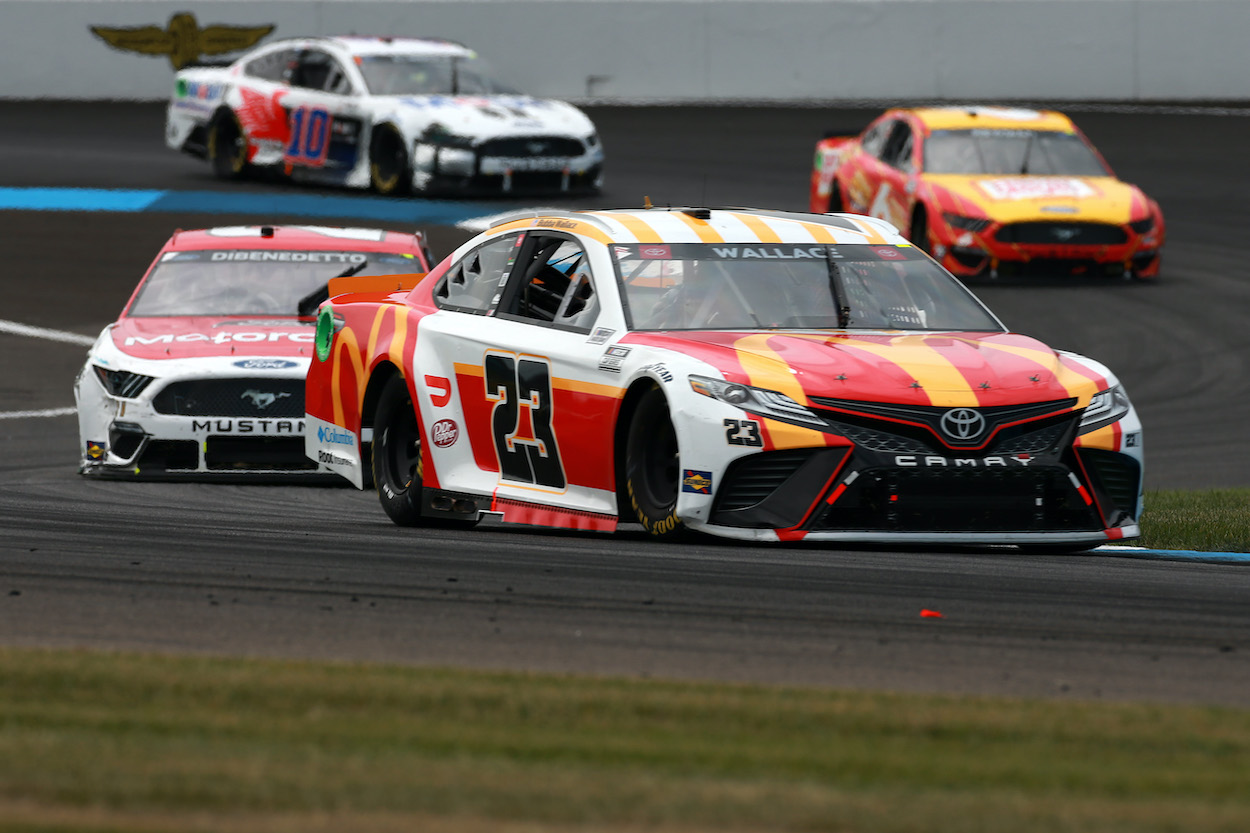 A few minutes after the second chaotic scene in as many green-flag laps, NASCAR communicated to Wallace's team, informing him that he had been penalized for shortcutting the course.
"We got to go all the way to the tail here," crew chief Mike Wheeler informed his driver over the radio.
"What?" a surprised Wallace asked.
"Shortcutting the course," Wheeler replied.
"They're going with that?" the driver questioned.
"Yes, that's what they're saying," his crew chief answered.
"When the same motherf—– in the No. 33 does the same thing?" an increasingly agitated Wallace noted. "What a f—— joke. What do I need to do here?"
Freddie Kraft addresses incident in more detail
Bubba Wallace's spotter Freddie Kraft made his regular appearance on the Door Bumper Clear podcast and talked about the Turn 6 chaos, the shortcut move, the penalty, and what his driver was referring to with the No. 33 car of Austin Cindric. 
"We come through two, three, and four, and we're three-wide," Kraft said. "We come off of Turn 4 still three-wide and I said to him, 'Remember that big curb.' He made the decision. Our options were: hang a left and wreck the 41 and whoever is out there, stop and get run over from behind, hit the thing, center punch it and see what hole we land on on the golf course, or go right and miss it. Obviously, we chose to go right.
"If you want to call that a penalty, I just don't understand what our other option was. Would you prefer us to wreck all the guys on our left? Here's my biggest issue with the entire thing. The 33 car passed us doing this earlier in the race and did not get a penalty. We're racing, so I don't blame him for doing it. We're racing side-by-side through there, and he just bounces off to the right. And the response I got from NASCAR was again, we didn't see it. Penalties shouldn't be based on whether you get caught on a replay doing it."
NASCAR's answer generates a whole other set of questions. How is it possible the governing body missed Cindric's infraction? Does it not have the ability to watch every single car on the track at all times? Are there not officials around the entire track watching like the teams and their spotters? More importantly, how did NASCAR not review the replay of Wallace's incident and clearly see he didn't gain an advantage?
Someone should answer all of these questions.
In the end, despite the penalty, Wallace came away a winner because his car was relatively clean when so many others weren't as fortunate.
Like Sportscasting on Facebook. Follow us on Twitter @sportscasting19.
RELATED: Bubba Wallace Admits to Frustrating 2021 Season and Struggling With 'New-Team Blues'