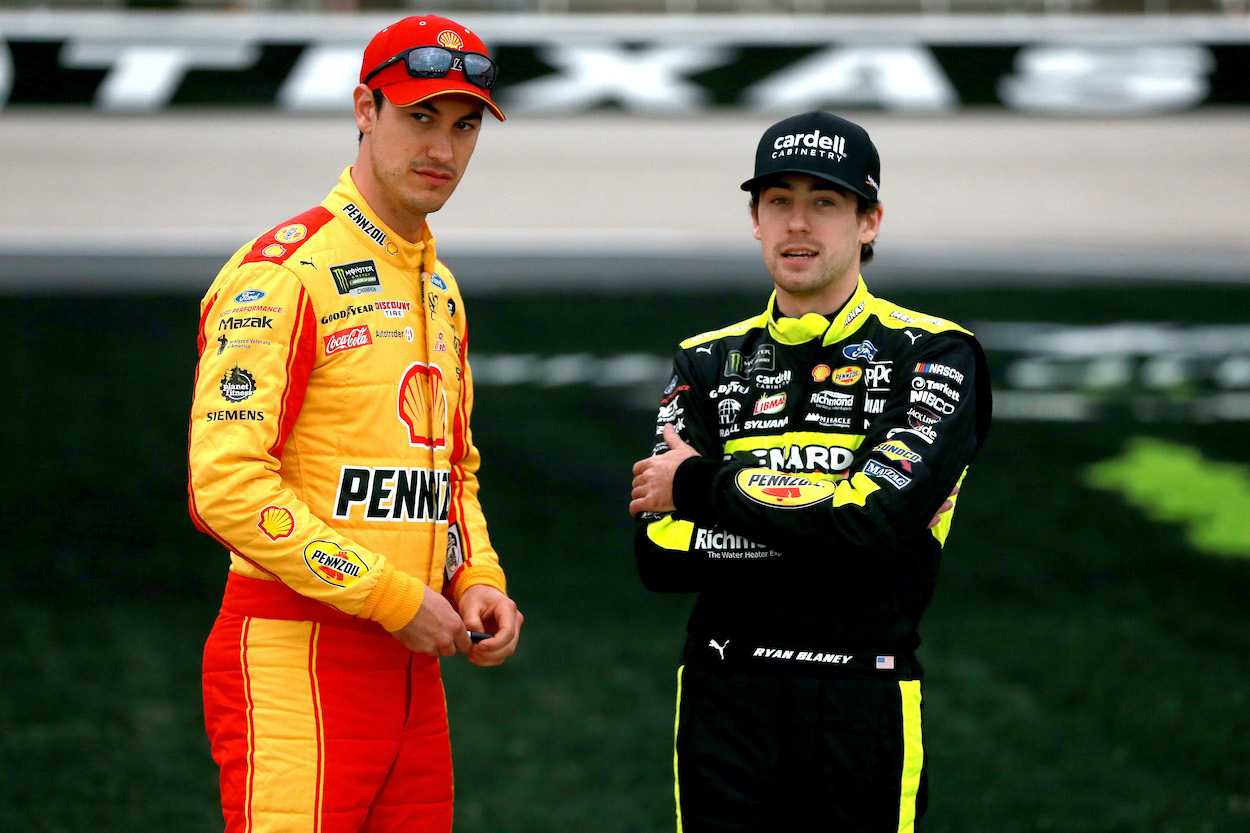 NASCAR Interview Goes off the Rails After Ryan Blaney Discovers Instagram Filters and Leaves Joey Logano, Austin Cindric, and Host Laughing Hysterically
Ryan Blaney, Joey Logano, and Austin Cindric revealed they are relaxed after the two-week Olympic break when their interview with NASCAR went off the rails and all three drivers and the host couldn't stop laughing.
The future of the Team Penske roster has been up in the air for months. Last month Brad Keselowski officially confirmed he was leaving the team to race and become a part-owner at Roush Fenway Racing. 
Joey Logano, Ryan Blaney, and Keselowski's replacement, Austin Cindric, can now put that situation behind them and look forward to the 2022 Cup Series season. During an interview with NASCAR this week, the drivers' behavior suggested they have moved on and revealed a lighter side in a hilarious moment that featured Blaney playing Yoda, and Logano and Cindric, aka Guy Fieri, laughing hysterically.
Joey Logano, Ryan Blaney, and Team Penske endured a lot of change lately 
Rumors of Brad Keselowski's potential departure from Team Penske started in mid-May. The 2012 Cup Series champion remained mum on the matter. 
Later in the month at Circuit of the Americas, his Penske teammate, Joey Logano, made a surprising admission that the speculation about Keselowski leaving the iconic race organization didn't surprise him at all. 
"When you look at what happened last year and the one-year term, you could kind of see the writing on the wall for the most part. Whatever he does, everything is up at the end of the season," Logano paused with his trademark smile. "Definitely an interesting period for us at Team Penske and for Brad and his life." 
Ryan Blaney discovers Instagram filters and NASCAR interview turns into chaos and hilarity
When Roger Penske named Austin Cindric as Keselowski's replacement in mid-July, Joey Logano and Ryan Blaney could breathe a collective sigh of relief. All of the off-track drama and questions were behind them. They could solely focus on racing.
This week during an interview with NASCAR's Alex Weaver on Instagram, the three drivers returned refreshed from the two-week Olympic break and sat down and talked about a variety of topics on and off the track, including the Loganos announcing their pregnancy and what the drivers expected at this weekend's race at Watkins Glen. 
During Logano's answer about racing at The Glen, Blaney discovered the filter feature on Instagram and went to town. Initially, he framed his face before transitioning to glittery sparkles. That background caught Cindric's attention, who immediately burst out laughing. Logano was slightly delayed in realizing what was happening, but the serious portion of the interview came to a grinding halt when he did a few seconds later. 
"What's Blaney doing down there?" Logano asked, and at almost the same time, Blaney changed to a new filter that displayed his lips and eyes in distorted boxes. Both drivers loudly laughed before Cindric asked, "How do you do that?" 
And it descended into chaos and hilarity. 
Blaney channels his inner Yoda and Cindric becomes Guy Fieri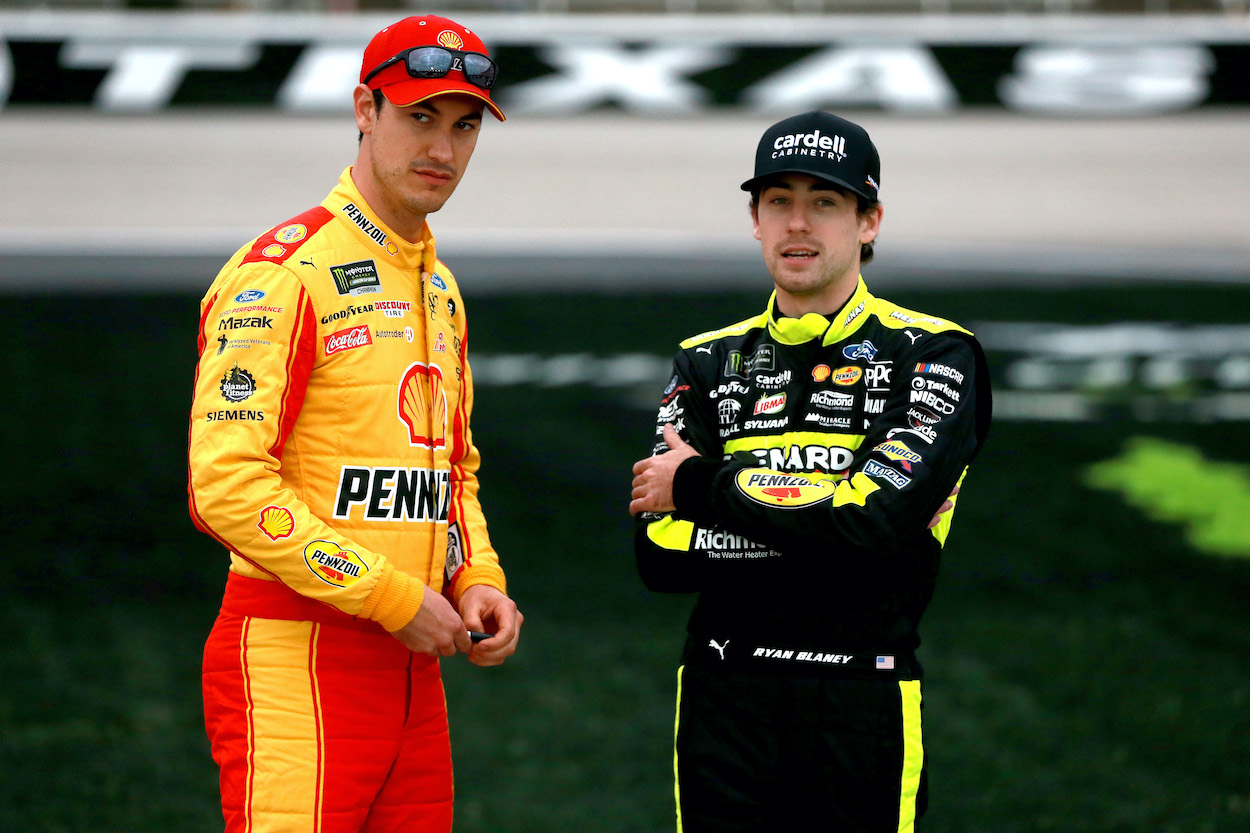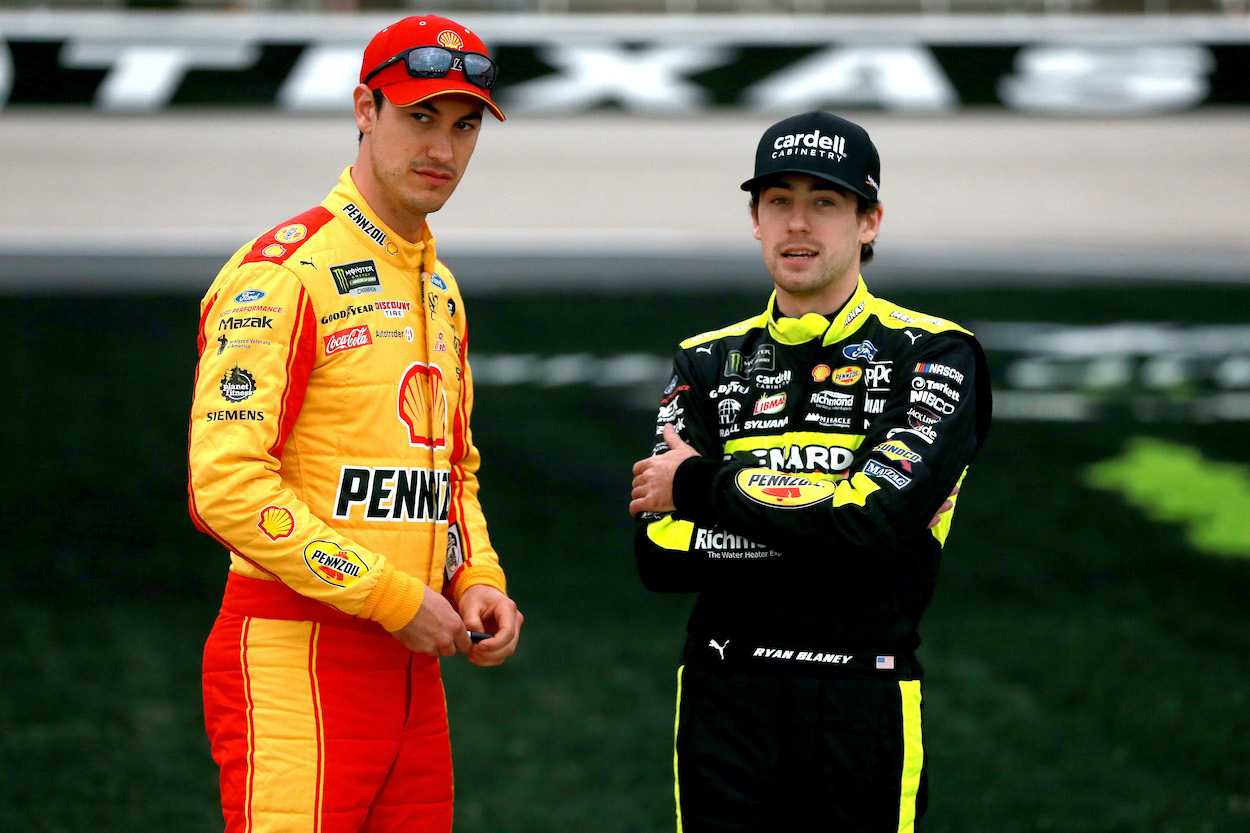 However, the comedy was just getting started. A moment later, Ryan Blaney, whose Twitter profile describes him as an "Aspiring Jedi," transformed into Yoda, which understandably had the two drivers and Weaver laughing. 
"What were we talking about again?" Logano said, attempting to get the interview back on track. But it was to no avail as Cindric discovered the filter feature himself, and his nose exploded like Pinocchio. 
"This is what I've got to deal with next year," Logano laughed. "This is my life." 
After Logano cut his answer short because he couldn't focus, Weaver pivoted to ask a question of Cindric, who had now discovered the Guy Fieri filter, and couldn't stop laughing long enough to hear the question, much less answer it. 
One of the many hilarious highlights came when Blaney/Yoda tried to get Cindric to answer the question in a serious voice, "Austin, tell us about your championship run, come on."
Cindric started to answer the question when Blaney cycled through various filters but landed on one that appeared to be a filter of himself with an Advanced Auto Parts hat and a big bushy mustache, which resulted in the drivers and Weaver once again all busting out in laughter.
The amusement lasted for almost two minutes before Weaver regained control of the interview. The whole scenario revealed all three drivers are refreshed from the Olympic break, relaxed, and focused on the rest of the 2021 season.
Brad who?
Like Sportscasting on Facebook. Follow us on Twitter @sportscasting19.