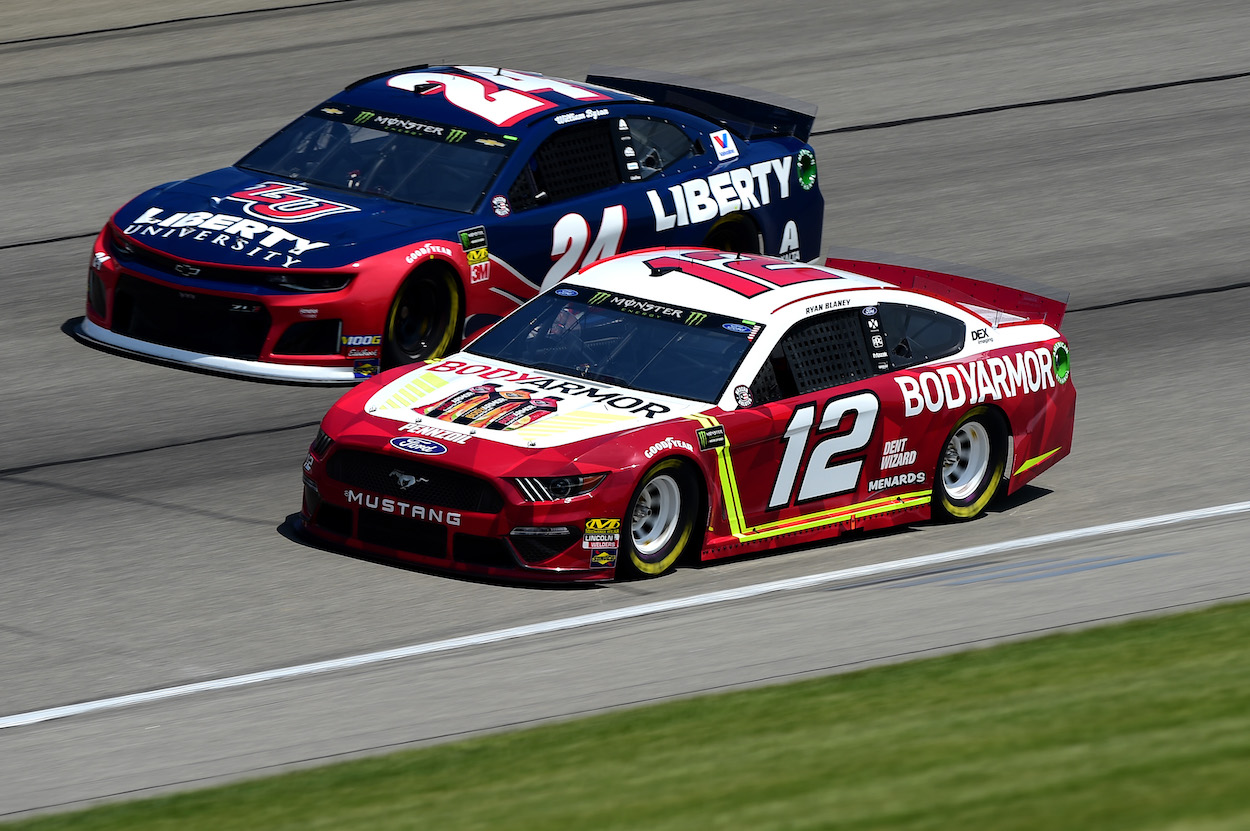 Ryan Blaney Admits He Wasn't Happy With NBC's Marty Snider for Bringing Up His Name During Pocono Post-Race Interview With William Byron
Ryan Blaney and William Byron have had a couple of recent run-ins on the track. Blaney addressed the situation with reporters and questioned why an NBC reporter brought his name up.
Ryan Blaney and William Byron have a unique connection that extends beyond what happens each weekend in the NASCAR Cup Series. Byron is dating Blaney's sister Erin. In addition to that presenting potential challenges at the Thanksgiving table, any driver knows that once the green flag drops, the strength of relationships can be tested as a normal part of competition.  
In the last month, the two drivers have had a couple of run-ins on the track. Following the Saturday race at Pocono, NBC's Marty Snider raised the issue with Byron, who openly questioned Blaney's race tactics. Blaney has responded, and he was not happy with someone — and it's not who you think it is. 
Ryan Blaney awkwardly learns that William Byron is dating his sister
Ryan Blaney learned William Byron was dating his sister not from his sister or Byron but through a friend. Not exactly the best way to learn something like that.
"My buddy's like, 'Hey, I didn't know about Willy and your sister,'" Blaney said in an interview with NASCAR on NBC's Rutledge Wood. "And I'm like, 'What are you talking about?'"
Oops. 
Byron was equally surprised when he found out how Blaney first learned about the relationship. "Oh gosh. Man. No wonder he raced me so hard that day. I should have handled that better."  
Interestingly, Blaney finding out about his sister and Byron isn't the most entertaining aspect of their relationship. That occurred a short time later when Byron posted a picture of himself and Erin on Instagram. Later that day, Ryan posted a picture of himself sitting by a fire holding a shotgun. 
"That had people going nuts," Byron said. "I was a little scared, too, to be honest."
Marty Snider interviews William Byron after Pocono and talks about Ryan Blaney 
William Byron finished third in the Saturday race at Pocono. Ryan Blaney finished fifth. After the race, NBC's Marty Snider caught up with Byron for a post-race interview. Snider initially talked about the race and the No. 24 team's finish before noting an observation he made about the competition on the track.
"So you and Ryan Blaney are good friends, but this is two weeks in a row you've kind of had run-ins," Snider pointed out. "So what was going on on the track today?"
"Yeah, I don't know," Byron answered, seemingly surprised by the question. "He put me three-wide every chance he can get, so we'll keep blocking as hard as we can. You've got to make your line go, so then make the line go." 
Blaney questions Byron's remarks but says pair are on good terms 
Later that day, Blaney provided a short response to Byron's comment about blocking on a Twitter post referencing the interview.
"Not blocking good enough, I guess," he tweeted.
This week during an interview with reporters, Blaney addressed the situation, offered up a status update on his relationship with Byron, and questioned why Snider brought it up in the first place. 
"I took him three-wide twice — once at the All-Star Race and once at Pocono, so I don't know about the every chance I got," Blaney said. "Yeah, he blocked me all the way. Run me all the way down to pit road. I was already there.
"Me and William, we talked like normal at Road America. It's all good. Just racing hard. I really don't understand why that was a big topic of discussion. You see it every single week with people, but I guess maybe there was nothing to talk about so he had to bring families into it, which I really didn't enjoy, but he (Byron) and I are good."   
This weekend, Byron and Blaney race against each other in Atlanta. Erin will certainly be watching. But who is she rooting for?
Like Sportscasting on Facebook. Follow us on Twitter @sportscasting19.