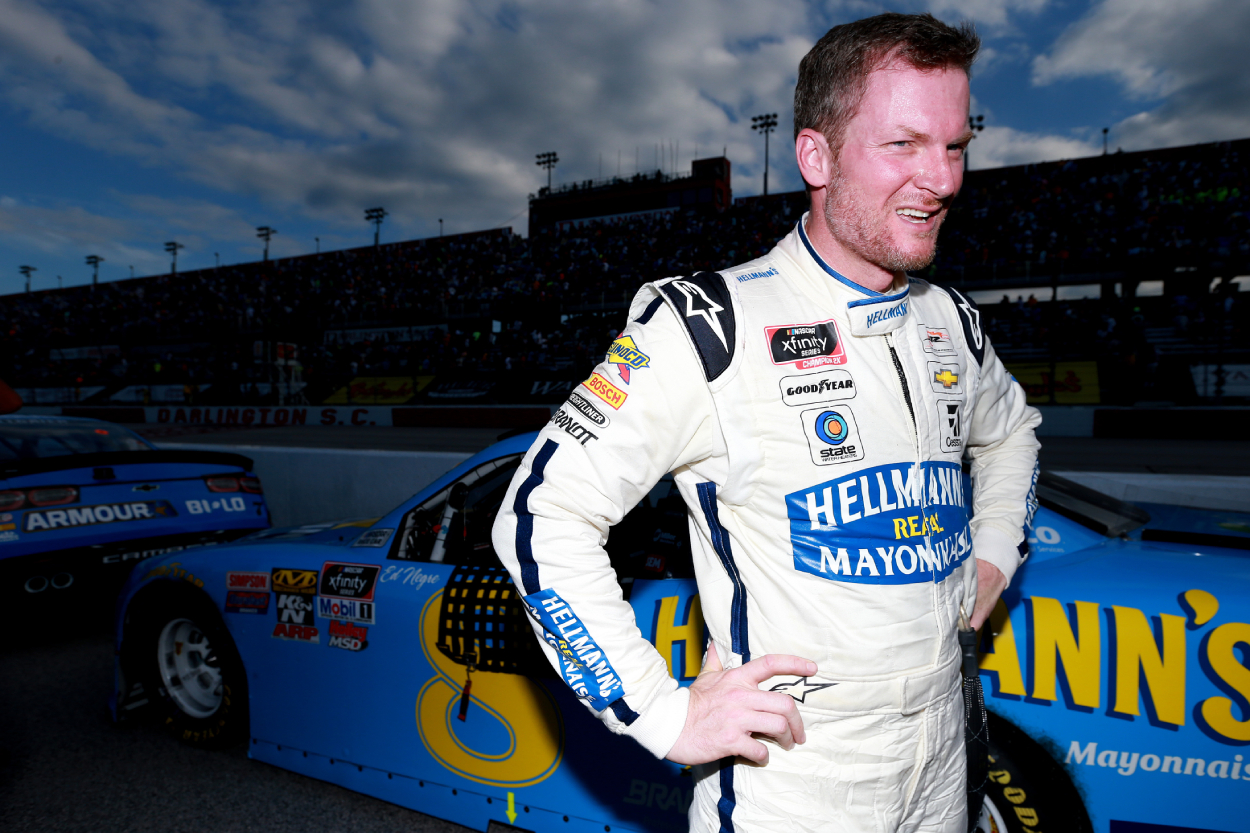 Dale Earnhardt Jr. Security Guard Debacle Draws Response From Pocono Raceway
Pocono Raceway responded after Dale Earnhardt Jr. complained about a security guard last weekend.
Dale Earnhardt Jr. wasn't happy during last weekend's NASCAR doubleheader at Pocono Raceway. In fact, on his latest Dale Jr. Download podcast, he said he was "madder than hell" when a security guard wouldn't let him through the gate. One of the most recognizable faces in NASCAR, Earnhardt Jr. was held up as a Pocono security guard made the NASCAR legend show proper ID despite a crowd of onlookers cheering him on. After he blasted the guard on his podcast, Pocono Raceway issued a response.
Dale Earnhardt didn't hold back about his displeasure at Pocono last weekend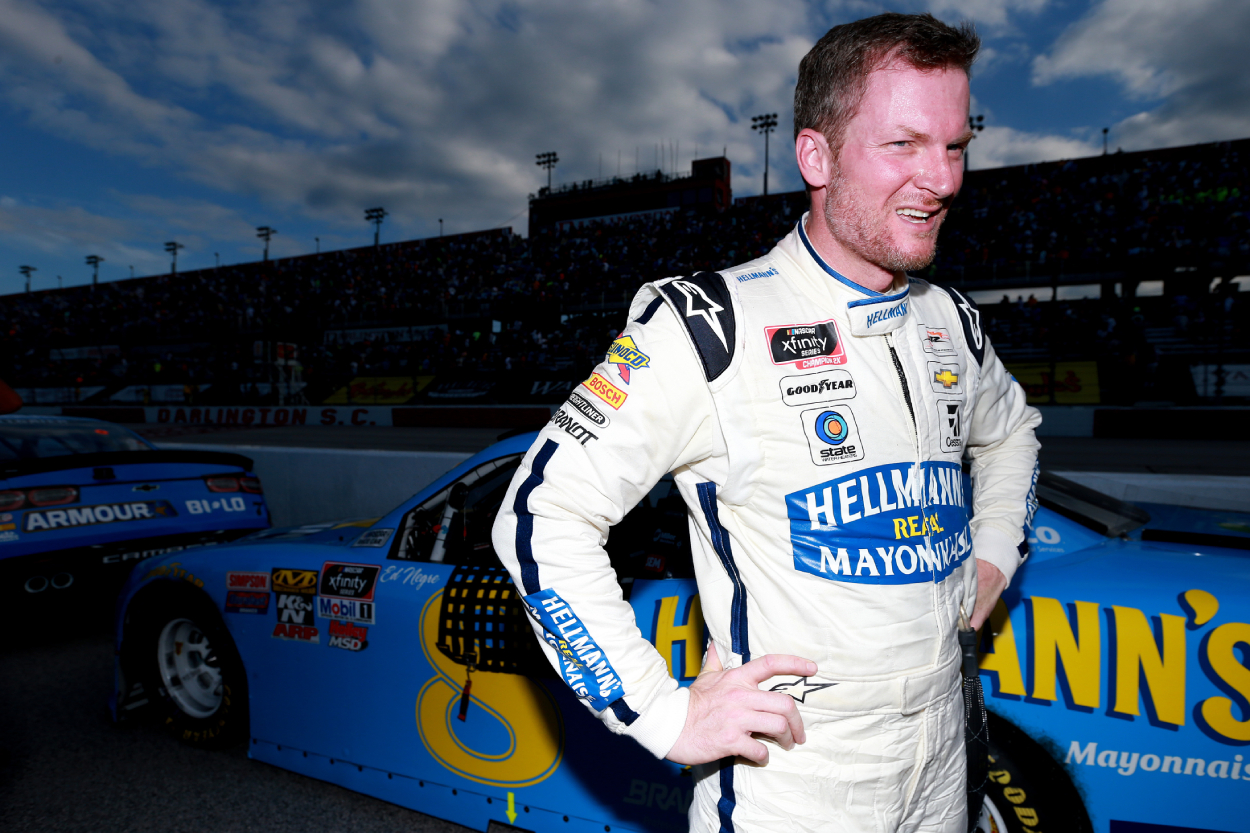 It had nothing to do with the race or the track, but Earnhardt Jr. wasn't too happy with one particular moment at Pocono Raceway last weekend. He made it perfectly clear on his weekly Dale Jr. Download podcast that he didn't appreciate a security guard at the track making him pull out his credential as fans were swarming over the NASCAR Hall of Famer. He threw in some expletives to make his point.
Earnhardt Jr. labeled the guard as having a s—eating grin. He smirked as he made Earnhardt Jr. dig his way to finding his credential. "The card's in my bag,' he said on the podcast. "I have to search for it. And I'm telling you, I'm taking pictures, signing. He goes, 'I need to see your card.' And the whole time with that s—eating grin."
He eventually found his credential in his backpack and then told the guard exactly how he felt about him, again with the help of a few choice words.
"I said to the guy, 'That was such a d—head move,' he said. "I was astounded. Not, 'Hey, you're a d—.' I was more like, questioning him, like man, that was such a d—head thing to do. Why?"
He said he was "madder than hell" for about an hour.
Dale Earnhardt Jr.'s comments drew a response from Pocono Raceway
Earnhardt Jr. didn't have a problem with Pocono Raceway at all. It was just one security guard that riled him up. In fact, he had some kind words for the track. It was a racing doubleheader that weekend, and Junior said Pocono is the perfect place to hold a doubleheader.
"Let (the doubleheader) be special and unique to Pocono," he said. "Every track needs to have that thing that it's known for, that it's special for. Pocono is a destination. People go to Pocono just to vacation. That's why I think the doubleheader could work because you're coming into a town and a place where you want to be. You're going to have fun.
"We had an amazing weekend at Pocono. Let's celebrate that. Let's celebrate how much fun the races were."
Apparently, folks at the track were listening to the podcast and heard about the unpleasant experience with that one security guard. Via Twitter, the raceway issued a humorous apology, putting a huge photo of Earnhardt Jr. on the gate to the track and writing, "We listened to the podcast & sorry to hear about your experience trying to cross the track. We would like to ensure you it won't happen again, no need to explain who you are… Thanks for all the kind words about Pocono, we'll see you again soon!"
That was the second public apology Earnhardt Jr. received this week
The Pocono apology was the second within a week directed at Earnhardt Jr. Junior apparently accepted both the same way, with the help of actor Steve Carell. He responded to the Pocono one with a GIF of a laughing Carell.
Earlier, former driver Kyle Petty issued his apology for an embarrassing tweet sent to Junior. Earnhardt Jr. and racing commentator Mike Bagley were in a Twitter conversation. Bagley's flight from Charlotte to Fort Lauderdale was delayed multiple times and he was getting hungry. Junior let him know there was a Whisky River restaurant, owned by Junior, at both airports.
Petty jumped in and wrote, "And they're not great." He said he meant to write, "And they're both great." He apologized by writing,  "My Bad!!!! I'm so sorry @DaleJr !!!! That's why you shouldn't Tweet while putting little ones to bed! I meant that "They're both GREAT" !!!! One of those days…"
Junior replied with a GIF of a clapping Carell. Carell's a funny man. The GIFs are funny as well. If you want to see more of them, apparently all you have to do is issue an apology to Earnhardt Jr.