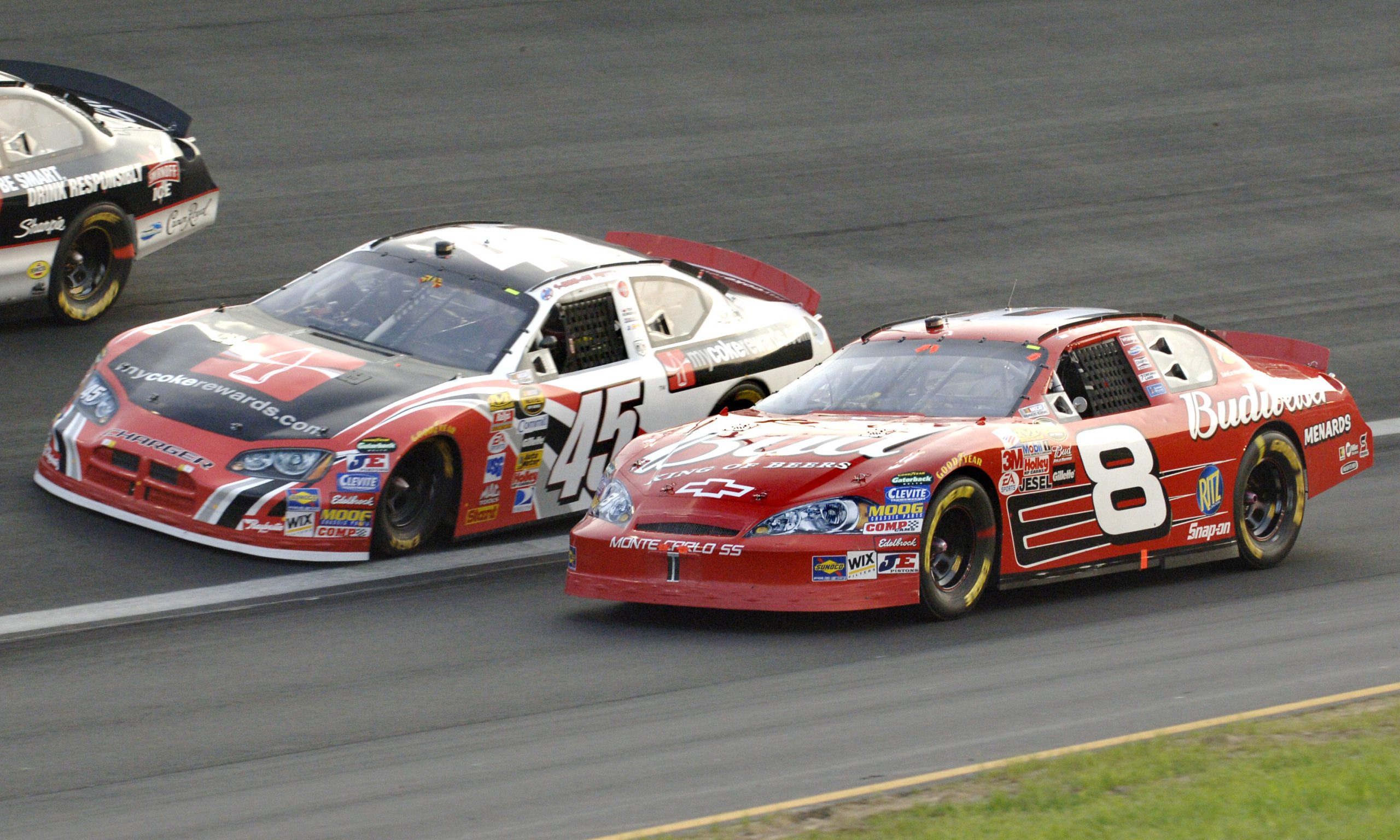 Kyle Petty Issues Apology to Dale Earnhardt Jr. for Embarrassing Tweet
Kyle Petty issued an apology to Dale Earnhardt Jr. after sending him an embarrassing tweet.
It was clearly innocent but still must've made Dale Earnhardt Jr. wonder what was going on. Earnhardt Jr. was active on social media, replying to Mike Bagley, a motorsports commentator, on Twitter. In the reply to Bagley, Junior wrote, "there's a Whisky River at both airports," referencing the bars he owns. Kyle Petty chimed in, and his tweet was eye-popping, to say the least.
Kyle Petty and Dale Earnhardt Jr. have a history, but it's a good one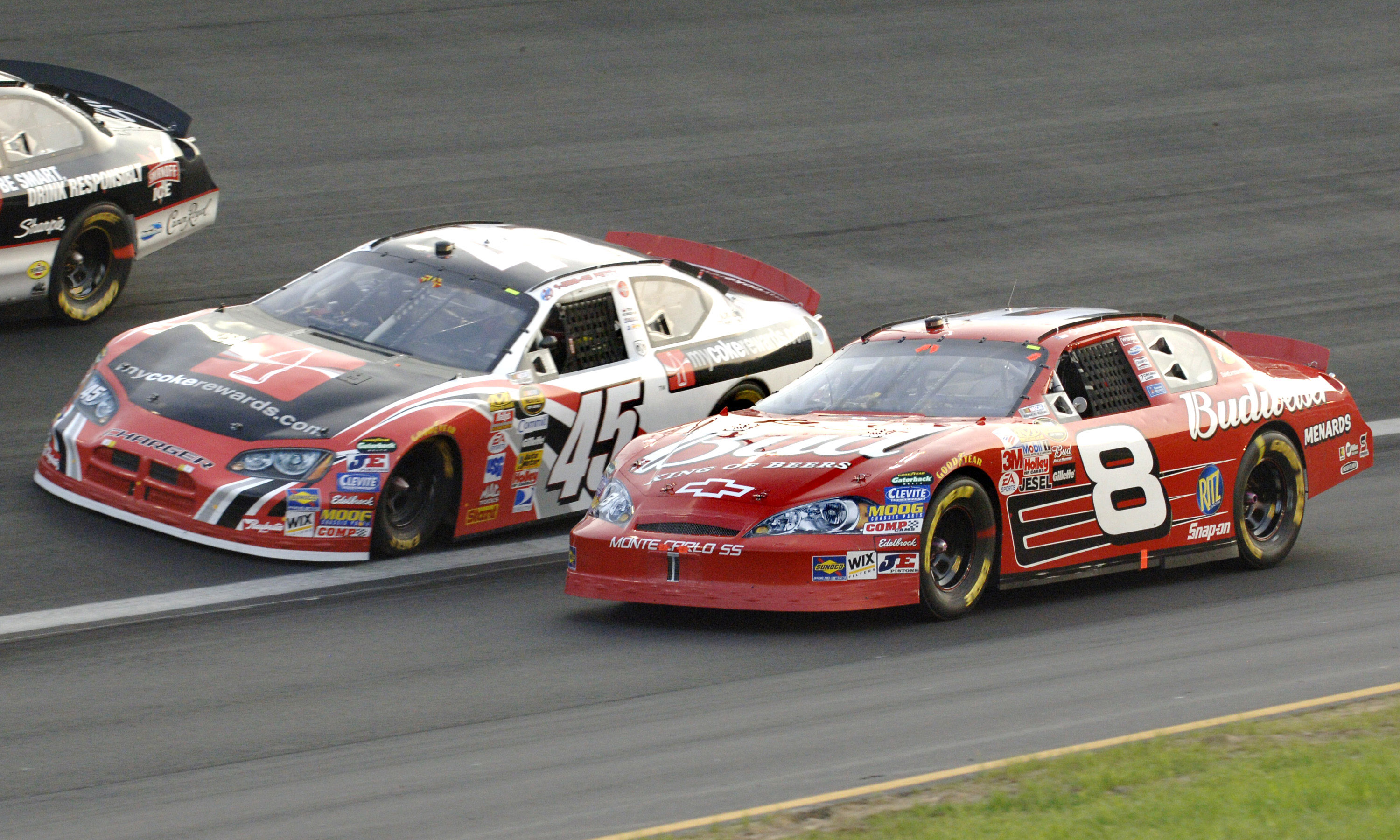 Petty and Earnhardt Jr. have quite a bit in common. Both are sons of legendary drivers. Richard Petty and Dale Earnhardt Sr. are two of the top drivers in motorsports history. Both Hall-of-Fame drivers are tied for first place all-time, along with Jimmie Johnson, for most NASCAR Cup Series championships with seven.
Kyle and Dale Jr. both followed in their fathers' footsteps, and both had very lengthy racing careers. Although his Cup Series racing career spanned 30 years, Petty finished with just eight wins. He collected 173 top-10 finishes.
Earnhardt Jr. claimed 26 victories, including two Daytona 500 wins, in better than 630 career races. He claimed 260 top-10 finishes. Junior was named Most Popular Driver for 15 straight seasons. He is a Class of 2021 NASCAR Hall of Famer.
Despite their competitive nature, Kyle and Dale Jr. are friends. Like their dads, they battled it out on the tracks, but outside of those tracks, they have a good relationship.
Kyle Petty sent an embarrassing tweet to Dale Earnhardt Jr. and later apologized
On Monday, Bagley went to Twitter to express his frustration with his flight delays. He was stuck in Charlotte and was battling through his second delayed flight, looking for a place to eat. Bagley tweeted, "2nd flight delay in Charlotte. And quite line for Bojangles." With the post, he showed a video of the lengthy wait for food.
Bagley then followed that up with another update on his frustrating time at the airport. He wrote, "let's tack on another delay for good measure." The latest delay was 1:36 and had him departing Charlotte at 8 p.m. instead of 6:24 p.m. He was scheduled to arrive in Fort Lauderdale at 10:04 p.m.
Earnhardt Jr. replied to Bagley, saying, "there's a Whisky River at both airports." While Bagley responded to Junior, saying Whisky River was also crowded, Kyle Petty jumped in and responded to Earnhardt Jr saying, "And they're not great."
Petty realized his mistake and apologized to Junior, writing, "My Bad!!!! I'm so sorry @DaleJr !!!! That's why you shouldn't Tweet while putting little ones to bed! I meant that "They're both GREAT" !!!! One of those days…"
Earnhardt Jr. appears to have accepted Petty's apology
Earnhardt Jr. didn't seem to take any offense to Petty's embarrassing tweet. He responded to Petty's apology with a GIF of a clapping Steve Carell.
The two will be together on July 8 in the premiere of Petty's new TV show Dinner Drive With Kyle Petty. The show will take place on the Circle Network and Peacock TV at 8 p.m. Eastern.
Petty sits down with Junior, and the two discuss Earnhardt Sr. and everything going on in Junior's life today. It's clear Petty and Junior have great respect for one another, and an embarrassing tweet from Petty isn't likely to change that.